Adding a pair of durable best gymnastic rings to your gym equipment collection is a fantastic way to get an entire upper body workout without using weights!
While the professionals make the movements look easy, it is extremely unlikely for someone to be efficient at using gymnast rings without at least a few weeks of training.
Since the rings are not fixed into place, a large amount of stress is placed on the trainee's core and stabilizer muscles in the arms, chest, shoulders, and back in order to simply hold still while using them.
Whatever the type you're looking for, or even if you'd have a type (yet!); you'll surely find something that catches your eyes below. Remember the difference between competitive and non competitive types of gymnastics.
We scoured the top manufacturers and reviewed and ranked the top gymnastic rings you can set up and use in your home gymnastic rings. Read on to find out more.
Gymnastic Rings Workouts for Beginners
If you're new to workout rings, check out this beginner video below to help you get a visual on building the foundation for more advanced workouts.
Wooden, Steel or Plastic – What is the Best Material for Gym Rings?
I personally like wooden rings and wooden crossfit rings are what Olympic gymnasts use, but all three styles have their benefits and drawbacks.
Wooden Rings Pros and Cons
Pros
Excellent grip – can be used without chalk.
Beautiful.
Lightweight.
Natural, renewable material.
Less callouses and blisters.
Cons
Should not be hung outside.
Usually more expensive.
Cheaper rings may give splinters.
Steel Gymnastics Rings Pros and Cons
Pros
Heavy, substantial, secure and stable feeling.
Longest lasting – rings can last a lifetime (straps won't, however).
Can be used outside exposed to the elements.
Can withstand heavy use and abuse-like a public park setting.
Cons
It May cause callouses – harder to get a good grip vs wood rings.
May need chalk to prevent slipping.
No-go for really cold climates.
Plastic Gymnastics Rings Pros and Cons
Pros
Far less expensive option.
Can be used outside.
Pretty durable.
Cons
Can be slippery – probably will need chalk.
Feel chintzy and unsubstantial.
Inferior aesthetics – they just don't look as good as steel or wood rings.
How to Hang Gymnastics Rings?
We have an entire guide on installing gymnastics rings right here.
This guide covers:
How to hang gymnastics rings from the ceiling.
How far apart gymnastics rings should be.
How to tie gymnastics rings.
Where to hang gymnastics rings.
How high you should hang your gymnastics rings.
What are the Benefits of Including Gymnastics Rings in My Home Gym?
I love it when I see a garage gym with a pair of gymnastics rings. There are so many great spectacular reasons to include them.
Gymnastics rings benefits:
They are inexpensive compared to other types of equipment.
Gymnastics rings are fun to use.
Gymnastics rings will challenge you.
Gymnastics rings require a unique set of muscle recruitment and work stabilizer muscles unlike any other type of gym equipment.
Gymnastics rings are portable and make a good travel fitness equipment option.
Gymnastics rings are superior for developing a strong grip.
How do I Use Gymnastic Rings & What are Some Good Workouts?
This gymnastics ring resource from www.crossfit.com shows you how to do ring rows, skin the cat, inverted hang, pull ups, levers, pushups, dips and more – using your gymnastics rings.
YouTube is also an excellent gymnastics rings resource. Check out these videos for some great gymnastics ring routines you can do at home gymnastics rings.
This beginner workout is extremely helpful to athletes who have just installed and started using gymnastics rings. Just because this routine is basic does not mean it's easy.
No gymnastics ring exercise is easy – but that's part of the fun, right?
He covers ring dips, ring pull ups, ring push-ups, ring rows, and even ring tucks for some abdominal training. This video is on point and easy to follow.
Highly recommended!
This gymnastics rings routine is a little more advanced and is for those who are able to accomplish the basics. I love the comical start to the video, but if you want to skip the intro start at 2:10.
This intermediate ring routine includes knee raises, chin ups, skin the cat in a tuck position, toes to gymnastics bar, back lever, muscle ups and several other pretty challenging exercises.
Enjoy!
Gymnastic Ring FAQ Section
What are the Best Gymnastics Rings Brands?
SPIETH & AAI – used in the Olympics, Rogue, Titan, Rep, Iron Bull, Nordic Lifting, Elite, Double Circle, Vulcan and Nayoya.
Interesting fact: Did you know that for the Olympics, women do not compete using gymnastics rings, only men compete using gymnastics rings in the Olympics.
What Sports or Athletes Use Gymnastics Rings for Training?
Olympic Gymnasts – Go Team USA! CrossFit, Functional fitness, Martial arts, bodyweight training, calisthenics, rock climbing, military, football, rugby, weightlifters, bodybuilders and anyone that wants serious upper body strength and muscle definition.
Don't believe gymnastics rings for home rings can build strength? Check out the video below and see for yourself.
How do I Stay Safe Using My Gymnastics Rings?
You must check your setup and straps before using your rings. Rogue fitness rings created this AWESOME PDF resource to give you a visual on what to look out for. I highly recommend you take a look.
Why are Gymnastics Rings Used in CrossFit?
Because Greg Glassman said so.
Seriously, the founder of CrossFit got his start, athletically speaking, in Gymnastics in the 60's and 70's.
CrossFit was born from his start in gymnastics, paired with his realization that gymnastics alone was not enough to crush his competition. He realized that in order to be a great trainer, he needed to branch out into weight lifting and other functional fitness disciplines.
His style eventually morphed into what is today known as CrossFit.
Your Search is Over, so No Need to Debate any Longer!
If you love Rogue Fitness, which I do, I would recommend the Rogue wood rings which are some of the best fitness and crossfit rings.
If you want gymnastics rings that are a little less expensive and every bit as good, go with my other favorite, the Double Circle Wood Gymnastics rings. You will not be disappointed with either of these fine sets.
Like what you see here?
Do you want to see more articles and reviews like this? Don't forget to subscribe to get the latest news directly to your inbox.
TOP 13 BEST GYMNASTIC RINGS FOR HOME OR GARAGE GYM REVIEWED 2020
It's fun.
It's cheap.
It's used for training all manner of athletes from the ancient Olympians of Greece to the Navy and Army Elite.
CrossFit athletes, bodyweight fitness gurus and calisthenics guys all use GYMNASTICS.
Why?
So many reasons!
Gymnastic seriously improves agility, upper body strength, coordination, confidence and so much more.
That's why I think a pair of the best gymnastics rings are a smart choice for your home or garage gym.
Based on my own personal experience, the advice and recommendation of friends, and review of other expert resources I present to you a list of 13 of the top gymnastics rings, plus tips on how to use them, hang them and what you must look out for before deciding on the perfect pair.
Top 13 Best Gymnastic Rings Reviewed 2020
1. Rogue Gymnastic Wood Rings
Review: These Rogue Gymnastic Wood Rings are some of the best rogue gymnastics rings. The natural wood feel is preferred by many athletes.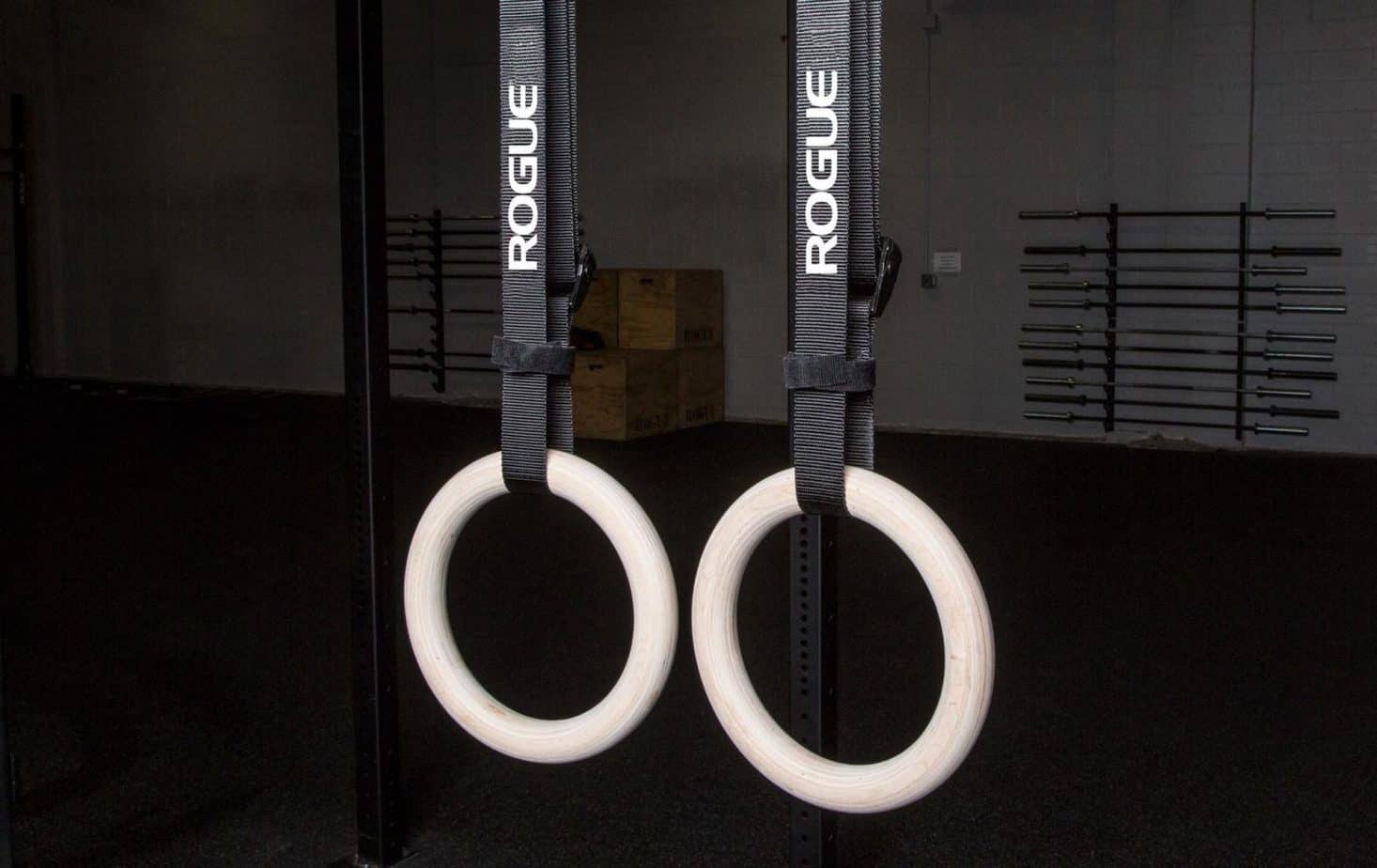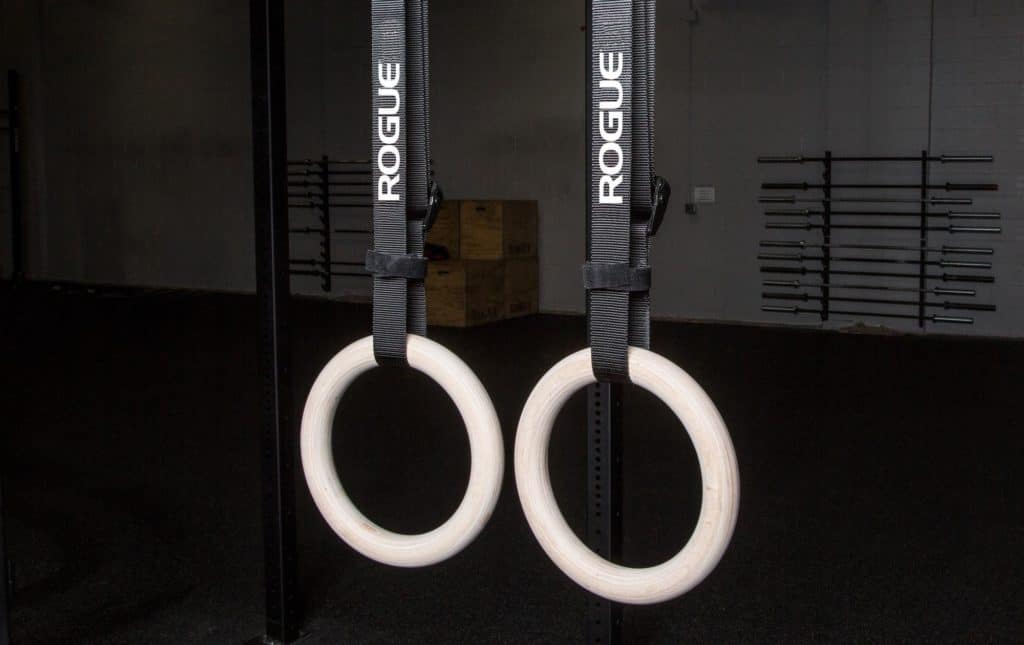 They are conveniently offered in 1.25 inch for CrossFit and 1.11 inch to match the International Gymnastics Federation specs. The fatter ring is more challenging and excellent for strengthening your grip.
Pros
Rings are made from sturdy Baltic Birch for a grippy and natural surface.
Includes Rogue's HD 1.5" wide nylon ring straps & buckle system.
Grippy without chalk needed.
Made in the USA.
Cons
Takeaway
Quality and durability from a brand you know & trust, Rogue Wood rings are a great choice for home and garage gyms.
2. Titan Fitness Wood Gymnastics Rings
Review: These solid wood gym rings by titan fitness rings are a little les expensive that the rogue rings gymnastics rings made of wood, and are close in quality.
These rings are rated for up to 600 lbs, and include both rings and a set of straps.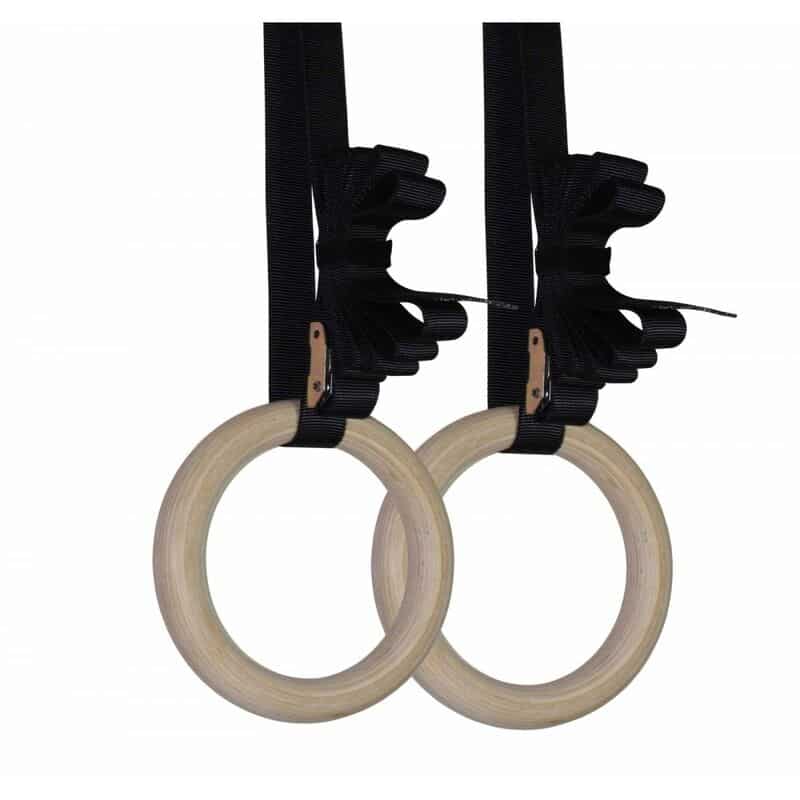 Hey are finely sanded, very attractive, and will make a useful addition to your home gym rings and take your training to the next level.
Pros
25 inch wide rings – fat grip style.
Includes adjustable cam style straps.
Real wood rings – made with solid wood.
Cons
Straps and clamps are not as high quality as the Rogue set.
Takeaway
The best gymnastics rings to buy for the home or garage gym on a budget.
3. Rep Wood Gymnastic Rings
Review: Rep wood rings are also available in standard 1.11 inch and fat grip 1.25 inch, just like the Rogue wood rings, but at a much lower price.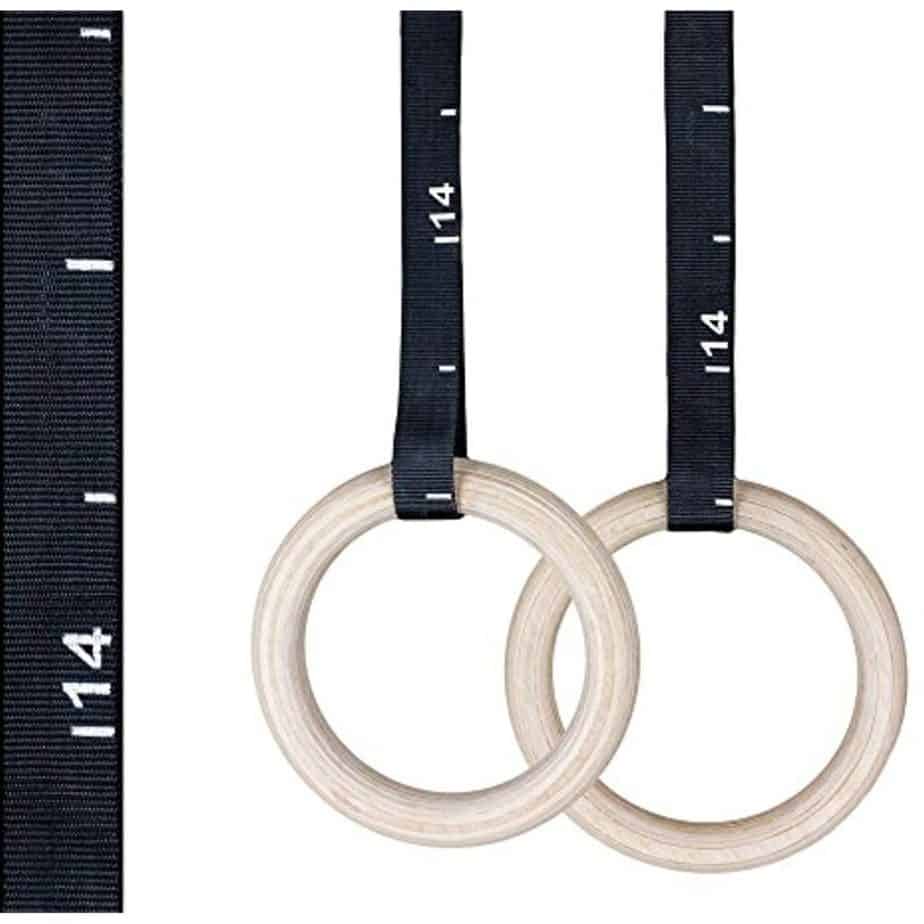 The 1.5 inch straps and cam style buckles are included in the set. These rep rings are rated to hold 600 lbs and are plenty strong enough for garage or home gym.
Pros
Made from Baltic birch, smooth and strong with a natural grip.
Velcro retention loops keep strap excess out of the way.
Quick and easy strap adjustments.
Great price.
Cons
The number marks on the straps do not line up exactly as they should.
Takeaway
Best wooden gymnastic rings at the low-end price point come with everything you need.
4. Rogue Gymnastic Steel Rings
Review: These 1.25-inch steel rings are the very first product Rogue manufactured back in 2006, and they are still a best-seller today.
Why get steel gymnastic rings at home rings?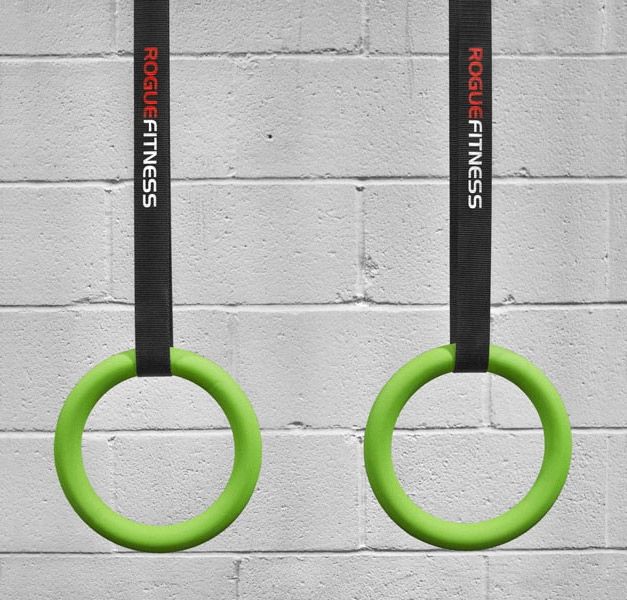 Because these power coated rings can be used outside, without rotting or corroding. Steel gymnastics rings feel beastly and hefty in your hands, unlike chintzy plastic, or lighter wood.
Steel rings afford a more secure feel and are the best choice for the great outdoor gym rings.
Pros
Ultra long lasting steel rings – not consumable like wood or plastic rings.
14 gauge steel.
25 inch fat grip CrossFit style gymnastics rings.
Cons
Not as grippy as wood rings.
Takeaway
These Rogue steel rings are the best gymnastic rings for calisthenics done outside.
5. Nordic Lifting Gymnastic Rings
Review: Nordic lifting makes a decent set of gymnastics rings for a fair price. The extra wide straps strong enough to hold two 300 lb gorillas, included with your purchase. These hefty gymnastics rings also come with a detailed instruction and use manual and convenient travel carry bag.
They are a standard 1.11 inches and a good fit for smaller hands. The plastic is lightly textured, but not so much it tears your hands up.
Pros
Rated for up to 620 lbs.
Made from sturdy PC plastic.
5 inch straps and cam clamps included.
Cons
The straps are so wide and heavy, quick adjustments are a challenge.
Takeaway
A great pair of plastic gymnastics rings, best gymnastic rings for home use for those with small hands.
6. 

PACEARTH 

Wood Gymnastics Rings
Review: Pacearth wood gymnastics rings are attractive and made with high-quality birch fashioned into smooth, splinter-free 1.1 inch diameter rings.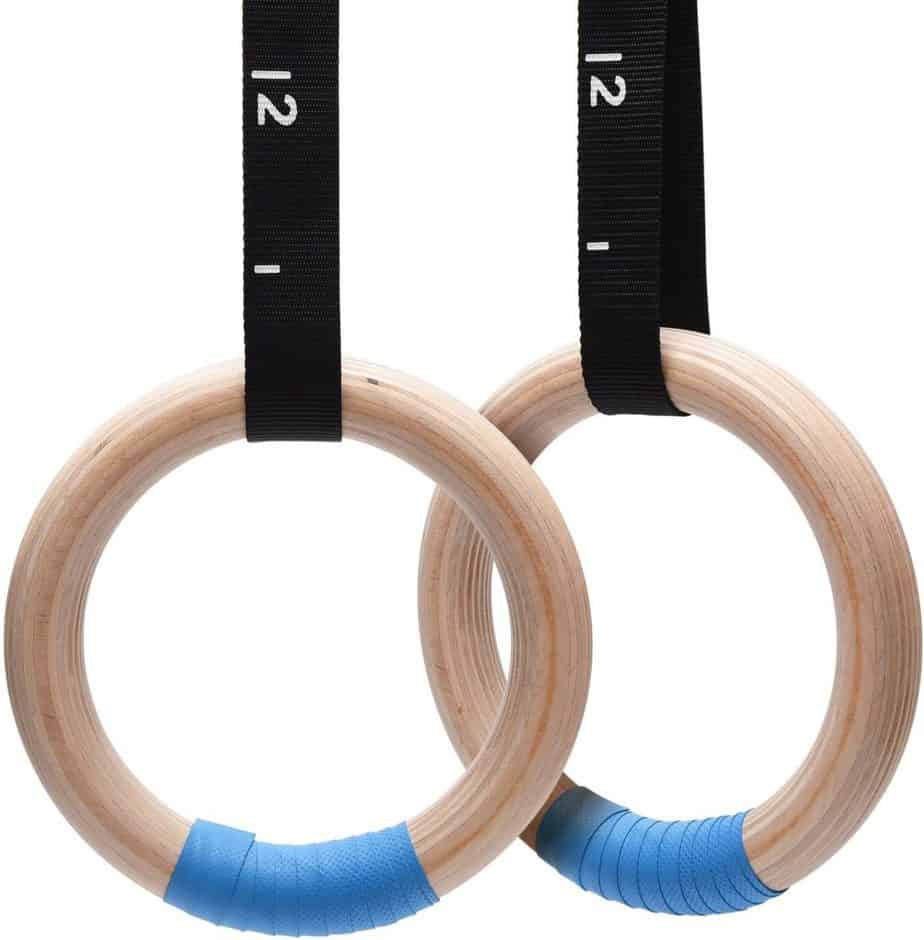 The straps are an ample 1.5 inches and the set is rated for up to 300 lbs, making these a good choice for a home gym or yoga studio.
Pros
Made from smooth solid and very grippy birch wood.
25 inch fat style grips for increasing grip strength.
5 inch robust hanging straps and solid cam style clamps included.
Cons
Supports up to 300 lbs only.
Takeaway
A good pair of wood gymnastics rings paired with durable hanging straps and hardware.
7. Iron Bull Strength Wooden Gym Rings
Review: No Bull! These Iron Bull wooden gym rings are awesome! I love that they are made from Baltic birch, just like the Rogue wood rings.
They are smooth, splinter-free, have great grip and are durable, all at about half the price.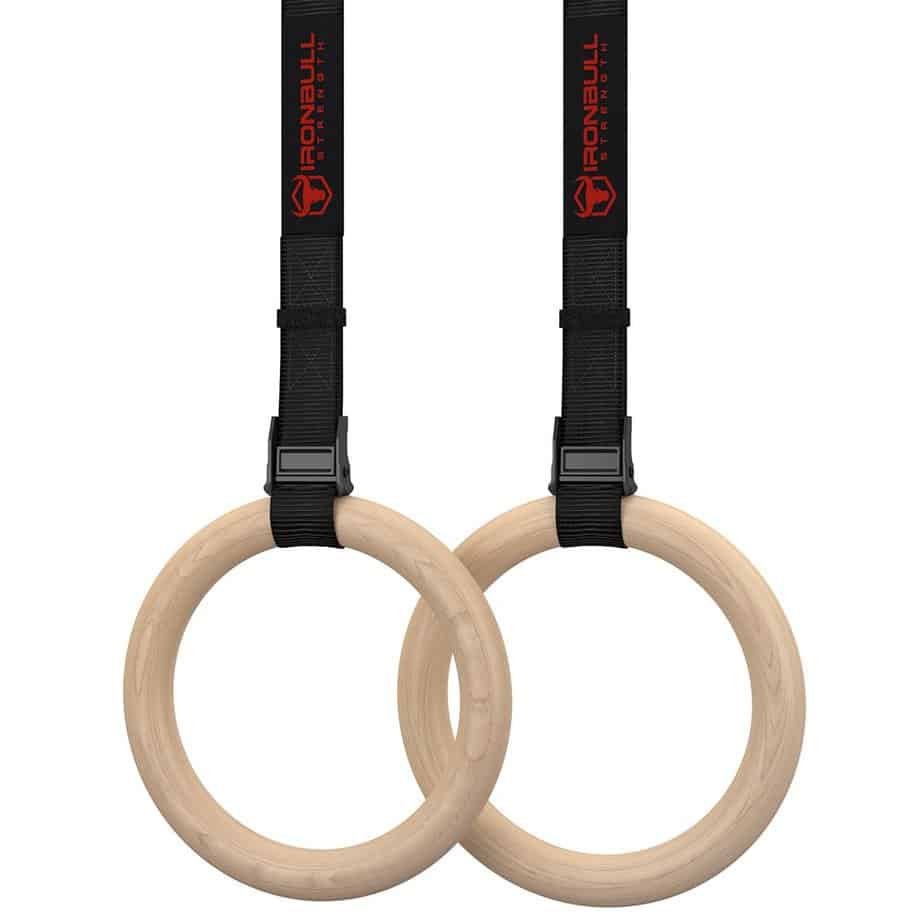 While Rogue set the standard for wood rings, these Iron bull rings are close in quality with 1.5 inch nylon webbing straps that will not fail you, and quality, quick adjusting, cam style fasteners that are simply better than most of the rest.
Pros
15 foot long straps.
5 inch this nylon web straps.
Grippy warm feeling real birch wood.
Cons
May need a bit of finish sanding one you get them.
Takeaway
Iron Bull is a smart choice for the financially savvy home or garage gym owner who values quality.
Review: Rogue plastic rings are economical when compared to other Rogue gymnastic rings.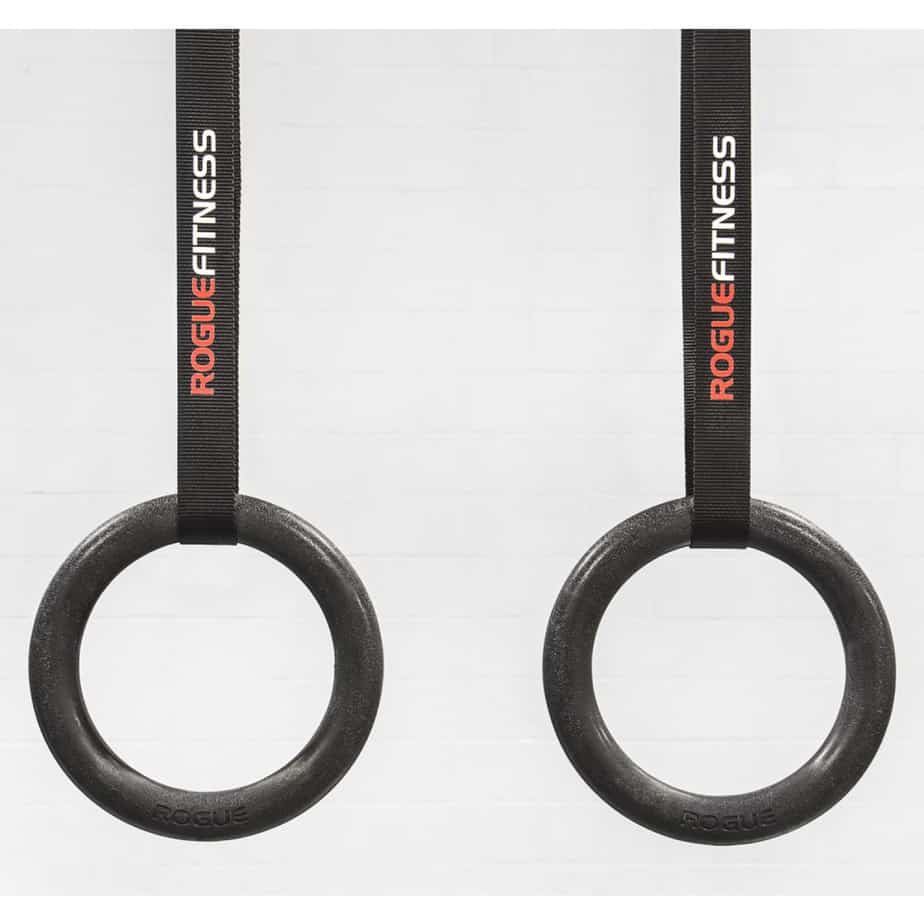 If you want a set of plastic gymnastic rings, these are a great choice because they can be used outdoors, have the fat grip style 1.25 inch wide thickness and are made with special weather resistant plastic that stands up to the elements.
Pros
25 inch thick weather resistant plastic rings.
Can be set up and used outside.
Priced lower than other Rogue gymnastics rings.
Cons
Not as solid and secure feeling as the Rogue metal rings.
Takeaway
Best gymnastic rings for crossfit rings home gyms on a budget.
Review: Elite makes a decent set of low budget gym rings for beginners and those who want to try out gym rings in their own home or garage gym without laying out a huge investment.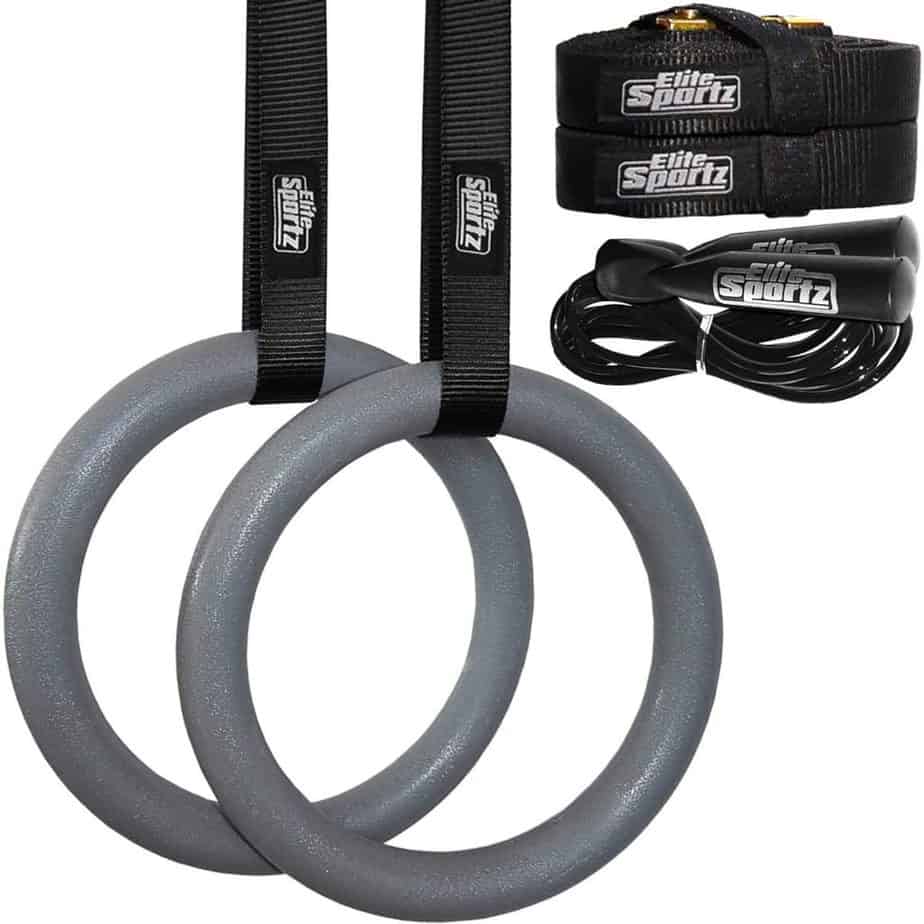 These plastic rings come in at a standard 1.11 width, with 1 inch straps, these make a good choice for smaller athletes, or those with small hands.
Pros
Standard 1.11 inch width rings.
Made from solid non bending polycarbonate plastic.
Cons
Straps are only 1 inch wide and hard to thread through the cam.
Takeaway
On a tight budget or just want to give gymnastics rings a trial in your home gym? Try these Elite gym rings for home.
10. Double Circle Wood Gym Rings
Review: Double Circle wood gymnastics rings support the wider 1.25 inch CrossFit style width, making them a popular choice.
They feature high performance 1.5 inch straps and are precision numbered, so they match up exactly, unlike cheap gymnastic rings brands.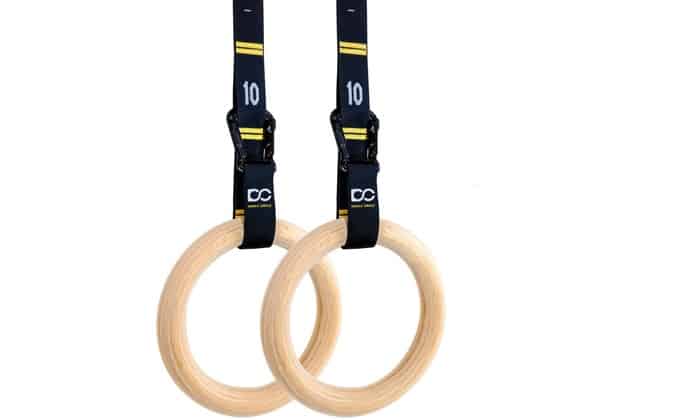 The markings are embroidered on to the strap, which is much better than those with a printed overlay that wears away. Double thumbs up for these high-quality mid-range price wood rings.
Pros
Completely unique carbineer style adjusters – better than the rest.
Embroidered on strap markings which are precise and will not wear off.
25 inch width rings with 1.5 inch straps.
800 lb capacity.
Cons
Can only adjust it pre-set increments – still, super easy and precise to adjust.
Takeaway
Easily the best gymnastic rings of 2020, unique carabineer adjustments and embroidered markings put this set ahead of the curve.
11. Evolutionize Power Gymnastic Rings
Review: The Evolutionize Power gymnastics rings have strap adjustment similar to the Double Circle straps, with sewn-in carbineer quick adjusting straps.
But these straps are adjustable for just 6 feet, while the Double Circle brand is adjustable for 10 feet and has markings sewn or embroidered in.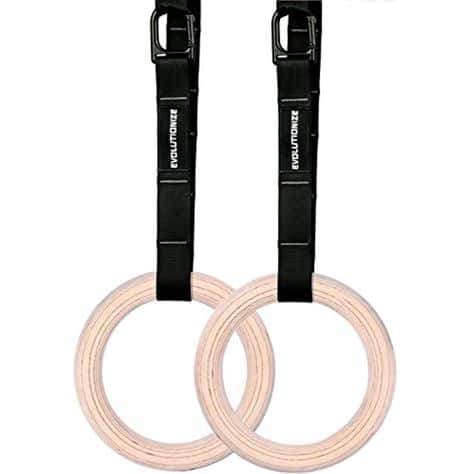 However, this set is less expensive, so it is a great choice for those who want to hang the straps lower and save a few bucks too. You may also like the fact that these rings are steel, which has a hefty feel and can be used outside, another bonus.
Pros
Straps are 12 feet long with 6 feet of adjustability.
25 inch wide steel rings.
Heavy gauge steel rings can be used outside.
Cons
The pre-set adjustments are not numbered.
Takeaway
A good alternative to Rogue steel rings at a lower price and with pre-sewn easy adjust straps.
12. Nayoya Gymnastic Rings
Review: These best gymnastics rings by Nayoya hold up to 200 lbs. These are PC plastic gym rings with a textured grip that prevents your hands from slipping.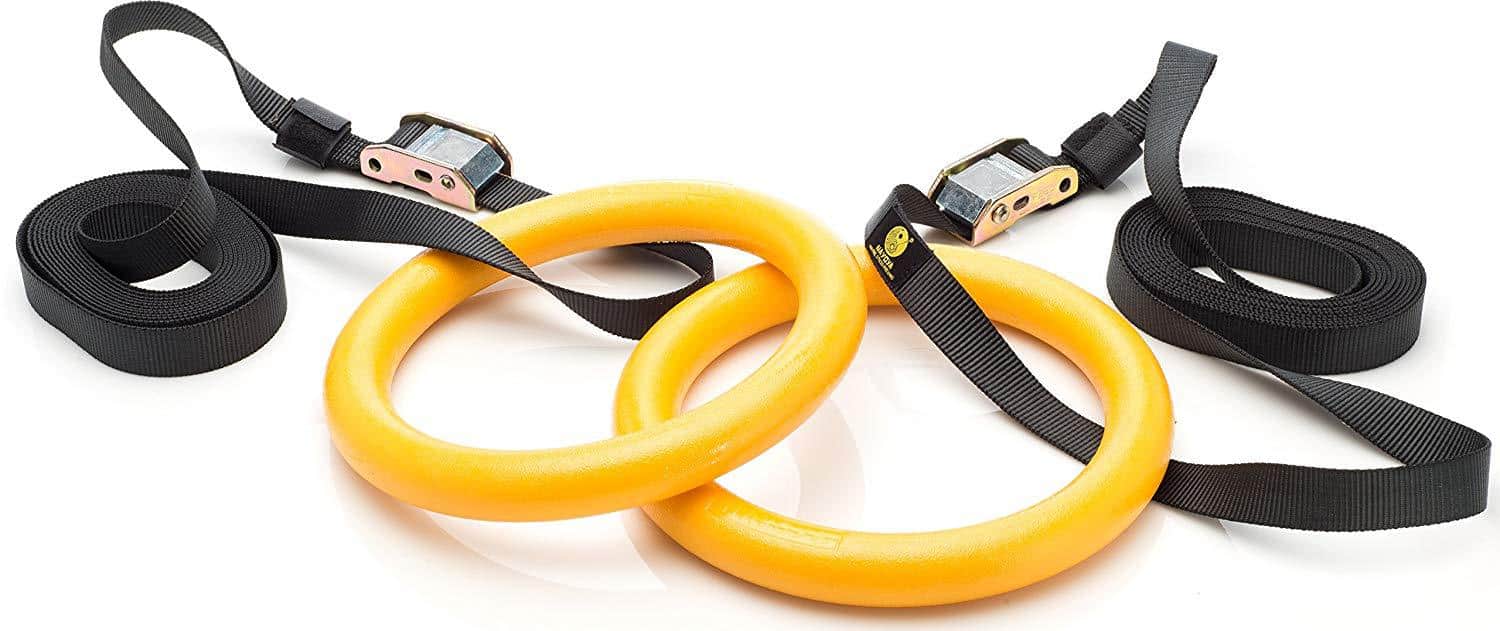 These rings are an economical choice, much less than other gymnastics rings out there, and the eye-catching distinctive yellow makes a striking addition to your home gym.
Pros
PC plastic gym rings can be used outside.
Budget friendly.
25 inch grip width.
Cons
Straps are narrower than the competition.
Takeaway
Budget friendly beginner gym rings, a great starter set for your home or garage gym.
13. Emerge Wooden Olympic Gymnastics Rings
Review: Outfit your home gym with a pair of Emerge wooden gymnastics rings to give it a pro look and feel. These rings are made with real solid wood and can hole up to 800 lbs.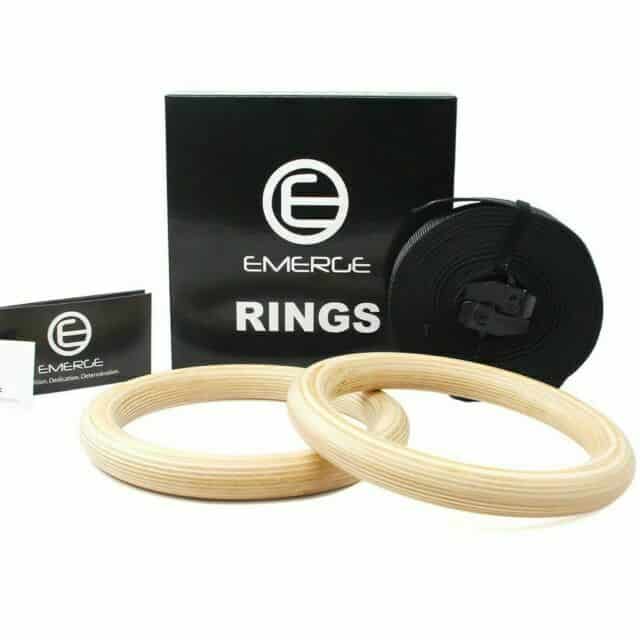 Pros
Includes heavy-duty straps and military grade 1.5 inch wide straps.
Made from soft, smooth real wood with excellent grip and a natural feel.
Standard size 1.11 inch rings.
Cons
Takeaway
A high quality set of standard FIG spec wooden gymnastics rings at a fair price.