SCHLESINGER, Thomas "Tom"
Inducted: 2006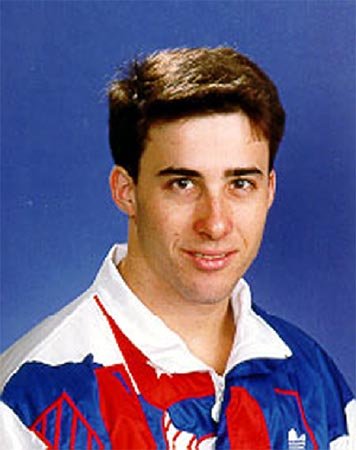 Tom Schlesinger represents the epitome of an athlete and scholar. I recently had the opportunity to meet him at the 2007 GHOF Induction Cermony; however, it was disappointing that time did not allow it.  But now I have the chance to introduce him to the entire world and take great pleasure that he represents the America we know and love. Opportunity, encouragement, and wherewithal were there for Tom, and he took advantage of them all. He was a great athlete who had a couple of bad breaks but never lost heart.
Honors: Seven-time NCAA All-American; Two-time Academic All-American; NCAA "Today's Top Six" award winner; Honored as a winner of the Fred Ware Award given annually by the Omaha World-Herald to the four-year college athlete in Nebraska, who, in the judgment of the newspaper's editors, made the most significant achievement in sports while representing the best traditions of his or her institution, (1988); Recipient of the Nissen Award, (1988). The Nissen Award is college gymnastics' highest award and is inscribed with the following motto: "The true champion seeks excellence physically, mentally, socially, and morally. It describes Dr. Schlesinger well. Big Eight Conference: Gold-SR (1987 & '88); Gold-PB (1986, '87, & '88). NCAA Championships: Gold-AA & PB, Silver-HB, (1987); Gold-Team, (1988). Schlesinger was a national team member for seven consecutive years. USAG National Championships: Silver-HB, (1988). World Championships: Tom Schlesinger qualified for three world championship teams (1987, '89 & '91), but due to injuries, he only competed at the 1987 competition, Rotterdam, The Netherlands and traveled as the alternate in 1991.  Pan American Games: Gold-Team, Indianapolis, Indiana-USA, (1987). Olympic Games: Team member [A], Seoul Korea, (1988). Education: Schlesinger earned a Ph.D. in biochemistry at the University of Colorado and then a MD from the University of Southern California. He completed a residency in ophthalmology at USC, followed by a fellowship in retina disease and surgery at the Casey Eye Institute in Portland, Ore. Family: (m). Two children.
Sources: Jerry Wright, author of Gymnastics Who's Who, 2005 courteously provided data and photos. Introduction and formatting by Dr. Larry Banner, Web Manager.