MUZYCZKO, Ted
Inducted: 1980 Born: January 14, 1936. Chicago, IL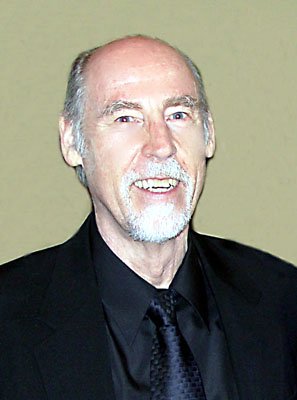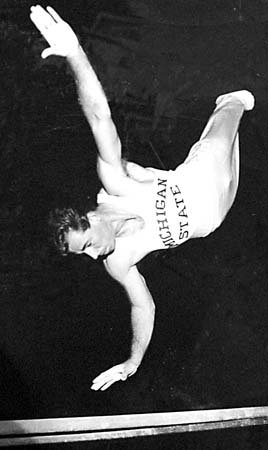 Gymnasts, judges and audiences throughout the world are aware of the potentially serious nature of accidents inherent in the sport of gymnastics.  Many have a story about what they have seen or experienced. One slip in an awkward position and the gymnast, male or female, is suddenly in the air off balance, blindly attempting to land safely. Ted Muzyczko was working on a German giant when his back hit the bar at the worst possible point in the maneuver. The next thing he knew was that he struck the ground with his left arm outstretched resulting in a double compound fracture.  Today, there are many safety devices that may have saved Ted from serious injury, but in the 50's things were different. It is most admirable that, after many surgeries and rehab hours, he returned to gymnastics. He started almost from scratch working with great coaches and became a top AA performer during his college career. After 1964, he turned to the world of judging where he developed a unique shorthand scoring system that had the effect of bringing judges scores of a single performance much closer together. He is most likely the first pure men's gymnastics judge to be elected to the USA Gymnastics Hall of Fame. Ted's combined dedication, intelligence, and talent have given much to our sport.  It is only right to honor him for his numerous contributions, and, in doing so, express our thanks.
Collegiate Gymnastics: Ted Muzyczko began his gymnastics career in the Chicago area. At the University of Illinois, Chicago, (UIC), he was coached by Dr. Hal Frey, (1954-1956). He lettered in gymnastics and track and was named Captain and Gymnastic's Most Valuable Performer. He transferred to Michigan State University, trained under coach George Szypula, and was once again named Most Valuable Performer in Gymnastics. NCAA Championships: Gold-Team, PB; Silver-AA, Bronze-PH, (1958). National Junior AAU Championships: Gold-PB, Silver-AA & HB (1957). Turner National Championships: Gold-AA, PH, V, PB, (1964). CAAU: Gold-AA, PB (1959); Gold-PB, (1960 & 1963). International Competitions: Team member, USA vs. Canada-Toronto, (1958, 1960); Team member, USA vs. Canada/Yugoslavia-Toronto and USA vs. Finland. Ted's final competition was as an Olympic Trials finalist, (1964). Military Service: USAF/Reserve, (1959-1965). Education/Teaching/Business: B.A., Michigan State U.; M.S., Roosevelt University. Served as lecturer and Assistant Professor in polymer physics and chemistry, Roosevelt University and College of DuPage, (1971-1992). Authored numerous professional publications in his field and holds 43 U.S. and international patents. Ted is currently a project consultant for Finzer LLC. Judging: Ted was an internationally certified gymnastics judge from 1967 to 2000. He judged over 1000 meets/sessions at all levels of competition as follows: Olympic Games-Los Angeles, (1984); Seoul, Republic of South Korea, (1988); Atlanta (National Judge), GA, USA, (1996).  World Games–Ljubljana, Yugoslavia (Slovenia), (1970); Moscow, USSR, (1981); Birmingham, England, (1993); Sabae, Japan, (1995).  Pan American Games-Mexico City, Mexico, (1975); Indianapolis, USA, (1987).  Goodwill Games-St. Petersburg, Russia, (1992). World University Games-Kobe, Japan, (1985); Sheffield, England, (1991). Miscellaneous International Competitions: Budapest Invitational, (1978); Alternate Olympics, Hartford, Connecticut, (1980); Nantes France, (1983); Milk Meet, Toronto, Canada, (1978); Riga Latvia, (1978); Cup of America, Mexico City, Mexico, (1967); DTB, Wiesbaden, Germany, (1981); La Coupe Excellence, Montreal, Canada, (1987); American Cup, Moscow News, Chunichi Cup, Canadian National Championships, (1978) and the British Olympic Trials. International Team Competitions-USA vs. New Zealand, Australia and Japan, (1977); USA vs. Russia, Japan, Germany, China, Bulgaria, Poland, Hungary, Republic of South Korea, and Czechoslovakia.  Ted served in one judging position or another in over a dozen NCAA Championships, plus several Olympic Trials, USGF Championships and USA Final team selection meets, as well as Big Ten and Big Eight Championships.  In addition, he judged at over 20 IHSA Finals and more than 500 high school dual meets. General: Ted Muzyczko was a co-founder of the National Gymnastics Judges Association, (1969), a Board member, (1969-1980) a past President, a Technical Director, and he contributed to the NGJA Constitution.  He was also a board member of the USGF for a number of years (1964, 1974-1976, 1979-1980), especially from its inception. He was a past member of the Men's Program and other planning committees. He authored the original National Certification Procedures and later simplified versions. Ted was a Technical Representative to the Federation International Gymnastique (FIG), (1977).  He was a Team Manager for the USA Gymnastic Teams in New Zealand, (1977); Moscow, USSR, (1978); and Wembley, England, (1980). Instructor/Lecturer-International Judging Certifications: Canada, Mexico City, New Zealand, (Chicago, and Naperville IL), and Colorado.  He served as The Men's Artistic Gymnastic Technical Director at the World Games, Indianapolis, (1991), and the Pacific Rim Championships, American Cup, and Mixed pairs. He taught national certification courses and seminars between 1969 and 1992. Ted served on the Olympic Compulsory Committee for PH and was a National Team Leader for Vaulting, (1991-1995); taught summer clinics at MSU with George Szypula, (1975-1980).  Publications: Ted Muzyczko was the originator of "Visualization/Notation" judging techniques for total recall and event training videos. He published numerous articles on gymnastics judging such as "The Use of ROV in Judging NCAA Men's Gymnastic Finals," "A Few Tips for International Judges", and "Land of the Free Home of the New," "Bias Correction Factors: A Proposal to Minimize Unwanted Pattern Bias in International Competitions," (1985). Ted wrote numerous other applicable articles. He served as editor of NGJA Compulsory and Rules Handbooks, (1974-1977). Honors: Frank J. Cumiskey Judging Hall of Fame Honoree, (1977); USAG, (1994) and IHSA, (1980). Distinguished Service Awards; Regional Judges Awards for Outstanding Contributions, (1971, 1973, 1977, & 1978); Inducted into the University of Illinois, Chicago Hall of Fame, (1995); Presented the Lansing Downtown Coaches Award, (1958); Illinois Sports Committee Governor's Award, (1967); A special NGJA Presidential Award, (1977), and the Mexico Olympic Committee Service Award, (1974). Family: m. Peg Heneghan. Children: Two daughters and two grandchildren.
Sources:  Personal resume, interviews, and photos courtesy of Mr. Muzyczko, and Jerry Wright author of Gymnastics Who's Who, 2005. Introduction, commentary, and formatting by Larry Banner, Web Manager.