TOM, William "Bill" 1926 – 2012
Inducted:  1992 Born: San Francisco, California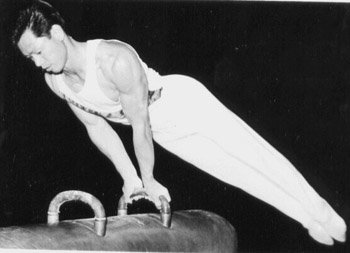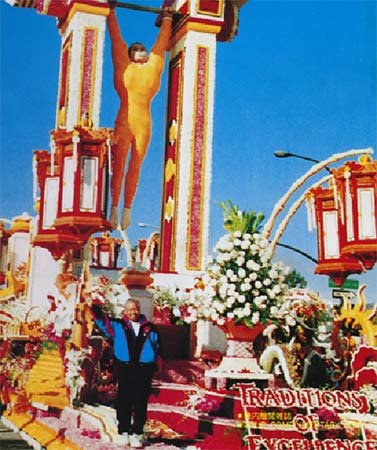 Bill is a man of energy and humility, opening the gym in the evenings and then helping numerous young gymnasts learn the gymnastic skills they would later perform in Olympic Trials, Olympic Games, World Championships, NCAA Championships, and other prestigious competitions. His experiences with acceptance and prejudice lead him to believe that " . . . the Olympics are a universal sport, a universal language to respect each other because it's the only event to bring the youth of the world together . . . " At over eighty years of age, he still travels the world competing in Badminton Championships.
A SHAKY START: Bill was born in San Francisco, but when he was five years old, he moved to Guangzhou (Canton), China. Because of the Japanese bombardment of China in the late 1930's, he moved back to the United States finally settling in Los Angeles when he was about 15 years old. Education& Early Development: Bill attended Los Angeles Poly Tech High School where he practiced gymnastics. He went on to Los Angeles City College for one year and then went into the military service during WWII.  While in the military, Bill made a pommel horse from a tree log sliced in half with makeshift pommels. Years later, Bill had Olympic business cards made up with him in combat boots doing a circle on that pommel horse. After his military service, he went to Occidental College where he graduated with a B.A. (1951).  After college Bill taught high school in Los Angeles for seven years.  Eventually, he received his M.A. from Cal. State Los Angeles in 1962.  Honors/Gymnastics: Gymnastically, Bill won the 1949 National AAU (elite) vaulting championships, having also placed in floor exercise and pommel horse. He was also a Southern California regional all-around champion and a valuable member of the Los Angeles Turners team that won several National team titles.  Bill achieved his greatest gymnastics success rather late in his career. In 1956 he qualified for the U. S. Olympic team, being its senior member at age 33.  Melbourne, Australia, (1956) At these Games, Bill " . . . experienced powerful emotions as he made friends with the Taiwanese athletes and found himself dealing with deep-seated personal issues of cultural identity that led to his moving to Taiwan for awhile and establishing their first gymnastic team."  Honors/: Fulbright/Smith-Mundt Teacher Education Exchange Program Award that took Bill to Taiwan Normal University as an instructor, (1957-'58); Coaching: Bill returned from Taiwan and taught physical education and coached the men's gymnastics team at L.A. Trade Tech for 32 years.  General: Bill Tom started gymnastics in his only year at Los Angeles Poly Tech. HS. After his one year in high school, WWII took him into the service.  Throughout his gymnastic career, he received support from Olympians and other outstanding gymnasts in the L.A. area.  After college, he was an important scorer for the L.A. Turners Gymnastic Club that went undefeated for many seasons against Division I universities. Several major individual championships were held annually in the Los Angeles area, and Bill was in the top three in most events all of the time.  A Point of Interest: Art Shurlock tells about the September of 1956, while we were training at Lincoln High School prior to leaving for Melbourne, Bill devised and often performed the 'Bailie' skill on pommel horse. He called it a 'Moore, back Moore, travel' that in today's terms would be a "half Czech, direct Stockli B." Two years later at a workout in Florida, Sam Bailie was eager to show me a new skill that he 'invented,' which was the same skill that Bill had shown me.  Afterward my thought was that it would have been more appropriate to name the skill a 'Bill Tom!' It should be pointed out that at the time Bill and Sam were unaware of each other performing the same skill. A Numerous Sports Champion: Along with his gymnastics training, Bill learned and became a champion Badminton player.  During the late '50s and 60s, he opened the Lincoln Heights (Los Angeles) HS gymnasium two evenings a week.  Former and prospective Olympians often trained there.  Bill would have a Badminton net set up and Jack Beckner, Larry Banner, and numerous others would warm up playing Bill.  I don't remember anyone scoring a point against him, and little did we know that he would continues to advance his Badminton skills to the point that he won numerous International Senior Badminton titles including several Asian National Age Bracket Championships.  In April 2007, Bill won the Silver Medal at the USA National Sr. Badminton Championship-Age Bracket: 80-84 years young. He scored Silver in the singles competition and Gold in the doubles division.  Bill scored Gold in his bracket at Badminton's Sr. Olympic Games in Pasadena, CA. He won two gold and one silver in the three badminton divisions: singles, doubles, & mixed doubles in the Sr. Olympic Games Badminton Tour, Pittsburgh, PA, (June, 2005). He plans to compete again in 2007 where the competition will be held in Louisville, KY. Bill returned to Asia in 2007 for the World Cup Championships. He and his partner won gold in the doubles competition, (See Insert). He just returned from Malaysia where he was the doubles badminton champion at age 83 1/2 and was recently inducted into the Senior Badminton Hall of Fame, (2006). Unknown to we lowly gymnasts, Bill has been toning up his tennis skills, and just recently, 2007, returned from the World China Cup Championship. He had entered the 80-infinity age bracket. When asked about the results of his tennis singles match, he replied, "No singles past age 80 in tennis competition. Motto is 'Safety First.'" When asked about the results of the doubles portion, Bill, in his usual straightforward manner replied, "All partners die!" Not to be denied, Bill paid $20 American for a partner from a pool of stand-by players. His draw from the pool was a bit disappointing. Bill described his $20 partner picked from a hat walking onto the court at the last minute limping badly; nevertheless, Bill did get to play in the doubles tournament, but, alas, did not medal. As Bill said, "Maybe for $40, I get faster partner", but he was joking "No $40 dollar hat," exclaimed Bill. Readers' now know the breaking news about whether Bill goes to the World Championship Badminton Tournament at age 90+. He passed at age 93, but not before becoming an champion diver, exemplified y his placing 5th in a National AAU championship and a Southern California Junior College Diving championship.  Art writes that his badminton prowess was legendary. Enough you think but it was not enough. Bill designed his own kites that had a glass substance on the string.  He became a master flying the kite, employing a special technique of "pulling and releasing." Shurlock was with Bill one day watching Bill zooming his kite across the sky thus cutting down other kites – all for sport. Art mentioned that he may be cutting down some kids' kites.  Bill playfully responded, "It's war up there! Bill was truly one of a kind. Teaching Humility: During the 50s & 60s, it was common at many schools for the gymnastic or badminton and basketball teams to compete for time in the gym.  At age 72, Bill was teaching a badminton class in the L.A. Trade Tech gym when several basketball players wanted the space for an early practice.  Bill told them it would be OK, but there were stipulations. The 1st was that any three of the basketball players had to play badminton against him.  They could all play him at once or one by one.  The 2nd was that he would spot them 14 points (15 points wins the game) in each game played.  The 3rd stipulation was that they could serve first, and the fourth, that brought quite a laugh. The loudest laugh was when the a fourth stipulation was proposed, the basketball players would have to respectfully bow to him whenever they crossed paths on campus if he lost. His challenge was accepted, and the boys chose to play him one at a time. Why not?  He, after all, was 72 years old.  They boasted that they would just wear him out.  For the remainder of the year, basketball began when gymnastics ended, no questions asked, and several boys were seen bowing to Bill at various locations about the campus.  One day, one of the young men didn't bow, and Bill immediately asked him why he didn't bow.  The answer was something about being embarrassed in front of his girlfriend.  Bill's response was that " . . . humility in a man is a plus in a woman's heart".  All three never missed a properly bowing after learning humility from the Master. Family: One son. Two daughters. Six grandchildren.
Sources: Interviews with Tom who provided WC photo and action photo by Jerry Wright, author of Who's Who in Gymnastics, 2005. Much information received and reproduced herein by Abie Grossfeld and Art Shurlock who were two of Bill's best friends throughout numerous years. Introduction, commentary, and formatting by Dr. Larry Banner, Web Manager.