ROBINSON, Don (1931-2011)
First USAG Lifetime Achievement Award
2000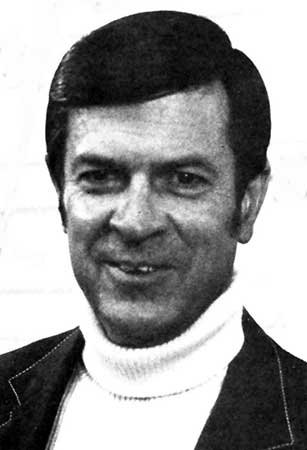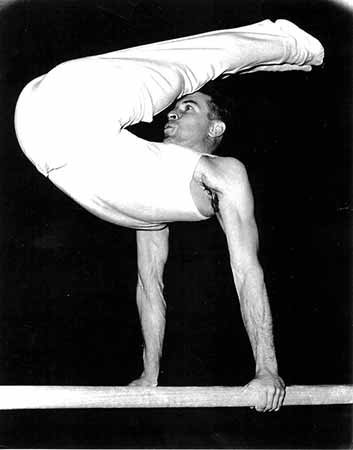 USGA Lifetime Achievement Award:
Don Robinson had the honor of being the first recipient of the USAG Lifetime Achievement Award designated by USA Gymnastics' Hall of Fame Selection Committee. He was inspired in his youth by a pair of hand balancers at a local YMCA "Circus Night" and later competed for North Denver HS.
Don entered the Air Force after graduation and developed a hand-balancing act while in the service. The act was good enough to be televised as a part of the armed forces "Talent Patrol" hosted by Bud Collier and Arlene Francis. He also honed his artistic talent serving as cartoonist for the McCord Air Force Base newspaper.  He came under the influence of Tony Rossi while attending Colorado State College of Education (presently Univ. of Northern Colorado) and developed into a prominent All-Around gymnast. AAU Rocky Mountain Championship: Gold-AA, (1957 & '58). Coaching: Robinson spent almost a decade coaching gymnastics at Aurora High School in Denver's suburbs winning four state championships and nine conference titles. He helped to organize the first and second Coaches Congresses, (1965-66), establishing himself as a leader in the emerging United States Gymnastics Federation (USGF). Robinson moved into the collegiate ranks in 1968 coaching for a year at Eastern New Mexico University where he earned a Master's degree. He took a position at Arizona State University (ASU) in 1969 where he spent the greater part of his career. His teams amassed six Pac-10 titles, five of which were consecutive (1974-1978). Dan Hayden was Robinson's most outstanding gymnast making the 1985 World Championships team, placed second AA in the 1985 National Championships and was NCAA champion on the parallel bars and horizontal bar in 1985 and 1986.  In all, Coach Don Robinson guided the Sun Devils to 13 top NCAA finishes, six conference titles, and directed 50 conference and eight NCAA champion gymnasts.  He retired in 1993 but continued to work with ASU's club team after the University dropped the sport. NCAA Championships: Team-Silver, (1974 & '78); Team-Gold (1986). He has been associated with the Sun Devils' gymnastics program for more than thirty years. Service: Don is a Past President of the National Association of Collegiate Gymnastics Coaches (renamed College Gymnastics Association).
Source: Jerry Wright, author of Gymnastics Who's Who, 2005 who provided Robinson data, introduction, and photos. Formatting by Dr. Larry Banner, Web Manager.