BHARDWAJ, Mohini
Inducted: 2015
Born: Philadelphia, Pennsylvania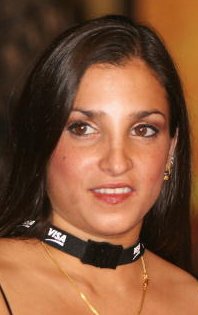 | | |
| --- | --- |
| | |
Mohini Bhardwaj competed at the 1997 and 2001 World Championships and earned a team silver medal at the in . She was the first gymnast, and the second Indian-American athlete overall, ever to medal at t he O lympics. One of the very few American female gymnasts to compete in college and then make a U.S. Olympic Team. Bhardwaj began taking gymnastics classes at th e age of four in her hometown of . She excelled in the sport, and, at the age of 13, moved to to train at Brown's Gymnastics.

At the age of 16, Bhardwaj's coach, Alexander Alexandrov, moved to to open a new facility for Brown's. Bhardwaj followed, without her parents, living alone in a Texas apartment she began to struggle, and her gymnastics suffered. However, in spite of her seeming indifference, Bhardwaj had a strong showing at the 1997 Nationals, finishing 3rd in the all-around and easily earning a spot on the American World Championships team. At the , Bhardwaj was the only American besides to qualify for an individual event final, the vault, where she placed fifth. After a 12-year journey, her dream finally became a reality when she made the 2004 Olympic team where she served as team captain. A moment which stands out most for her was when she stepped in, at the last minute, for teammate Courtney Kupets and competed on the balance beam. "I didn't know I was going to compete on beam, I hadn't warmed up on the podium," said Mohini. "That was a very stressful five minutes." The dynamo hit her routine and helped lead the U.S. team to a silver medal.
Olympic Games: Silver-Team, 6th FX (2004), Athens; World Championships: Bronze-team, 7th-V (2001) Ghent; 6th Team; 5th V (1997). Other International Competitions: 2001 Pan American Championships: 1st Team; 2nd AA; 5th VT; 1999 World University Games: AA (qualified); 1997 American Cup: 10th AA (preliminary competition); 1996 Pacific Alliance Championships: 1st team; 1st AA; 1st VT; 2nd BB; 3rd FX; 1996 Moscow World Stars: 4th AA; 2nd UB; 3rd BB; 3rd VT; 1995 Atlanta Invitational (Olympics Test Event): 8th AA; 1st VT; 1995 China Cup: 7th AA; 2nd mixed pairs; 3rd BB: 5th UB (tie); 7th VT; 1995 International Mixed Pairs: 5th; 1994 Puerto Rico International Gymnastics Cup: 2nd VT; 3rd BB. National Championship Competitions: 2004 US Olympic Trials: 6th AA; 2004 US Championships: 12th AA; 2nd VT; 2001 US Championships: 3rd AA; 1st VT; 2nd UB; 6th VT; 7th FX (tie); 1997 US Championships: 3rd AA; 3rd VT (tie); 5th FX; 1996 US Olympic Trials: 10th AA; 1996 US Championships: 12th AA (tie); 2nd BB; 4th VT; 4th UB; 5th FX (tie; )1995 US Championships: 15th AA; 4th UB (tie); 6th BB; 1995 US Olympic Festival: 5th AA; 2nd VT; 2nd UB; 1994 US Championships: 35th AA; 1994 US Olympic Festival: 7th AA (tie); 5th BB; 6th VT; 1993 US Championships: 10th AA. NCAA Championships: (11-time All American); 2001 Gold Team and FX; 2000 Gold Team and UB, Silver AA, Silver BB, 5th V; 1999 11th AA; 6th UB; 1998 4th UB; 7th VT. Awards: NCAA–AAI Award and Honda Award; India abroad Person of the Year-2004; UCLA Hall of Fame Award-2013. FIG gymnastics skill named for her-Pak salto with full twist. Coaches: Alexander Alexandrov, Chris Waller, Galina Marinava, Valerie Kindos-Field, Rita Brown. Family: Parents: mother Indu (is Russian from NY and teaches yoga) and father Kaushal (from India and is a physician); brother: Arun; Husband: Jeff Berry and a son (born in 2009).
Sources: Wikipedia; UCLA Sports Information; Photos from the public domain. Formatting by Jerry Wright, assistant Web Manager; Author of Gymnastics Who's Who-2010."
Bhardwaj is currently living in Bend, Oregon and is owner/director/coach at the Oregon Olympic Gymnastics Club.