MALONEY, Tom
Inducted: 1971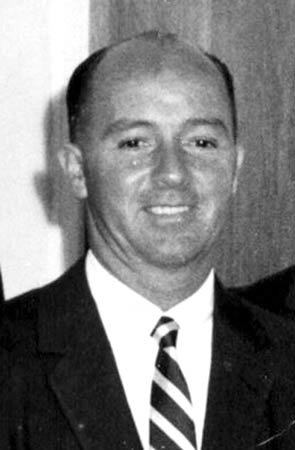 Tom Maloney was my coach in Moscow, Rome, and Prague. He was able to make some corrections to my performance on several events during the pre-competition training. He was a well-respected man, especially in the way he gave service to the AAU that was the governing body for U.S. gymnastics. His service was passed on to the athletes who competed at the national level on equipment and under conditions that were as ideal as possible. It is amazing that he was able to accomplish a fine record as a coach since many of his men had little or no experience on any of the apparatus when they arrived. He sought help from the right people to bring his novice level athletes up-to-speed quickly, and he did have a gym full of "quick study" students. I am happy that I knew Tom Maloney as my Olympic and World Championship team coach. He knew that the teams consisted of the best gymnasts of the day and encouraged them to help one another in training and in the competition. In Rome, he almost became the first U.S. Olympic Gymnastic Coach to have a team win a medal. It was close up to the last evening when the Italians took the floor.
Competitor: Maloney competed in local and national AAU meets during his early competitive years. He also won YMCA championships on HB and PB and was for a time a member of the National Championship winning Hudson County Swiss Turners gymnastic team. The team won 13 national championships between 1926 and 1939. Coach: Tom was only the second gymnastics coach in the history of the United States Military Academy at West Point. He enjoyed remarkable successes over a 36-year career.  In fact he retired as Army's most productive coach, a distinction he still held as of this writing in 2007. He had not only the lure of the Academy and a military career but a recruiting budget that allowed him to travel and find promising young athletes; however, it's important to include that recruits came to West Point without any scholarship or commitment to the gymnastics team, but each had to participate in at least one sport. This accounts for the Army gymnastic team consisting mostly of "specialists. Maloney's special recruiting skills helped his teams, between 1931 and 1966, compile a record of 211-34-6 (.853), and they captured 10 Eastern Conference team titles along with fielding 11 unbeaten teams. He produced 24 All-Americans, 37 individual event conference champions, 6 NCAA individual event champions and one Olympian, Gar O'Quinn, (1960). O'Quinn also served as an Assistant Coach at the Academy for two years. In a paper written by Gar in 1960, An Observation of the Coaching Techniques and Associated Qualities Which Have Made Mr. Thomas E. Maloney a Successful Coach of Gymnastics, "perfection in single as well as movement combinations . . . dedication to the sport by giving of his time and energy . . . cooperation with men of authority . . . personal skills acquired as a gymnast . . . an interest in new trends and ideas . . . studying the champions . . . providing a gymnastic atmosphere for training and competitions . . . conditioning . . . promoting team spirit . . . systematic scheduling . . . allowance for self-expression . . . practice as competition . . . acceptance of conditions . . .  and . . . just knowing the sport" were the major reasons for Maloney's success. Gar also relates that on weekends, Tom had several top gymnasts like DeAturo, Scrobe, and Cumiskey, all to become USGHOF Honorees, come to the Academy and workout with the team in much the same manner as the Olympians in the Los Angeles area worked out two evenings per week with the prospective talent in the area. Gar also relates that above all things, Tom loved gymnastics, often bringing films and photos from all levels of competition for his athletes to view and get ideas. Olympic Coaching/Judging: Mr. Maloney's active participation in the Amateur Athletic Union (AAU) contributed to his being named Head Coach of the U.S. Men's Olympic Team, Helsinki, Finland, (1952) & Rome, Italy, (1960). He was named Manager of the 1964 Olympic Team as well as a judge, Tokyo, Japan, (1964). He was very much the organizer in that he would check out the Pommel Horse that was to be used in "away" competitions and make sure his PH team had a similar style PH to practice on during the week preceding the "away" competition. World Championships: Head Coach of the Men's Gymnastic Team, Moscow, (1958). This was the first time a full team participated in a World Championship competition. Named Head Coach of Men's Gymnastic Team, Prague, Czechoslovakia, (1962). Service:  Maloney was elected President of the National Association of College Gymnastics Coaches, (1956-57); National Association of Collegiate Gymnastics Coaches Honor Coach Award Winner, (1974), a Special Service Award Recipient; and voted an Honorary Lifetime Member of the NACGC. Anecdote: Tom was easily the world's most productive collector of International Friendship Pins. His collection probably represented all the nations of the Olympic and World Championship competitions. He would roam the social areas, the athletic venues, and just stand at a vital spot to offer American Friendship Pins to athletes from countries whose official Pin wasn't yet in his collection. Americans were given 10 Friendship Pins each, and most gave them to athletes from other countries with which they had struck a friendship. Tom would offer two, three, or more of certain easily acquired Pins for one Pin from a country with very few athletes in attendance. I recall that in 1960 or '64, he became the proud owner of a Friendship Pin from Lichtenstein. There may have been only a few available. He was the champ of the Pin collectors. It was well known that Tom loved his dog, Sheba, and golf. In the evenings, Tom had the dog trained to find golf balls on the course whether they were above or below water. The dog learned that if he found a golf ball, a treat was coming. I trust that Tom taught the dog to know the ball had to stop rolling before he grabbed it and brought it to Tom.  He also was a fantastic badminton player, often playing his team members as a conditioning exercise but not allowing them to garner a single point. Family: (m) Esther.  Children: Robert & Cathy.
Sources: Jerry Wright, author of Gymnastics Who's Who, 2005 who also provided photo and general information and Gar O'Quinn, Maloney's only Olympian, (1960). Introduction, commentary, and formatting by Dr. Larry Banner, Web Manager.