MARQUETTE, Clayton "Bud"  (1920-2001)
Inducted: 1977
Born: Ambridge, Pennsylvania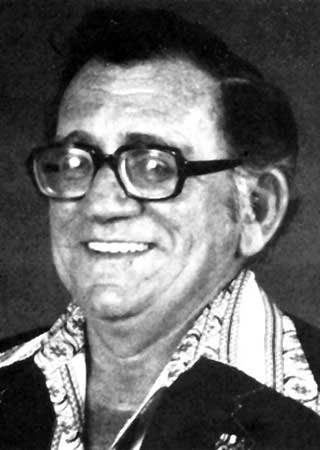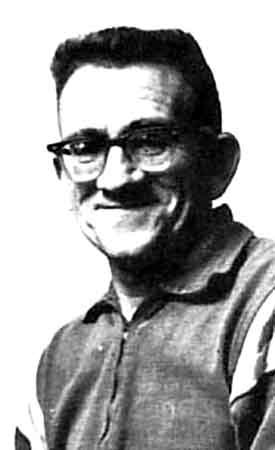 Bud Marquette was a coaching pioneer for women's gymnastics and considered by many as one of America's and world's foremost gymnastics coaches, author and lecturer truly the "Father of Women's Gymnastics" in the U.S. He learned his gymnastics as a child under the disciplinarian style of the German Turnverein, and he used that same regimentation, as he called it, in his own coaching. Marquette moved to California and started a recreational gymnastics program at Lakewood High School in 1957. Shortly thereafter, he started the soon to become famous Southern California Acro Team (SCATS), which set the pace for women's clubs in America. His most successful and famous gymnast was Cathy Rigby, who became the first American woman to place in a World or Olympic Championship competition winning the Silver Medal-BB at the World Championships, Ljubljana, Yugoslavia, (1970).
History: Bud Marquette began his career with the American Turner Society at Ambrige, PA, in the early 1920's, later becoming a High School, State, National Turner and Amateur National Champion. He attended Indianapolis Normal and Slippery Rock State Teachers College before entering the Armed Services early in 1942. After his discharge from the service, Bud began teaching full time at the Turnverin in Rochester. His work quickly brought "Mr. Bud" to prominence in the field winning 10 consecutive State titles and numerous National honors.  After the Olympic Games in Melbourne, Australia, Bud planned to retire from gymnastics and moved with his family to Long Beach, CA, where as half-owner of a house construction company, he endeavored to raise his family.  Within a year Dr. Eric Hughes of Seattle, WA, asked if Bud would be interested in helping to conduct a "First in the West Summer Gymkamp"? "Of course," Bud replied. Hughes writes, "In the late '50's boys gymnastics was at a very low level in the Northwest, and girl's (gymnastics) was almost non-existent." After Marquette accepted the staff position in the 'Gymkamp,' he became a pioneer mainly because he knew so much more than the local coaches. Our girl's program progressed much faster because of Bud."  Marquette's activities soon gravitated to a point that he became known as the father of Washington State's girl's gymnastics. One year he even brought Ronette Ferges with him, and for two years Cathy Rigby. These girls were so much more skilled than the Northwest girls that the Northwest girls learned just by watching." One thing led to another and soon he was directing the City of Lakewood's recreational program. In 1960 sensing the need for an even better training program, he formed the Southern California Aero Team SCATS in the basement of a Long Beach church. In the 1970's, the Club relocated to Westminster near Long Beach and eventually to its Huntington Beach headquarters according to Peters, who served as the Director of SCATS. Their competitive record for 14 successive years was unparalleled in the world. Bud is solely credited with establishing and bringing to the forefront, through his promotional talents, the private clubs as we know them today. Don Peters, Coach of the 1984 Women's Olympic Gymnastic Team, considered Bud to be a " . . . sports visionary." "Bud really had a flair for showmanship, and he understood what the public wanted to see," Peters said. In addition, Peters added that " . . . in addition to Cathy, Bud had many girls who were great on beam. Kyle Gaynor would have won the World Championship on the BB had her other events been strong enough for her to make the team."  Honors: Received the "Master of Sport" Award from the United States Gymnastic Federation (USGF). In 1978, he was honored with an invitation by the San Salvadorian Gymnastics Federation to come to San Salvador for the purpose of developing a national program of gymnastics. Deemed a "Centurion" by A. Bruce Frederick, author of Roots, 3rd Ed. A Centurion was a Roman soldier who commanded 100 men. American gymnastic Centurions are those who command our attention because they have had the greatest impact on gymnastics in the U.S. Bud was inducted into the World Acrobatic Society's Gallery of Legends, (2002) Service: Served as unofficial Associate Olympic Coach, Sydney, Australia, (2000); Directed National, International & Olympic Finals Championships; Served as coach of U.S.A. gymnastic teams in International competition in Russia, South Africa, Europe, Japan, Australia and the United States; Selected by the Foreign Relations Committee of the United States Gymnastics Federation to be the Honorary Meet Director for the first American Cup Championships at Madison Square Garden, New York, (1976); Served as one of the original founders and developers of the U.S. Gymnastics Federation, (USGF), and he served as its first Vice President for years in the Federation's formative stage. Coach: In 35 years as coach of his own teams, he saw 61 of his boys and girls become members of National, International and Olympic Teams, not only in gymnastics, but also in track and field, volleyball and basketball.  The most famous, of course, was Cathy Rigby-McCoy, 1997 U.S. GHOF Inductee. In 1974 he retired from the SCATS, but two months later was reportedly back to teaching boys and girls at a new gymnastic club.
Sources: Jerry Wright, author of Gymnastics Who's Who, 2005, supplied the text and photos and A. Bruce Frederick, author of Roots, 3rd Ed. provided his "Centurion" paper with definitions. Introduction, commentary, and formatting by Dr. Larry Banner, Web Manager.