Inducted: 2011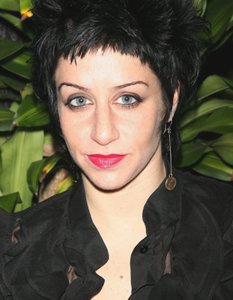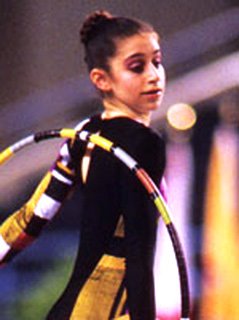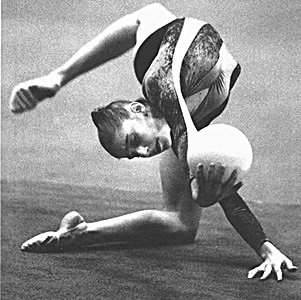 Born in Buenos Aires, Argentina, Tamara Levinson is one of the highest ranked American rhythmic gymnasts in history. Although her competitive career was relatively short, she influenced a generation of up-and-coming U.S. performers.
Because of the lack of training facilities in the U.S., Levinson's parents opened Rhythmflex in Rockville, Maryland – and that gym became one of the top gyms in the U.S. National Competitions:After a moderately successful junior career, Levinson burst onto the senior scene at the 1992 Olympic Trials. She vaulted past her more experienced competitors to earn the second American berth to the Olympics, an achievement that surprised no one more than Levinson herself.  She won her first U.S. National Championship in 1993. She continued her roll into 1994, once again taking the U.S. National title and receiving the 1994 U.S. Athlete of the Year award.  After a brief retirement Levinson picked up where she left off by winning the 1995 U.S. Rhythmic Challenge in high style. International Competitions: At the 1992 Olympics, Levinson's first international competition, the feisty 16 year-old Tamara gave in to nerves and made numerous mistakes for 40th place. No such problems would rattle her at the 1992 World Championships just a few months later, and the expressive teen shot up the ranks to 19th place, an extremely satisfying result for a newcomer from a lesser known rhythmic country.  At the 1993 World Championships, a much improved and more experienced Levinson would find the competition a bit tougher and placed 27th, the highest of any American athlete. But after that summer's U.S. Olympic Festival, Levinson called it quits, citing exhaustion. But after several months out of training, she had a change of heart and returned to the gym where she was coached by Catherine Yakimovich. She garnered the most medals of any rhythmic athlete at the 1995 Pan American Games by winning the silver in the all-around, gold in both the team and ribbon events plus and a trio of bronzes for rope, ball, and clubs. But at the 1995 Four Continents Championships, a tired Levinson could only muster 6th place in the all-around and 2nd with rope. She decided to retire for good this time, at the ripe old age of 19.  Tamara Levinson made her mark on the U.S. and international rhythmic world by taking chances and performing unusual, eye-catching routines. Her fast-moving 1995 rope and mysterious 1993 ribbon stand out for their ability to showcase both her clean technique and fearless expression. Levinson, despite her short career, still holds the American record for the highest placement ever in a non-boycotted World Championships or Olympic Games. Post Competitive Career: Levinson transferred her dance skills to the New York theater scene, where she has performed in many different shows — including popular off-Broadway productions. She is a member of the innovative dance troupe, as well as a dancer for several famous hip-hop musicians. She was also a part of the creative process and danced in Twyla Tharp's "The Times, They Are A-Changin'."  In December 2001, it was reported that Levinson was a dancer in Madonna's "Drowned World" tour and two off-Broadway hits.  At this writing Levinson was choreographing for major artists and making films with her partner Daniel Cloud Campos.
Sources:  Data and photos collected from the public domain (Google) by 2008-2012 Web Manager Jerry Wright, author of Gymnastics Who's Who-2010.  Editing by Dr. Larry Banner, 1993 GHOF Inductee and 1894-2007 Web Manager, Ph.D. and Ed.D.