PRCHAL, Mildred  (1895-1983)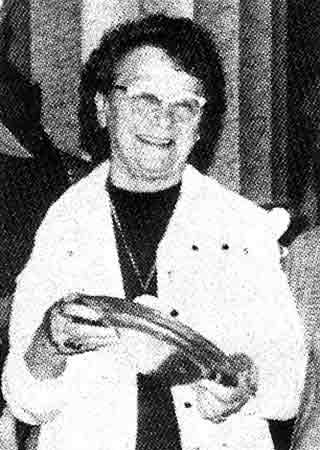 Mildred Prchal spent a lifetime of dedicated service to the sport of gymnastics. She served as a representative of the American Sokol Organization for more than 50 years where she taught Artistic and Rhythmic gymnastics and composed numerous numbers for Sokol units as well as Slet mass calisthenics and pageants. She served as the American Sokol National Director for Women, (1953-1965).
Contributions: "Mildred was a pioneer in the development of rhythmic gymnastics in the USA. She arranged for our first national championships in 1973 and took our first group of RSG athletes to the World Championship the same year," wrote A. Bruce Frederick, in selecting Prchal as a "Centurion". A Centurion was a Roman soldier who commanded 100 men. American gymnastic Centurions are those who command our attention and receive the title due to their positive influence or impact on gymnastics in the U.S.  Prchal wrote, illustrated, and published many books, articles, and pamphlets for Artistic and Rhythmic gymnastics. She also served as Editor of the "Technical" section of The American Sokol Magazine, (1965-'70). She was a talented lady and created numerous choreographed routines in both the artistic and rhythmic arenas. Beyond her Sokol activities, Prchal was active in AAU service and served as a member of the AAU's Women's Committee. She became a member of the USGF and served as the Sokol representative to that body. Additionally, she became Chairperson of the USGF's Rhythmic Committee as well as a recognized authority on Women's Gymnastics throughout the U.S. and Europe. Her service continued with her selection to the USA Olympic Committee. Honors: Prchal was chosen for inclusion in Who' Who in Gymnastics as well as Who's Who in American Women.  Mildred was chosen to receive the coveted "Master of Sport Award" by the USAG.
Sources: Jerry Wright, author of Gymnastics Who's Who, 2005. Jerry also provided the photo of Mildred Prchal. A. Bruce Frederick, author of Roots, 3rd Ed., provided information regarding Mildred's selection as a "Centurion." Introduction, commentary, and formatting by Dr. Larry Banner, Web Manager.