KESWICK, Scott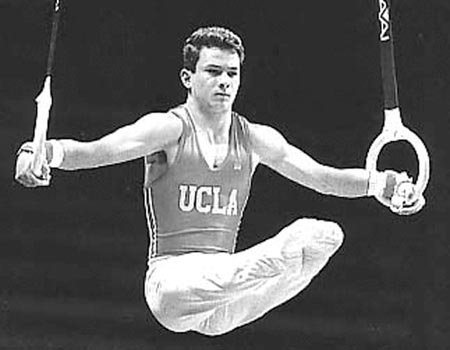 Scott Keswick was an outstanding UCLA gymnast placed among at least two generations of great UCLA gymnasts. Numerous athletes and coaches from that great time have been subsequently inducted into the USGHOF. Art Shurlock was the Head Coach, and Yefim Furman was Keswick's personal coach.  One of the mysteries that surrounds his competitive data has to do with winning national SR gold three years straight and then waiting about three years to reach the gold medal stand for a fourth time making him the only gymnast to accomplish this feat.  Scott Keswick is made of steel from the UCLA forge, and it makes this old Bruin a happy person.
Olympic Games: Team member, Barcelona, Spain, (1992). World Championships: Team member, Indianapolis, IN, USA.  In this meet, Scott placed 4th on HB, less than .1 of a point from the Gold medal, (1991); Birmingham, Great Britain, (1993); Team member, Brisbane, Australia (1994) and Dortmund, Germany, (1994).  USAG National Championships: Gold-SR, (1989); Gold-SR, Silver-PB, (1990); Gold-SR, V, & PB, (1991); Silver-AA, PH, & PB, (1992); Bronze-AA, PH, & V, (1993); Gold: AA, SR, & HB, Bronze-PH, (1994). International Competition: Pre-Olympics, Barcelona, Spain-Bronze-PB, 4th V, 5th AA, 5th SR (1991); Swiss Cup, St. Gallen, Switzerland-Gold-AA, (1991); American Cup, Orlando, Florida, Gold-SR (10.0), Silver-AA, (1992); World University Games, Buffalo, New York, Silver-SR and HB, (1993); Chunichi Cup, Nagoya, Japan-Silver-SR, (1993); Goodwill Games, St. Petersburg, Russia, Bronze-team, Bronze-SR, 4th V, (1994).   Honors: Keswick was awarded the 1995 McDonald's "Balancing It All" award. He was also awarded the 1994 Sportsperson of the Year award at the USA Gymnastics Congress. Keswick is a four-time USA Gymnastics National Champion (1989, 1990, 1991 and 1994) on rings. No one had accomplished this extraordinary achievement in the past. He scored his first perfect 10.00 in international competition at the 1992 McDonald's American Cup on still rings. Keswick was the highest finisher for men (10th) and qualified for two event finals at the 1991 World Championships-the best finish for the U.S. men since the 1983 World Championships. He topped his 1991 World Championships performance at the 1993 World Championships, placing ninth all-around and making two event finals. Again in 1994, Keswick was the highest U.S. male all-around finisher (13th) at the World Championships. He was named the recipient of the 1992 Nissen Award-an award honoring the top male collegiate gymnast in the nation. Adversity Strikes: In February of 1995, while training on high bar for the McDonald's American Cup in Seattle, WA, Keswick suffered an injury so serious that his gymnastics career ceased for almost a full year. A hyper-extended back led to a herniated disk. Months later, in July, Keswick had surgery, and then for three more months was in an upper body brace, unable to train or even do physical therapy. "I ripped off the high bar and herniated a disk in my back. In July 1995, I underwent surgery. The doctor removed the injured disk and fused the L2 and L3 vertebrae," said Scott.By November, Keswick was allowed to do weight lifting, physical therapy, stationary bike riding, and limited conditioning in the gym. In December, he was finally able to get back onto the apparatus. Scott retired from competitive gymnastics in 1996.  He moved with his family to the Silicon Valley area and works as a Retirement Plan Consultant. Family: (m) Michelle Hunt; Children: Jacob Ryan and Andrew Michael.
Sources: Jerry Wright, author of Gymnastics Who's Who, 2005 who also courteously wrote most of the text and provided data as well as the Keswick photo. Introduction and formatting by Dr. Larry Banner, Web Manager.