McCLEMENTS-FLANSAAS-KEPHART, Dale
Inducted: 1984 Born: December 31, 1944 (Winnipeg, Canada)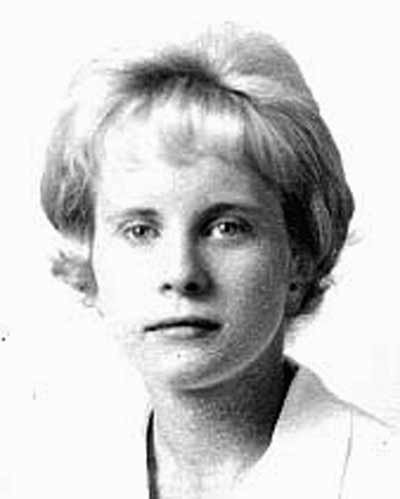 Dale McClements-Kephart was one of many major contributors to the development of gymnastics in the USA.  As I read her accomplishments, I cannot but be astounded at the wide range of talents she possesses in order to create such a marvelous track record. Each generation of gymnasts, men and women, have as their goal to take our sport forward. Dale's biography as presented herein thematically tells how far you must be willing to go.  Of course, we have progressed, almost to the level of being a true world power. Dale's talent, intelligence, work ethic, and generosity have been woefully unsung among world gymnastic aficionados.  Read the words, hear the music, but listen to the melody.
Olympic Games: USA Team member, Tokyo, Japan, Best American AA score. (1964). World Championships: USA Team member, Prague, Czechoslovakia, (1962); Dortmund, Germany, (1966). Pan American Games: USA Team member, Gold-Team & Vault, Silver-AA & UB, Sao Paulo, Brazil, (1963). National Women's Collegiate Championships: University of Washington Huskies Team-Silver. At this, the 1st women's collegiate gymnastics championship, Dale won three of the four events – vault, bars & floor exercise, 4th all-around, leading her team to the team silver medal, (1965). National AAU Championships: Gold-AA & V, Bronze-BB, 4th UB & 6th FX, (1962); Silver-AA & PB, Bronze-V & FX, 4th UB & 6th BB, (1963).  Bronze-AA, V, & FX, 4th UB & 6th BB.  (1964); Silver-AA, (1965). International Duel Competitions: USA Team member at the International Gymnaestrada in Vienna, Austria exhibition (1965), British/USA Dual Competition, USA Team member, Gold-Team, London, England, (1965).  North American Championships, USA Team member, Gold AA, Montreal, Canada (1966). Judge:  Judge at Olympic Games in Mexico, (1968), received F.I.G. Brevet Card in 1968, Rome, Italy.  Judged many national & international competitions from 1966-'88. Dale judged locally in Anchorage, at the Arctic Winter Games (1996), Coordinator for Gymnastics/Judging Officials at Arctic Winter Games (1988) & currently judges high school competitions when needed.  Coach/Teacher:  Assistant Gymnastics Coach of USA Women's Olympic Team, Munich, Germany, (1972); Head Gymnastics Coach of USA Women's Pan American Gymnastic Team, Mexico City, Mexico, (1975); Head Coach of USA Women's Olympic Gymnastic Team, Montreal, Canada, (1976). Starting as a physical education teacher at McKnight Jr. High School in Renton, WA in 1967, Dale McClements-Kephart began a long and fruitful career.  She taught PE at Hazen HS, Renton, WA. while fulfilling her graduate assistant work at the U. of Nevada, Reno, (1968-1970); She co-owned and coached at the Western Gymnastics foundation, Reno, NV, (1969, & 1971-'78) & was Head Women's Gymnastics Coach at the U. of Nevada, Reno, (1970-1978); She taught and coached at the Pacific Northwest Twisters, Tigard, OR, (1978-'79); Dale became the Head Women's Gymnastic Coach at UC, Berkeley, (1979-'81); Late in 1981, she migrated north to Alaska for the 1981 school year and has taught physical education and coached at Hanshew Middle School and Dimond High School where she was the Physical Education Department Chair. (1988-2001); Arctic Winter Games Coach for Alaska, Whitehorse, Yukon, (1986); Dale is currently teaching at the University of Alaska, Anchorage in the Department of Health, Physical Education & Recreation part time, (20012006). Professional Organizations/Contributions/&Achievements: Chairperson of the Junior Olympic Compulsory Exercises committee for the USA Age Group Program to be used from 1969-1996, Choreographed the 1988 Seoul Olympics BB Compulsory Routine & the 1984 Los Angeles Olympics FX Compulsory Routine.  At the Junior Olympic level, choreographed the age group BB compulsory, 1985-1988; Choreographed Age Group BB Compulsory, 1976-1980; Choreographed Age Group FX Compulsory, 1970-1975; Conducted seminars in Sydney and Adelaide, Australia to present the Olympic compulsory routines for the 1984 Olympics, & also taught Australia's level III Coaches Accreditation Course. Member of the American Alliance for Health, Physical Education, Recreation, and Dance (AAHPERD); Alaska Association for Health, Physical Education, Recreation, and Dance (AK AHPERD); USA Gymnastics, the governing body for US gymnastics; National Association for Women's Gymnastic Judges (NAWGJ); United States Olympic committee (USOC)-Alumni member; University of Washington Alumni Association. Currently the Chair of the Middle and Secondary School Executive Council (MASSPEC) of the National Association of Sport & Physical Education (NASPE), 2005-'06).  Awards/Honors; Inducted into the USAG Hall of Fame, (1984), Inducted into U. of Washington Husky Hall of Fame, (1999); First recipient of the "Spirit of the Flame" award from the athlete's Council of USA Gymnastics for competition, coaching, judging and service in the sport of gymnastics, (1987); Alaska State NASPE Secondary Teacher of the Year, (1998-1999); NAGWS Pathfinder Award, (1999); National Secondary Teacher of the Year awarded by the National Association for Sport & Physical Education (NASPE), an AAHPERD Organization, (2000-2001); Northwest District NASPE Secondary Teacher of the year, (2000); Publications: Dale contributed numerous chapters and technical evaluations for the BB, FX & RG.  She also wrote under her former name Flansaas, contributing further to our sport with her analysis of movements such as the handspring and Yamashita vault; Dale wrote several articles that appeared in International Gymnastics Magazine." A person of many talents, she added an unusual contribution to gymnastics by working with Hoctor Records to record music tracts for FX and for compulsory FX routines.  Dale currently contributes articles for NASPE in the physical education field.   Family: m. Walter Kephart who is a retired Industrial Arts/Electronics Teacher & currently flies their Aeronca sedan float plane, and enjoys their cabin, hunting & fishing.  B. San Diego, CA, 11-28-42.  Four children. Three grandchildren.
Sources: Dale McClements-Kephart's personal resume, personal interviews, and the courtesy of Jerry Wright, author of American Gymnastics, 2005. Introduction, commentary, and formatting by Larry Banner, Web Manager.