JOHNSON, Scott
Inducted: 1999
Born: Cincinnati, Ohio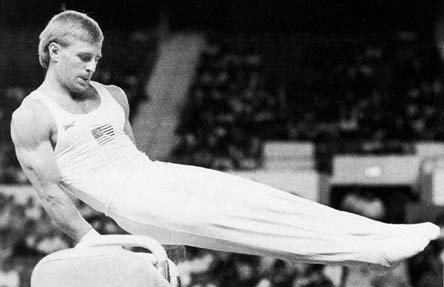 Scott Johnson was truly a gymnast of the '80's. From his AA championship in high school, his presence at a competition was always a factor to consider.  Through two Olympic Games and four World Championships, his strength, combined with the flow of his body, merged to obtain a most artistic presentation of skill. Artistry is the concept required by a true champion, but often male gymnasts have the strength to be great SR performers and then execute choppy PH routines. Scott had the inborn strength to perform flawlessly on the SR, walk across the gym floor, and flow through a PH routine. He was one of our greatest AA performers, and the man to beat throughout the '80's.
Scott Johnson started his gymnastics career at the age of 10 when the family moved to Colorado Springs, CO. He was a "quick study" and became the Colorado State AA Champion by the time he was a high school senior at Colorado's Wasson High School. Olympic Games: Gold-Team, Los Angeles, (1984); Team Captain, Seoul, So. Korea, (1988). World Championships: Team member, Moscow, USSR, (1981); Budapest, Hungary, (1983); Montreal, Canada, (1985); Rotterdam, Netherlands, (1987). Pan American Games: Gold-AA and he became the first gymnast in the history of the Pan Ams to win medals in every event-four gold and four silver medals. He broke the all-time Pan Am scoring record with a total score of 116.25. The term "amazing" falls short of defining the difficulty of achieving this eight-medal performance in such an elite international competition. USAG Championships: Bronze-FX, V, & R, (1981); Bronze-R & HB, (1982); Silver-R, (1983); Silver-FX [T], (1983); Gold-V [T] and FX [T] representing the University of Nebraska, (1985); Gold-AA, SR, & PB, competing as an independent, (1987). NCAA Championships: Silver- V, (1980); Silver-R, (1981); Gold-FX [T], HB, & PB, Silver-AA & R, (1983). Honors: Scott was nominated for the prestigious James E. Sullivan award. The AAU James E. Sullivan Award is awarded annually by the Amateur Athletic Union to the outstanding amateur athlete in the United States. It was first awarded in 1930, making it older than the Heisman Trophy. The award is named for the AAU's founder and past president, James E. Sullivan. (1987). "Johnson competed for the University of Nebraska for a fair share of his elite career. As a husker Johnson brought glamour and pride to his school, earning All American 11 times. Unfortunately, there was little money to be made in the 1980's and Johnson had to withdraw from the U. of Nebraska to support his gymnastics career. He found a flexible job . . . and this allowed him to continue competing," according to www.aeispeakers.com/.  After the 1988 Olympic Games, Scott retired from competition. He traveled about the country giving clinics and exhibitions for schools and clubs, as well as lectures and motivational speeches about his Olympic experiences. The topics mentioned at the speaker's website list his topics as follows: Dreams Are Achievable: Setting Goals and Maintaining Motivation; Leadership and Team Work; Building Confidence and Overcoming Failure; Peak Performance-Being Better than the Best; Life Balance-Healthy Mind and Body, and Patriotism. Currently (2007), he owns and operates Scott Johnson's Gold Medal Gymnastics in Florida while continuing to support American gymnastics as well as promote gymnastics among young people. "Scott teaches how to turn negatives into positives, and he believes this is his greatest asset" according to his website biography. For additional information, browse to www.scottjohnsonsgoldmedalgymnastics.com/. Family: (m) Lori. Children: Nicholas and Nathan.
Sources: Jerry Wright, author of Gymnastics Who's Who, 2005, , and . Introduction, commentary, and formatting by Dr. Larry Banner, Web Manager.