Maloney, Stacy
Inducted: 2011
Born: Portage, Wisc.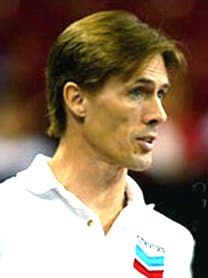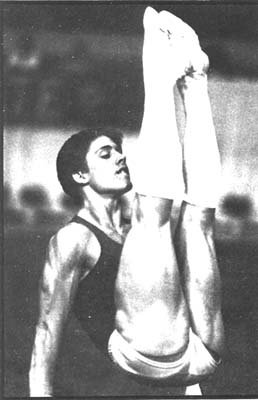 Coach Stacy and his long time gymnast of 13 years, Paul Hamm, made history when Paul became USA's first man to win the All-Around Gold Medal at the World Championships, plus the Gold Medal on the floor exercise.  Paul later went on to win the Gold Medal in the All Around at the 2004 Olympic Games, another first.
Stacy has been committed to gymnastics as both a competitor and a coach for over 35 years.
COLLEGIATE COMPETITION: Stacy was a top collegiate competitor at Iowa State; he was also a member of the U.S. Senior National Team.  Stacy graduated from Iowa State after helping lead the Cyclones to second place at the 1980 NCAA Championships in his senior campaign.  Stacy won the Big 8 Conference parallel bars title and the NCAA Midwest Regional championship in the all-around during his freshman year as a Cyclone.  During his time in Ames, Stacy set a then-school record on the high bar, received the 1980 Big 8 post-graduate scholarship and was named a finalist for the George Nissen Award.   COACHING: As a coach he has taught both girls and boys of all levels from beginner to elite, including tenures as men's assistant coach at UW-Oshkosh and the University of Illinois.  For the past 14 years Stacy has been the head boys team coach and more recently the girls team coordinator at Swiss Turners.  In that time his program has produced hundreds of State & Regional Champions, 11 Jr. National Team members, 9 Sr. National Team members, 24 individual and all-around National titles, 3 National Club Team Championships, 2 members of the 2000 Men's Olympic Team – Paul and Morgan Hamm, a 2001 World Championships Team Silver Medalist and the 2002 World Championships Bronze Medalist on the floor exercise (both Paul Hamm).  More recently, Stacy was named as Assistant Coach for the 2003 World Championships Team, which included two of his gymnasts Paul and Morgan Hamm and took the Team Silver Medal.  HONORS: As an International Team Head Coach, Stacy's record is impeccable, winning gold at every competition.  In 1999, 2000 and 2004, Stacy received the highest honors that a coach can receive in this country when he was voted the 1999 and 2004 USA Men's Coach of the Year and the United States Olympic Committees Gymnastics Coach of the Year for 2000.
COMMITTEES:  Stacy has served as a member of the USA Gymnastics Board of Directors and, on the Board of Directors for the United States Elite Men's Coaching Association.  He served as a member of the Jr. National Age Group Competition Committee, which produces the rules for the boys Jr. Program for over 6 years and the Junior National Coaching Staff.  Currently, Stacy serves on the Men's Program Committee, the Junior Olympic Program Committee and the Junior Men's Format Committee.  Stacy was honored when he was nominated to serve on the 2008 Men's Olympic Selection Committee, which chose our Bronze Medal winning team for the 2008 Olympics!  Personal: In addition to his coaching responsibilities Stacy has been the Swiss Turners Gym Manager since June of 1998.
FAMILY:  Wife: Annette; children: Shane and Erin.
SOURCES:  Data and head and shoulders photo taken from the public domain (Wikipedia/Google) by 2008-2012 Web Manager Jerry Wright, author of Gymnastics Who's Who-2010. Still Rings photo courtesy Iowa State University Sports Information Dept.  Editing by Dr. Larry Banner, 1993 GHOF Inductee & 1894-2007 Web Manager, Ph.D. & Ed.D.