FREDERICK, A. Bruce (1930 – 2010)
Inducted: 1990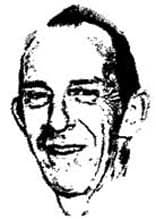 Since starting gymnastics as a tumbler, Dr. Frederick has been acclaimed as America's caretaker of gymnastics' history.
Bruce's Roots of American Gymnastics, 3rd Ed. identifies American gymnastics in a unique "Family Tree" format.  Also near completion is Who's Who and Was Who in American Gymnastics.  His election to the Hall of Fame cited more than a dozen books and hundreds of articles and technical illustrations, the latter appearing in half a dozen books.
HONORS
Emeritus Status-American Alliance of Health, Physical Education & Dance, Phi Delta Kappa (Honorary Educational Fraternity), Elected by peers as Teacher of the Year @ U. of Wisconsin (1971), awarded honorary lifetime membership in the National Association of College Gymnastic Coaches, A. Carl Patterson Award for Research in Gymnastics (NACGC), 1983, C. H McCloy Research Honor Award (NACGC), (1973).
SERVICE
Dr. Frederick is well known to the American gymnastics community. His writing for nearly half a century on various topics has appeared in the International Gymnast and USGF/USAG publications among many others. His historical articles are seen in the current edition of the Encyclopedia Britannica and other reference works.
He has been investigating the history of American gymnastics since 1966 and history has become his primary focus at retirement in1987. His credits include the preparation of the first comprehensive set of library resources for the field and editing a series of articles for the first American technical journal for gymnastics, the International Gymnast's "Technical Supplement" precursor of USA Gymnastics' Technique.
The Supplement was short lived, but it was an attempt to produce a fully vetted research journal for the field and had an editorial board comprised of top people in the sport at the time.
Frederick's historical articles first appeared in the late Sixties inspired by the writings of Leopold Zwarg of Temple University, Henry Widdekind of the Wilmington (DE) Turngemeinde and others.
He is presently Director of the Roots Project and has produced the widely acclaimed Roots of American Gymnastics identifying nearly 1,500 people from the American gymnastics community.
Dr. Frederick chaired the National Gymnastics Hall of Fame Selection Committee for three years and paved the way for USA Gymnastics to adopt the program in 1996. He served as curator for the International Gymnastics Hall of Fame, presently located in Oklahoma City.
PERSONAL
Frederick is now a retired Professor living in his home state of Delaware.  He continues to work to preserve archival material for several organizations.
FAMILY: Norma Nai, Born – Wilmington, DE, 1930. Four children, nine grandchildren.