BECKNER, Richard Andrew "Dick" (1927-1997)
Inducted: 1992
Born: Los Angeles, CA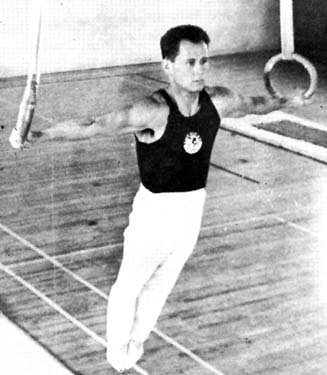 Dick Beckner was a personal friend and mentor. He was always ready to show and tell from the time I was getting started in high school all the way through college and beyond. Early in my career he helped me get a teaching position in one of the premier California high schools and let me use the top bunk in his kid's room until I found an apartment. After college, we were teammates with the L.A. Turners, several times National AAU Team Champions. I think it's fair to write that he played a tremendous role in my successes as a gymnast. He should be remembered for his willingness to always be there for his friends.
Richard began teaching elementary school and later transferred to Corona del Mar High School teaching physical education and coaching gymnastics. In 1962, he became the part time Head Gymnastics Coach at the new UCI campus. The Los Angeles area was unique in the 1950's. On any given Tuesday or Thursday evening, at least four or five Olympians were training together along with several Olympians to come in the 1960s. Jack Beckner, Dick's younger brother who dominated men's gymnastics through the 50's, Charlie Simms, Olympian and the only gymnast at the time to score a perfect 10 on the HB in the NAAU Championships, Bill Tom, Armando Vega, & Dick Beckner were all there most of the time. As a special note, to this day, I believe Dick could execute a front salto hand-to-hand as well as it has ever been done on the PB. Olympic Games: Team member, Melbourne, Australia, (1956).  Pan American Games: Gold-Team, PB [T], & SR, Mexico City, Mexico, (1955). National AAU Championships: Silver-PB, (1950); Bronze-PB, (1954); Gold-SR, Silver-PB, Bronze-AA & HB, (1956); Gold-Team-L.A. Turners, (1959, '60, & '61). SPAAU Championships: Gold-PB, (1949); Bronze-PB, (1950); Gold-PB, competing for L.A. State College, (1951); Bronze-PB, (1952 & '53); Gold-PB, (1955). Judge: Dick was an early member of the judging association that had jurisdiction throughout Southern California. He judged high school, junior college, and university gymnastics meets on a regular basis. Family: (m) Adele Hemmings. Children: Karen, Robyn, & Richard "Ricky".
Sources: Interviews with Dick's brother plus team and competition results courtesy of Jerry Wright, author of Who's Who in Gymnastics, 2005. Introduction, commentary, and formatting by Dr. Larry Banner, Web Manager.