BASS, Raymond (1910-1997)
Inducted: 1959 – Among Original class of Honorees
Born: Eaglette, Arkansas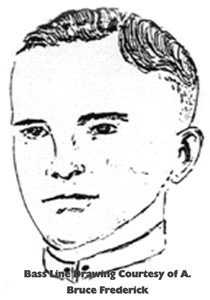 Olympic record setter, WWII much decorated hero who, along with his rope climbing buddies, completed his U. S. Navy career at the rank of Admiral.
Olympic Games: Gold-Rope Climb in record setting 6.7 seconds at 8m. height, Berlin, Germany, (1932).  Record remains standing since the event was discontinued thereafter.  Bass' teammates at the Naval Academy, Bill Galbraith and Tom Conolly, won Silver in 6.8 seconds and Bronze in 6.9 seconds, respectively.  All three rose to the rank of Admiral. According to Wright, Bass stated that, "I presume the FIG voted out the event because they didn't care for the U.S. getting 1-2-3 as long as Lou Mang was around."  Mang coached at the Naval Academy and had revolutionized a rope climb technique. General: Ray Bass was born in Eaglette, Arkansas.  He was recruited as a Naval Academy "Plebe" to be a rope climber.  The rope that Bass climbed is on display at the Naval Academy gym, wrapped around the Olympic Shield.  Bass earned two Navy Crosses and two Legion of Merit awards before retiring from the Navy in 1959. Bass' submarine, the "Plunger", was awarded the Navy Unit Citation for unusual service in the south pacific surviving a 65-hour running battle with an escorted Japanese convoy that ended when the "Plunger" surfaced to sink a ship with its three inch gun after inflicting torpedo damage to a number of other ships.  Bass' squadron of 12 submarines was on hand in Tokyo Bay for the unconditional surrender of the Japanese in 1945.
Sources: Courtesy of A. Bruce Frederick, author of Who's Who and Was Who in American Gymnastics & Jerry Wright, author of Gymnastics Who's Who, 2005.  Introduction & formatting by Larry Banner, Web Manager. Introduction, commentary, and formatting by Larry Banner, Web Manager.