Inducted: 1974 Born: Bremen, Germany – 1919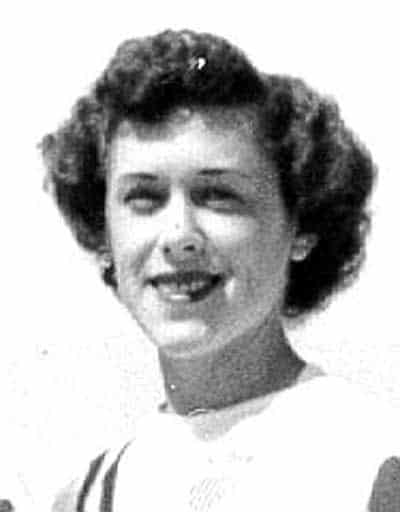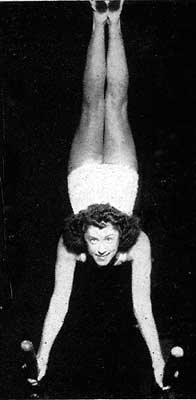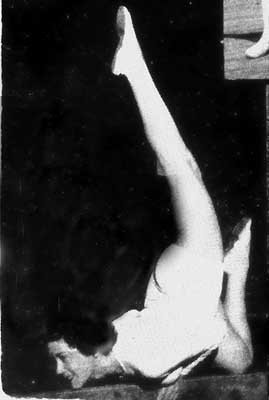 Meta Neumann-Elste is a study in perseverance. Her performances on the women's events were outstanding at a time when she would have been a strong contender for our 1940 and 1944 Women's Olympic Gymnastic teams. But it was the '40's, and even with a war raging, the Midwest winter of '42, one of the worst in history, and practicing meatless Tuesdays and Thursdays, she continued to get to the gym and improve her skills. Unfortunately, WWII denied her the opportunity to perform in the Olympics when she may have been at her best. However, even though the first post-war Olympics weren't held until 1948, she had obviously continued to train at an elite level, and her dedication prevailed. She made the 1948 Women's Olympic team helping her team win the Bronze Team Medal for the U.S.  Perhaps those male and female gymnasts who trained for the Moscow Olympics in 1980 are best able to relate to Meta's disappointment when her dreams were thwarted. The Olympic hopefuls of 1980 were caught in the middle of world politics and a Cold War suddenly being told that the U.S would not field a team in Moscow.  We must trust that some of the disappointed gymnasts persevered in Meta's tradition and competed in Los Angeles in 1984 and, perhaps, beyond.
Meta began her first training at age six with her father, Wilhelm Neumann. She emigrated from Bremen, Germany, a popular tourist attraction today, to the U.S. arriving at Ellis Island with a brother and sister, and her mother in 1923. Her father, Wilhelm, remained in Germany to attend to the family's Rattskeller business, an eating and lounge type establishment often located in the basement of the local Turnverein. Since several generations of the family had had a long-term relationship with the Turnverein in Germany, all the family members were guided into gymnastics from an early age, so when they arrived in Chicago, the Lincoln Turner organization helped the family with jobs and other living necessities. At one point, Meta found herself helping the family as an acrobat in a traveling circus. Olympic Games: Bronze-Team, London, England, (1948); Team member, Helsinki, Finland, (1952). One male and one female athlete representing all of the U.S. Olympic athletes participating in the London games were chosen to represent the entire U.S. Olympic contingent in meeting members of the Royal Family. Meta was chosen to be the female U.S. athlete to meet the Royal Family that included a young Queen Elizabeth. The BBC is still trying to arrange an interview with Meta about that experience. She continued to train and the National Collegiate Gymnastics Alumni Association (NCGAA) named Meta to the 1940 and 1944 Women's Honorary Olympic Teams.  An NCGAA committee was formed by Jerry Wright in 2002. He was helping to publish a magazine called the National Collegiate Gymnastics Alumni Association Magazine. He organized the selection of an elite  group to create an honorary men's and women's team for the 1940 and 1944 cancelled Olympics. The group was comprised of a large number of Hall of Fame Inductees, and even though it assembled in 2002, Jerry's idea began much earlier with his Master's Thesis at USC. Through his research, he became sympathetic to the gymnasts, colleges, and the AAU all of which were greatly affected by WWII. Some years later, his vision was realized with the development of the NCGAA. The group of gymnastic legends was required to study the competition records of nominees and vote fairly according to the data they studied. While the results of the group's will always be argumentative, Meta was an obvious choice for both years. National Turners Championships: Gold-FR, competing for the Chicago Lincoln Turners, (1940). While Meta competed for the Lincoln Turners in Chicago, she also worked out at Bud Beyers' Acro Theater on the campus of the University of Chicago where it is reported that she felt more at home than at the Lincoln Turners. National AAU Championships: No results available, (1941 & '42); Silver-FR, (1943); Bronze-FX & FR, (1944); Silver-BB, FR, & PB, Bronze-FX & AA, (1945); Silver-FR, Bronze-AA & PB, (1946); Silver-FE & FR, Bronze-BB, (1947); Silver-FX, Bronze- BB, and 5th in the Olympic Trials; (1948); Gold-FR, AA, PB, BB, & V, (1949; Silver-AA, FX, BB & PB, (1950); Did not compete, (1951); Gold-BB, Silver-AA, FX, V, & PB, (1952).  Meta competed and won national championships almost annually from 1940 through 1952 when she won the BB event. Perseverance and devotion through hard times sprinkled with a healthily serving of internalized mettle is a perfect characterization of Meta Neumann-Elste who represented the high ideals of her family tradition as a consummate athlete Central AAU Championships: Gold-AA, PB, V, & FR, (1943); Gold-AA, V, PB, & FR, (1944); Gold-AA, V, PB, & FR, Chicago, IL, (1945); Gold-AA, PB, & FR, Silver-V, (1946); Gold-AA, PB, V, & FR, (1947); Gold-AA, FR, BB, & V, (1948); Gold-AA, PB, FR, & BB, Silver-V, (1949); Gold-AA, PB, FR, V, & BB, (1950); Gold-AA, PB, FR, BB & V, (1952).Meta was appointed nine times to the All American Team, (1943-1952). Meta continued to be instrumental in keeping gymnastics alive as a competitor and contributor in the Midwest. She retired from competition after the Turners National Turnfest in Milwaukee, WI where she won gold in the senior ladies AA Division, (1972). Family. m Warren Elste. Children: Alan who was brought up close to the Turner organization and learned gymnastics through high school. Grandchildren: Kari Elste who competed for Bowling Green State University, (2001-2004) and is currently residing in Maui waiting for acceptance into medical school, Lindsey Elste who became a nurse in Darwin, Australia with the YWAM mission nursing group, and Trevor who is currently completing college and on a church mission in Beijing, China.
Sources: Personal interviews and correspondence with Meta, her son, Alan, and her husband, Warren. Competition results provided courtesy of Jerry Wright, author of Gymnastics Who's Who, 2005. Historical information was provided courtesy of A. Bruce Fredrick, author of Roots, the 3rd edition now available, and special details were shared courtesy of Abie Grossfeld, 1979 HOF Inductee, and Bruce Davis, gymnastics historian and writer of copius gymnastics articles and reports. Introduction, commentary, and formatting by Dr. Larry Banner, Web Manager.