MEMMEL, Chellsie
Inducted: 2008-Team Member: Gold Medal World Championship Team, (2003)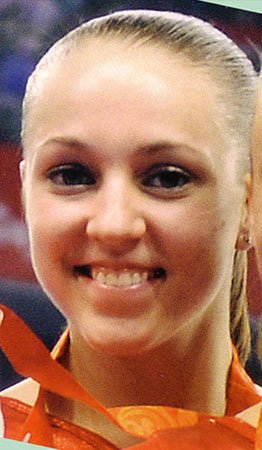 Chellsie Memmel has been in a gym since the day she was born. In the beginning, she could be found hanging out over Mom or Dad's back while they coached. As soon as she started walking she was taking Parent & Child Classes, then Tiny Tumblers on up. She began gymnastics as soon as she could walk. Chellsie was a Tops National Team member from age six to nine. She became an elite at the age of ten.
Getting Started: Chellsie Memmel was born and raised in West Allis, Wisconsin. Her parents made a very determined effort to keep Chellsie's life as normal as possible. They've always made time for her to enjoy her hobbies and other activities. Chellsie became home schooled for a year so she could train and prepare for a spot on the 2004 Olympic Team. Balancing training and school was difficult, but she did both very well and graduated with honors. Chellsie went back to high school her junior year.
Olympic Games: Silver-Team, Beijing China, (2004). Two months before the Olympic Trials, Chellsie broke her foot and was denied the chance to fully compete at the 2004 Olympics; however, she was chosen as an alternate and able to compete only on the PB event because she broke her ankle again two days after arriving in China. Silver-Team, (2008).
World Championships: Team alternate, (2003); however, Chellsie was cast into the lineup after injuries and illness of three team members. She played a vital role in securing the team gold, earning the highest all-around marks of any team member during team finals. She went on to tie with teammate Hollie Vise as the World Uneven Bars Co-Champion. Gold-AA, Silver-UB &BB. Memmel became the first U.S. woman to win the all-around gold medal since 1994; Gold (2006). In 2006, She was leading in the all-around competition but withdrew from the finals due to a shoulder injury. She ended up having surgery to repair her rotator cuff and labrum in early November 2006 and rehabbed for most of 2007.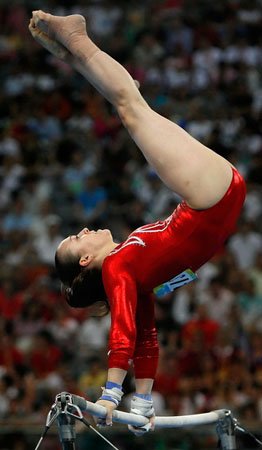 Pan American Games: Gold-Team, AA, UB, FX, BB, & V, (2003). Honors: For her outstanding 2003 season, Memmel was named the 2003 TOPs Co-Athlete of the Year with Carly Patterson. 2005 World All Around Champion; 2005 World Silver Medalist-Beam and Bars; 2004 Olympic Team Alternate; 2004 World Cup Champion-Bars; 2003 World Champion-Team Gold; 2003 World Champion-Bars; 2003 Pan American Games All Around Champion.
Chellsie tied for USA Gymnastics Women's Athlete of the Year, (2005). She was one of the 10 finalists for the Women's Sports Foundation 2006 Sportswoman of the Year. And was nominated twice for the prestigious AAU Sullivan Award, (2003) and (2005). The Sullivan Award honors outstanding amateur athletes in the U.S that show the qualities of leadership, sportsmanship and strong moral character and is known as the "Oscar of Sports Awards". She was part of the United States Olympic Committee's 2003 USA Women's Gymnastics Team of the Year and the United States Olympic Committee's November 2003 Athlete of the Month. Chellsie was one of the 3 finalists for Gymnast of the Year by International Gymnast in 2003.
Family: Chellsie is the oldest of three daughters to Andrew and Jeanelle Memmel, both of whom were All-American gymnasts and won full college athletic scholarships. Andy was a gymnast at the University of Wisconsin-Madison, and Jeanelle competed for Centenary College in Louisiana. Chellsie Memmel is coached by her father, Andy. The Memmels own M&M Gymnastics in New Berlin, WI, where Chellsie trains. Her sisters Mara and Skyler both have done competitive gymnastics as well. Mara currently coaches at M&M Gymnastics, and Skyler is in the Junior Olympic program and hopes to become an elite gymnast.
Sources: Data (Wikipedia) and photos collected from public sources by Jerry Wright web manager for 2008, 2009, & 2010 GHOF Inductees and author of Gymnastics Who's Who-2010.