KUPETS, Courtney
Inducted Individually: 2014
Inducted Team: 2008
Born: Bedford, Texas
Member-Gold Medal World Championships Team (2003)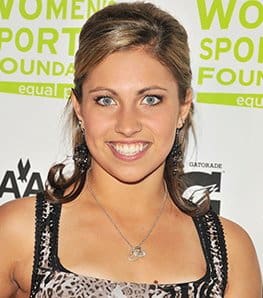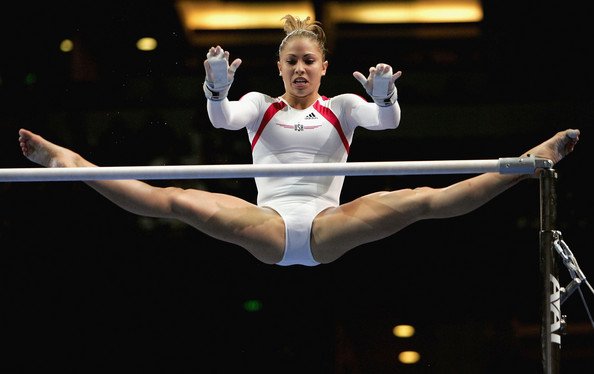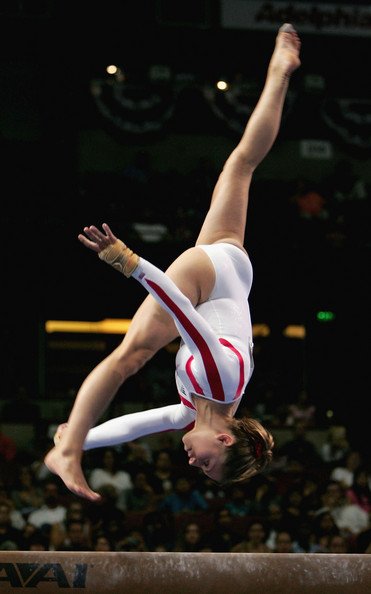 Not many athletes have what it takes to suffer two Achilles tendon tears and come back to compete much less compete even better. Courtney Kupets was able to do just that after tearing her left Achilles and returning to win an Olympic Bronze Medal. Later, she tore her right Achilles, competing for the University of Georgia, and came back again to be the only gymnast ever to win the NCAA all-around and all four individual events.
General Competitive Experience: Courtney Anne Kupets is best known for her 2003 and 2004 all-around national championships, membership on the 2002 and 2003 World Artistic Gymnastics Championships and 2004 Olympic teams, her World Championship, and her individual bronze medal on the uneven bars at the 2004 Olympics. During her elite career, Kupets resided in Gaithersburg, Maryland and trained at Hill's Gymnastics, for 35 hours each week. She later graduated from the University of Georgia. While the uneven bars was considered to be Courtney's best apparatus, she exceled on the other events as well. She also had a reputation as one of the USA's most versatile tumblers, performing, at various points in her career, the double layout, triple twist, double Arabian, double front, pike double back and various combination tumbling passes. Courtney began competing in gymnastics in 1989, earned a place on the TOPS developmental team in 1994, and tested elite in 1999. One of the first gyms she trained at as an elite gymnast was Richmond Olympiad Gymnastics Academy in Richmond, Virginia along with her older sister. At her first US National Championships, in 1999, she placed eighth in the junior division and became a member of the national team.
In her first year as a senior competitor, 2002, Kupets placed a close second in the American Cup competition and placed eighth at Nationals; nonetheless, her selection to the US team for the 2002 World Artistic Gymnastics Championships in Debrecen, Hungary was seen as a surprise by many. At Worlds, however, Kupets passed all other competitors, including five-time defending champion Svetlana Khorkina, to win the uneven bars event, making her only the second American woman ever to achieve the feat. In 2003, She won the US Classic and became the U.S. national champion for the first time. She was named to the US team for the 2003 World Championships in Anaheim, California where she competed well in the team qualifying round, contributing to the USA's high placement and qualifying in the all-around and uneven bars finals. However, during a practice session before the team finals, Kupets tore her left Achilles' tendon on a double Arabian somersault and was forced to withdraw from the event, returning home to Maryland immediately for emergency surgery. The US team went on to win the World Championships; however, Kupets was still considered a member of the squad and received credit and a medal for her contributions in the preliminaries.
In 2004, Kupets was named the co-national champion with Carley Patterson in Nashville, Tennessee. A few weeks later, she placed highest overall at the U.S. Olympic trials, earning a spot on the Olympic team, (2004). Olympic Games: At the Olympics in Athens, Greece, Kupets won a silver medal with her fellow U.S. team members in the team all-around competition. It had originally been decided that she would compete on each of the events aside from vault; however, after a leg injury (later discovered to be a stress fracture in her hip) caused her to withdraw from the beam event. She therefore competed only on bars and floor. She received the team's highest score on uneven bars. She competed in the individual all-around at the Olympics after placing 4th overall (37.937) in the qualifying round on the first day of competition, when the team qualifications also took place. In the all-around itself, Kupets under-performed somewhat, perhaps because of her injury; She finished 9th overall in the all-around; however, she did win the bronze medal in the individual uneven bars and also finished 5th in the individual balance beam competition. Post-Olympics and NCAA Career: In 2005 Courtney joined the gymnastics team at the University of Georgia on a full athletic scholarship. She had a very successful first season with UGA, contributing to the team's first-place finish at the 2006 NCAA National Championships and winning the all-around, bars and beam titles at the same meet. She also debuted some new skills in NCAA, including a new double layout dismount off of bars. During the 2007 season she tied teammate Katie Heenan for the all around title at the 2007 SEC Championships and earned the vault and bars titles that led her team to the North Central Regional Title where she captured the All Around title. She won her 2nd consecutive NCAA All Around title, won vault, silver on bars and floor and bronze on beam, becoming the only gymnast in the meet to medal on all four events. Kupets tore her right Achilles tendon on floor exercise during a meet against Arkansas in March 2008, the second such injury she has suffered in her career. The 2009 season got off to a fantastic start for Kupets, who was named SEC Gymnast of the week the first four weeks of the season and won the all-around for seven straight meets. Kupets again claimed the SEC all-around title and was named SEC Gymnast of the Year. She later won the AA at Regionals. At the NCAA championships, she became national all-around champion for a record-tying third time. In the individual event finals, she won the bars, beam and floor titles and placed third in vault, giving her a new NCAA record of an unprecedented nine individual NCAA titles to end her college career. FAMILY: Older sister, Ashley, who was also a gymnast at Georgia; Mark, her father, who played football at Indiana State University; mother Patti; and, Chris, a younger brother, who became a college basketball player at Boise State University and an older brother Mark. OLYMPIC GAMES: Silver-team, bronze-UB, (2004); WORLD CHAMPIONSHIPS: Gold-team and UB; U.S. Senior Nationals: Gold-AA, and BB, Silver-UB (2004); Gold-AA, Silver-UB, Bronze-BB, Bronze-FX. (2003). NCAA NATIONALS: Gold-AA, all four individual events and nine individual events overall. HONORS: Named Sportswoman, (2009) by the Women's Sports Foundation; Awarded the Honda-Broderick Cup (2009) as the top female college athlete (for all sports).
SOURCES: Data compiled primarily from public records by Jerry Wright editor of Gymnastics Who's Who 2010. Photos contributed by Jerry Wright from public records. Introduction, commentary and formatting by Jerry Wright, Web Manager-Classes of 2008-2010. Editing by Dr. Larry Banner, GHOF Inductee, (2003).