BOLLINGER, Robert F. (1929-2007)
Inducted: 2006
Born: Kenosha, Wisconsin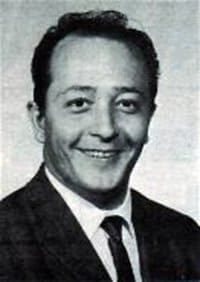 Bob Bollinger was battling terminal lung cancer, limiting his future and deciding his fate in 2006 when the USGHOF Awards Ceremony took place. However, his amazing career that began as a Rockford, Illinois gymnasta fitting culmination with his induction into the USA Gymnastics Hall of Fame on Aug. 18, 2006 in St. Paul, Minn. He looked forward to that night his whole life. It was to be the final chapter in a book that details nearly 60 years of gymnastics excellence.  Unfortunately, he was unable to be there to see it!  This sad prospect prompted Bob to say, "I'm very saddened," even while he was hooked up to an oxygen machine. "I just couldn't do it. It means the world to me to be inducted into such a prestigious Hall of Fame." Perhaps it's appropriate to write that people too numerous to count have thought that Robert Bollinger's contributions to our sport of movement was the world to them.
Getting Started: Bollinger's gymnastics career began in 1937 in Shanghai, China, during the Sino-Japanese War. Bollinger, then 7, went to a reception at the British Embassy, where he witnessed an acrobatic dance performed by the Chinese 29th Army Big Sword Corps. The Chinese acrobats turned somersaults as well as other aerial tactics. "I got an interest right then and there," Bollinger said. "They were unbelievably fascinating to watch. They did so many trick and acrobatics. They were a great influence." When Bollinger returned to the U.S., he developed a springboard from an old Ford car seat. "I used to spring off the seats and do aerial backwards somersaults," he said. "I took some bumps, but it was fun for me." Bollinger moved to Rockford in the 1940s. He continued his gymnastics career there while also starting a swimming and diving career. Education: M.A. in physical education from Northern University. Central AAU Trampoline Championships: Competitor – (1950 & '51); Bronze – (1952). Honors: Appeared on the Ed Sullivan Show with former pupil Judi Ford, whom he coached to the 1969 Miss America title, and he performed a mini-tramp act; Recipient of the Nissen Research Award; Recipient of the C. H. McLoy Research Award for his work on Axial Rotation Systems.  Bollinger was inducted into four Halls of Fame in three different sports as follows: The United States Trampoline/Tumbling Association HOF, World Acrobatics Society Gallery of Honor, an organization he helped develop, and the World Age Group Championship HOF and, of course, the USGHOF. He also became the Chairperson of the World Acrobatics Society, (2002). "To be in so many Halls of Fame is unbelievable to me," he said. "It's nothing I could have ever imagined." Coach: Bollinger coached future Olympic bronze medalist diver Ron Merriott in trampoline. In addition, Bob was the coach of 1972 and 1974 World Champion Alexandra Nicholson, who was inducted into the Hall of Fame in 2002.  Nicholson competed for 8 years under Bollinger's directions, and won two World Champion titles.  She remained undefeated throughout her career and was the first woman to compete a half out triffis tuck.  With Bob's help Nicholson's athletic talents transcended the racial barriers of the time.   Nicholson won her second World Championship in South Africa, then under the apartheid regime, being one of the first times minority athletes were allowed to compete in that country. The 2006 USA Gymnastics Hall of Fame Induction and Awards Ceremony program states that Bollinger " . . . won many Coach of the Year Awards."  Contributions: Bollinger did preliminary research that resulted in the invention of his Axial Rotation System. The Axial Rotation System, developed in 1965 and still used today, helps judge the degree of difficulty in trampoline competitions and also in diving. The system awards one point for each quarter rotation on the lateral axis and one point for each half rotation on the longitudinal axis. Under Bob Bollinger's system, a double forward somersault and a double twisting backward somersault are both worth eight points. Jerry Wright, a co-author of the biographies on this site writes, "I began using the Axial Rotation System as a judge and was able to support or have scores modified due to its excellence."  "It (the Axial Rotation System) was something that was revolutionary at the time," Bollinger said. "It's probably the thing that I'm most recognized for." He also invented the double mini-tramp, (1970), which is a narrow 14-foot-long trampoline. An athlete runs and bounces on the first half of it before leaping over an object. It is used at the World Championships. General: Robert F. Bollinger turned an interest in acrobatics into a life-long passion, becoming one of trampoline's innovators. At one time he was also a member of George Nissen's trampoline act.  He started the first outdoor trampoline jump center in Sycamore, Illinois, and founded Trampoline Town USA.  In 1970, he invented the double mini-trampoline and designed rules for competition.
Sources: Jerry Wright, author of Gymnastics Who's Who, 2005 who also provided Bollinger's photo, the introduction, and most of the data, USA Gymnastics 2006 HOF Induction & Awards Ceremony Program, , and . Introduction and formatting the Dr. Larry Banner, Web Manager.