PERKINS-NIGHTENGALE, Pearl
Inducted: 1989
Born: Philadelphia, PA USA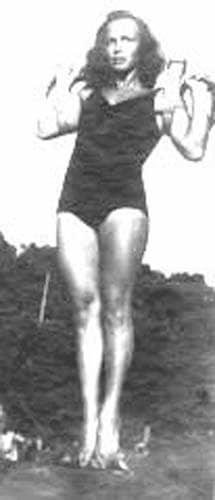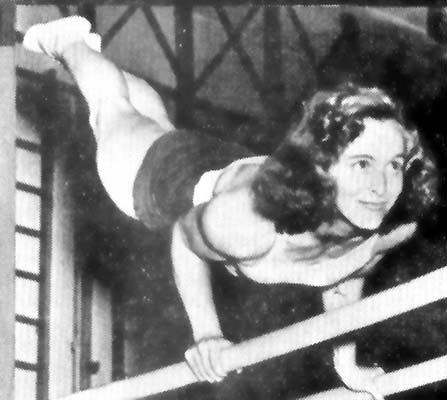 Pearl Perkins is another of the many gymnasts, men and women, who were multiple sport standouts as you will read, but it is unfortunate that she did not compete in the Olympic Games even though she made the women's team. Certainly she was saddened, but it is commendable that her strong family ties allowed her to "let it go" when her parents asked her not to go to Berlin. Her parents' wisdom made them aware of the anti-Semitism rampant in Germany before and during the Hitler regime. It is with pride that I am honored to write about Pearl Perkins and the respect that existed within her family. On the other hand, even considering the times, it would have been a great Jesse Owens kind of victory if Pearl had competed and won one or more Gold medals, a goal of which she was capable.
Over a half century ago, South Philadelphia gymnast Pearl Perkins was considered the best American gymnast of her time. Her qualities as a performer have been compared to Mary Lou Retten, the first American to win the coveted Olympic Gold Medal in the AA. She has been called perhaps the most talented South Philadelphia athlete of all, and probably the least well known.  By the age of 12 she had become a Delaware Valley track and field star and had won five swimming championships. Shortly thereafter, she found a new passion in gymnastics. Her junior high school team won the city championship, and she won a scholarship to train at the prestigious Turngemeinde (Turners) Athletic Club in North Philadelphia. She attended South Philadelphia High School for Girls and, during the time Pearl competed, the girls gymnastics team was the best in the city. By the time of her graduation in 1932, she had developed a brawny physique that rivaled some of the club's male gymnasts.  AAU Middle Atlantic Championships: Gold-AA, 1936. Pearl was 21 years of age. Olympic Games: Pearl earned one of the eight spots on the U.S. Women's Gymnastics team; however, she did not attend the Games. By 1936 Hitler had risen to full power in Germany and the Games were to be held in Berlin. The indignity of the Nazis' anti-Semitism had so enraged her parents, Benjamin and Sadie Perkins, the proud Russian Jewish immigrants were convinced they needed to take a stand, even though it meant sacrificing their daughter's Olympic dreams. She was denied their permission to compete and she honored their wishes.   AAU National Championships: Gold-AA, (1937, '41, & '43); Gold-Horse & V, (1941 & '43). Honors: A select committee of the National Collegiate Gymnastics Alumni Association selected Pearl as an Honorary Olympian for the 1940 & 1944 Olympic years that were cancelled due to WWII.
Sources: Perkins information provided by Jerry Wright, author of Who's Who in Gymnastics, 2005. Introduction, commentary, and formatting by Dr. Larry Banner, Web Manager.