DRAGHI, John
Inducted: 1994
Born: Chicago, Illinois-USA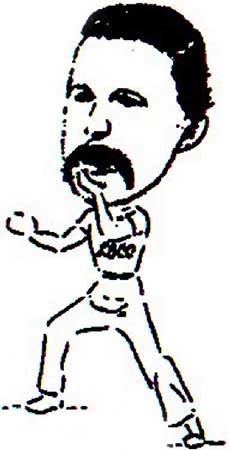 John Draghi was one of the two best junior college coaches throughout the late 1950's and '60's. He was also another multi-sport athlete, a common finding among Hall of Fame athletes.  One of his strongest characteristics was the charisma he generated with his teammates as well as with his athletes and other coaches against whom his teams competed. I had the greatest respect for John, and he had the respect of everyone who knew him. The respect and admiration he received allowed his teams to go beyond what they thought were their limits. He was a great coach and contributed much to the development of improved gymnastics during his time in the gym.
John Draghi attended Manual Arts High School in Los Angeles where he was a gymnast and also played on the "B" football squad. Los Angeles City Gymnastic Championships: Gold-FX, (1950). The L.A. city school system had approximately 46 schools competing in this meet, so to win an event was an outstanding achievement. NCAA Gymnastic Championships: Silver-FX, (1955). Coach: John began his coaching career at Baldwin Park High School. He led his teams to numerous league and C.I.F. championships during his years at the high school. Then he moved on to become the Head Gymnastic Coach at Long Beach City College (LBCC), and within just a few years his teams began to challenge Jerry Todd's Pasadena City College (PCC) gymnastic dynasty. Their rivalry became one of the more incredible gymnastic stories of the era. Draghi and Todd actually had city college teams that could compete on a par with most Division I university teams in the country. At least that was the speculation of athletes and coaches who were enjoying the competition. It was a special era in the junior college system of California. Both gymnastics programs were eventually dropped, but Draghi and Todd had became best of friends. They judged local meets, played golf, and swatted the handball together for years. Honors: Recipient of Honor Coach Award, (1991); Named to the Judges Hall of Fame; Named Jr. College Coach of the Year; Served as a member of the Board of Directors for the So. California Gymnastics Judges Association. Family: (m) Diane Newell. Children: Mike, John, Rick, and a daughter, Mardi. Rick was a fine gymnast and now coaches club gymnastics. Grandchildren: Angela, Kiana, David, Nicholas, Zoe, Samatha, & Riley. Great Grandchildren: Gavin & Peyton.
Sources: Interviews with John & Diane Draghi, Jerry & Pat Todd, plus research results with Line Drawing courtesy of A. Bruce Frederick. Introduction, commentary, and formatting by Dr. Larry Banner, Web Manager.