BARAK, Ronald S.
Inducted: 1995
Born: June 7, 1943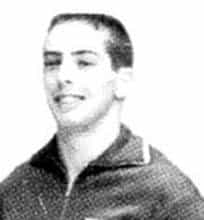 In 1964, the USA almost wasn't able to field its best team.  As the last event in the final trials was about to commence, Ron Barak sat on a bench in a trainer's office and gritted his teeth as the trainer pushed the swelling in an injured ankle into his calf just before the last event of the final Olympic Trials. Ron shook it off and then "stuck" a solid double-back HB dismount on the last event of the final Olympic trials. This demonstration of courage assured the USA that it's best team would compete in Tokyo.  He was a consummate competitor.  He was "The Man."
Olympic Games: Ironically, Ron was just one place away from the Olympic HB finals, placing tied for fourth Tokyo, Japan (1964); Maccabiah Games: Compulsory Performances – Gold-PH, R, PB, & HB, & Bronze-FX, Optional Performances Gold-R, PB, & HB; Silver-PH; Combined C & O Gold-AA, Tel Aviv, Israel, (1961). Note: The competition was conducted under "strict interpretation of the international rules," except that medals were awarded for the highest compulsory and the highest optional exercise scored on each event with the exception that the AA was determined by the total combined score on the compulsory and optional events; therefore, under the rules in effect, it was conceivable that an individual could be awarded a total of 13 Gold medals. In a show of true talent, Ron won 10 of the 13 medals awarded. Commentator's Note: Having won so handily and competed so beautifully, Ron was honored with a special one-on-one sit down chat with Golda Meier, Israel's Prime Minister, in her private office, the equivalent of a private session in the White House Oval Office. Ron described Prime Minister Meier's great love of sport and her gracious praise of his accomplishments. Ron states, "She was actually recruiting me to relocate to Tel Avive. It was a flattering and humbling experience." In any case, it was a great honor for him and the U.S. especially considering all the sports and athletes participating in the Games. Abie Grossfeld, 1979 HOF Honoree, competed in the "Jewish Olympics" three times, and in response to Ron's special treatment writes that in 1953 he was privileged to shake hands with Ben Gurion and Chaim Weissman, the first President of Israel, and in 1957, at the certainly unneeded urging of the media was honored to enact a few smooches on Miss Israel, the Miss Universe Runner up. He writes, "So there, Ron!" International Competitions: Competed for USA vs. Czechoslovakia and, in separate meets, against other countries as a national team member; NCAA Championships: Ron won several NCAA and AAU event titles and helped USC garner NCAA Team Gold, (1962) & won the AA, (1964). Coaching & Honors: Coached USA Team at University Games, Tokyo, Japan, Silver-Team; Coached at USC, (1965-'68) Once, during Ron's tenure, his team won Silver in the NCAA Championships; Ron was awarded USC's Athlete of the Year Award, (1964) with Mike Garrett, a Heisman Trophy Award recipient, among those considered. Education: B.S. with honors in physics, (USC-1964), Juris Doctor of Law with Honors, (USC-1968) Family: m. Barbara Lynn Schorr Barak. Born: June 14, 1943, Los Angeles, CA. Two children.  Three grandchildren.
Sources: Resume and interviews with Mr. Barak, photos, suggestions, and editing provided by Jerry Wright, author of Gymnastics Who's Who, 2005. Additional research, editing, and anecdotal information was provided courtesy of Abie Grossfeld, 1979 HOF Honoree. Introduction, commentary, and formatting by Larry Banner, Web Manager.