HAUBOLD, Frank (1906-1985)
Inducted: 1959 – Among Original class of Honorees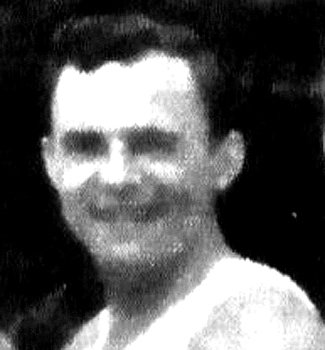 Frank Haubold began gymnastics at the Swiss Turn Verein in his birth place of Union City, NJ.  He learned quickly and won early as a junior competitor. After his competition days, he continued to contribute as an AAU delegate for the Swiss, as a judge, and as a technical committee member.
Olympic Games: Team member, Amsterdam, Netherlands, (1928); Bronze-PH and top point scorer for the US Team; Los Angeles, CA, (1932); Team member, Berlin, Germany where Frank and his wife, Irma, were the only husband-wife team representing the US, (1936). National AAU Championships: Gold-AA, (1931 & '32); Gold-PH, (1929, '30, '31 & '32); Gold-PB, (1932).  He was a favorite to represent the US in 1940 for the fourth time, but the Olympics were cancelled due to WWII.  Frank won many Swiss National competitions and individual honors.  He was most noted for his determination.  He trained long and hard and once gave up a job that interfered with his training, not an easy choice in the middle of the great depression.
Source: Courtesy of A. Bruce Frederick author of Who's Who and Was Who in American Gymnastics & Jerry Wright author of Gymnastics Who's Who, 2005. Introduction, commentary, and formatting by Larry Banner, Web Manager.