CAHOY, Phil
Inducted: 2001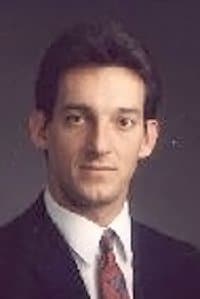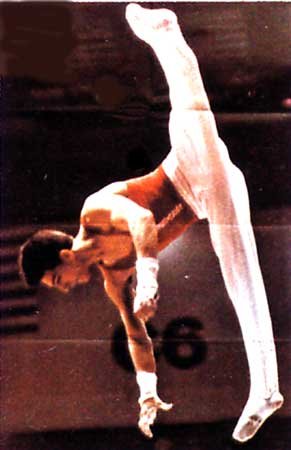 It's a given that many or most parents dream about their children becoming successful in personal endeavors as well as humanitarian efforts.  Phil's father owned a gym and was his coach, so it's easy to see what Mr. Cahoy, Sr. had in mind. Phil's parents' dreams were fulfilled as Phil found personal success as a gymnastic champion and humanitarian success as a skilled surgeon. It is amazing that an individual is possible of taking on the demands of a champion performer in the gym while burning the midnight oil preparing for and completing Medical School. Phil's careers as an athlete and a doctor bring to light the possibilities that exist in the American concept of freedom and liberty.  Phil raises the bar for persons of quality to be named "All American".
Olympic Games: Named team member, Moscow, USSR, (1980). World Championships: Team member, (1978, '81, '83 (A), & '85).  AAU Jr. National Championships: Gold-AA, (1976); Nebraska State Championships: Gold-PB, (1976); Gold-Team, PB, & HB, (1977); Gold-Team, AA, FX, PH, V, PB, HB; Silver-AA, (1978); National High School Gymnastic Championships: Silver-AA, (1978); Gold-AA, (1979). National Sports Festival: Silver-HB, (1979). US Olympic Festival: Bronze-HB, (1979); U.S. Gymnastic Federation (USGF) National Championships: Silver-PB, (1977); Gold-AA (1978); USA Championships: Silver-HB, 1978 & '79); Bronze-PH, (1979); NCAA Championships: Gold-University of Nebraska Team, 1980, '81, '82, & '83; Gold-HB, Bronze-PB, (1980); Gold-PB & HB, (1981); Goodwill Games: Team member, Gold-PB, Bronze-PH, (1986). Phil competed in numerous invitational meets and USA dual meets contributing greatly to the USA team score against teams representing Norway, Sweden, Italy, et al. General: Phil was designated as an "All American" ten times by the NCAA. Education: B.S. Biological Sciences; M.D., University of Nebraska, (1990). Phil completed his internship and residency in the Division of Orthopedics, University of Wisconsin department of Surgery. He then " . . . completed a sports medicine fellowship at the Department of Orthopedics, University of Missouri-Kansas City and with the NFL's Kansas city Chiefs, the latter where he has served as their Orthopedic consultant." Honors: Honoree of Nebraska Sports Hall Of Fame.  Family: m. Diane
Sources: Jerry Wright author of Gymnastics Who's Who, 2005, interview with Dr. Cahoy, and public domain information & records & . Editing courtesy of A. Bruce Frederick who provided the Line Drawing and Abie Grossfeld. Introduction, commentary, & formatting by Larry Banner, Web Manager.