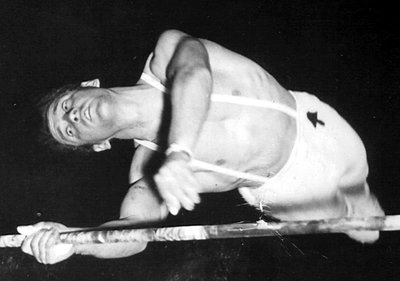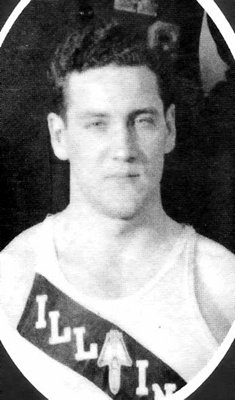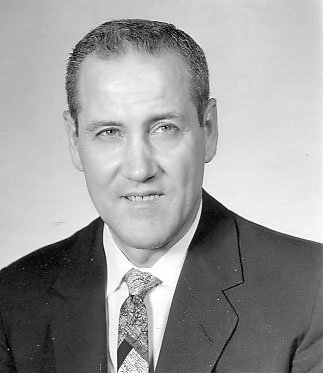 Paul Fina was one of the best gymnasts in America during the 1940's.  However, he was not able to show the world his talents because the 1940 and 1944 Olympic games were cancelled due to WWII.  Paul's potential was honored for his international potential when the National Collegiate Gymnastics Alumni Association Magazine aided by several legends in gymnastics named him as an Honorary Olympic Team Member for both the 1940 and 1944 teams.
National Collegiate Athletic Association (NCAA) Championships: Competing for the University of Illinois, Paul won Gold-AA [t], (1940); Gold-AA, (1941); Silver-PB, & Bronze-HB, (1941); Bronze-AA. AAU Central States Championships: Gold-AA & HB, Silver-PH & PB, (1940); Bronze-AA, (1941); Silver-AA, (1942); Gold-AA, HB, PB, & SR, (1942); Gold-AA, HB, PB, SR, (1943). AAU National Championships: Bronze-AA, 1940; Bronze-AA, FX, & HB, (1944); Gold-FX, (1946). Big Ten Championships: Gold-HB, PB, (1939); Bronze-PB, (1940); 4th-PB, (1941). Paul won the Illinois State AA Championship several times between 1937 and 1948; He also won the Ohio State AA in 1936. Paul Fina medaled over 100 times from 1936 to 1950 and was selected as a member of the US International Gymnastic Team in 1947. Paul's resume suggests that he competed at the University of Illinois during four of the university's NCAA Championship years, (1939, 1940, 1941, & 1942). Gymnastic Honors/Activities: US Gymnastic Hall of Fame, (1970); International FIG Brevet Judge, (1970); Pan American Games gymnastics Chairman, (1959); Greater Cleveland hall of Fame, (1978); Gymnastics Olympic Committee, Mexico City, Mexico, (1968) & Munich, Germany, (1972). Paul was one of the major organizers of the United States Gymnastics Federation (USGF); International judge for the 1955 Pan American Games; Chairman of the National Summer Gym Clinic for six years; a Board member of the American Sokol organization for 20 years, and a USGF Council member for American Sokol organization. Family: m. Three children. Three grandchildren.
Sources: Fina's personal resume and courtesy of Jerry Wright author of Gymnastics Who's Who, 2005.  Introduction, commentary, and formatting by Larry Banner, Web Manager.