JUDD, Leslie
Inducted: 1959-Original class of Honorees
Born: Brisbane, Australia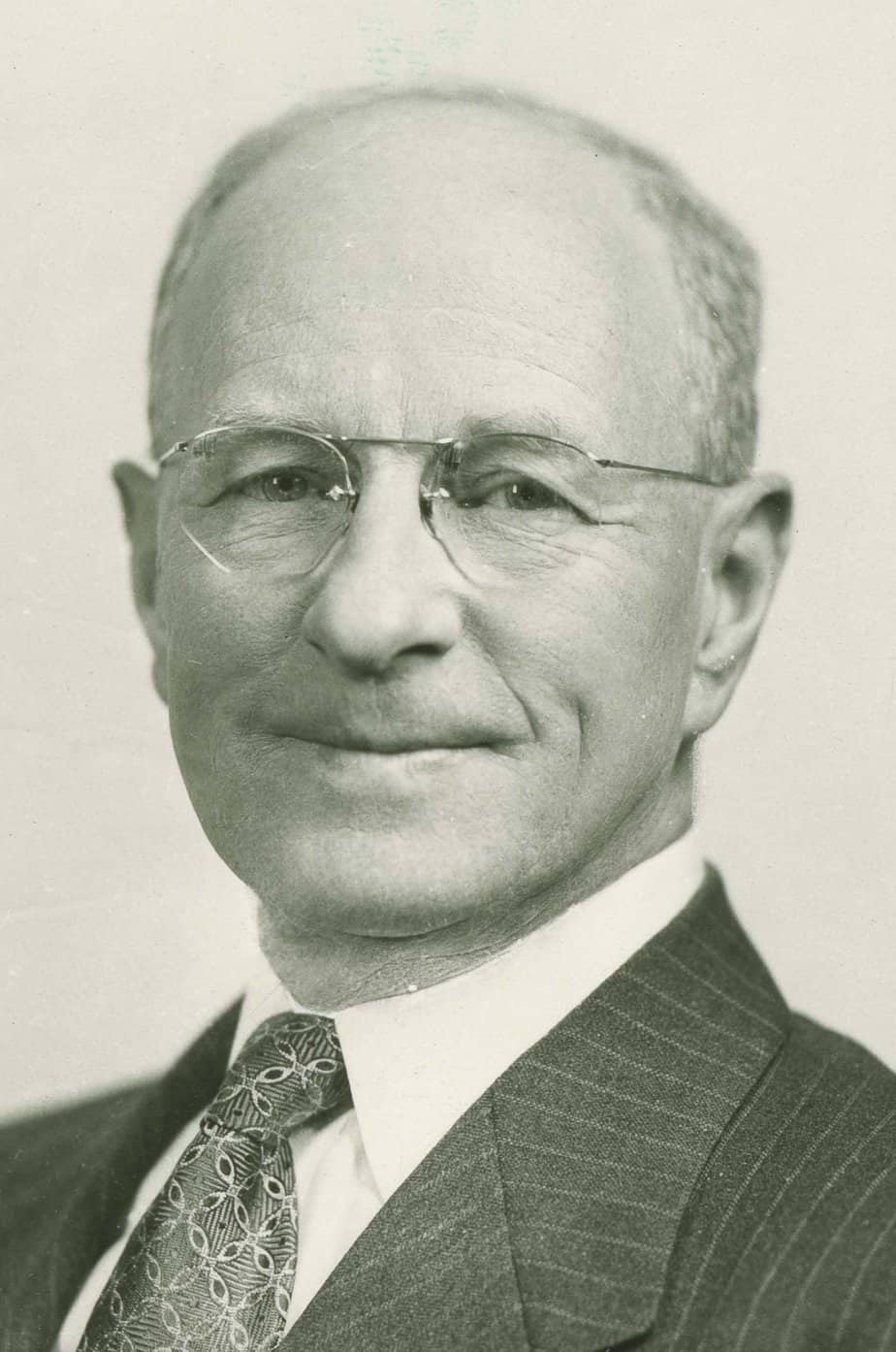 Numerous factors have contributed to the origins and development of American gymnastics, and they have influenced gymnastics as we know it now; e.g., the U.S. Wars, the immigration of gymnastics people, and U.S. laws have all contributed to the waves and troughs that gymnastics has experienced. "Following WWII, gymnastics began to grow again. During the lean years, 'gymnastics was kept alive by the unselfish and untiring work of dedicated leaders.' " One of these leaders, among others, was Leslie Judd who presented gymnastics demonstrations with their teams during the '40's and into the '50's.
Leslie Judd was Head Coach at Springfield College when WWII ended. The war years had depleted U.S. colleges and universities of gymnasts and coaches who were serving our country in the military.  Judd had a team, and he, Hartley Price at Florida State University, along with Eric Hughes, Head Coach of the University of Washington Gymnastics Club, and Hubie Dunn independently traveled the state of Washington, the U.S., and Canada with their exhibition teams. The result was a quick revitalization in gymnastic programs within the country. Judd trained seventeen students at Springfield College, all of whom went on to coach at the collegiate level. He was a pioneer in the development of the modern gymnastic movement. Leslie was the primary author of a truly good book that inspired the development of additional gymnastic programs. The book, Exhibition Gymnastics by Judd, Leslie J. De Carlo, Thomas J., and Kern, Rene J., is still available: New York-Association Press, 1969. Springfield College Gymnastics History:  The gymnastics team was the first varsity sport at Springfield College in 1891. Springfield College remains a USA leader in competitive and exhibition gymnastics over 110 years later. James Naismith,the inventor of the game of basketball, Amos Alonzo Stagg,the grand old man of football, and Dr.Luther Gulick,who pushed Naismith to create a new game, basketball, are among those who have called themselves Springfield College gymnasts. Springfield College gymnastics coaches have been pioneers in the sport. In 1921, Leslie Judd became the first full-time gymnastics coach and went on to create the world-famous "statuary of youths" that was later renamed "tableaux." Frank Wolcott, who coached the team from 1955 to 1981, was a driving force behind initiating intercollegiate teams for the men and women's gymnastics programs. He is a past President of the National Gymnastics Coaches Association. For decades, "tableaux" has been a trademark of the Springfield College gymnastics program. In 1939, Life Magazine featured the tableaux in its January issue, while International Gymnast magazine profiled it in the December 2004 issue. SC gymnasts have performed all over the world, and, in 1996, thrilled a sold-out Fleet Center in Boston at the U.S. Olympic Trials. Honors: Received the "Honor Coach Award", (1957). This award reads as follows: "In recognition of Leslie Judd's service in coaching and developing gymnastics for over twenty-five years. He has gained the respect of his associates in the gymnastics world by his inspiring example and accomplishments." A. Bruce Frederick named him an American Centurion. A Centurion was a Roman soldier who commanded 100 men. American gymnastics Centurions are those who command our attention. Their accomplishments, performances, and records are unique and provide a standard for the field. Special Note: As of this writing (April 2007) Springfield College still puts on his annual gymnastics demonstration called "Home Show."
Sources: USA Gymnastics Technique magazine, February 2005, p. 39, , , , , with original text by Jerry Wright, author of Gymnastics Who's Who, 2005. Jerry also courteously provided the Judd photo. Introduction, commentary, and formatting by Dr. Larry Banner, Web Manager.