RETTON-Kelly, Mary Lou
Inducted: 1985 – U.S. Olympic Hall of Fame Inducted: 1997 International Gymnastics Hall of Fame Inducted: 1997 U.S. Gymnastic Hall of Fame Born: January 24, 1968 Fairmont, West Virginia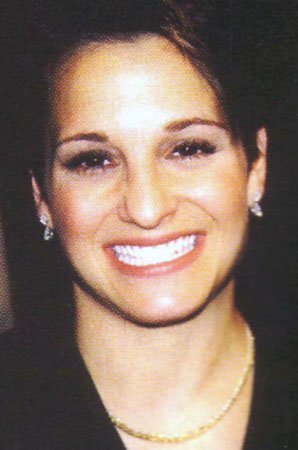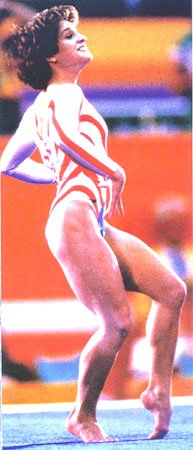 Mary Lou Retton is the first female Olympic gymnast to win not only the coveted Gold Medal in the AA but four additional event Olympic gymnastic medals.  She became an overnight celebrity when the world watched her amazing performances in Los Angeles in 1984. The beauty of Mary Lou Retton-Kelly is that she radiates strong moral beliefs and a virtuous life-style that is the crux of her personality. To her credit, she has taken the courage and focus that sent her to the Olympic medal stand again and again and share the insights she has acquired about leading a productive, successful, and happy life.
Olympic Games: Gold-AA; Silver-Team & Vault; Bronze-UB & FX, Los Angeles, USA, (1984). At age 16, Mary Lou was the first American woman ever to win a gymnastics gold medal, and her five total medals were the most medals won by any athlete at the L.A. Olympic Games. In the process, she scored perfect 10's in FX & V. In winning the Vault event, Mary Lou was trailing Ekaterina Szabo, the favorite to win, by just .05 of a point. She had one chance to execute a perfect 10.0 to win the event. She accomplished the nearly impossible by executing a perfect vault at the perfect time and became the first American woman to win an individual medal in Olympic Gymnastics. Even though the '84 Games were boycotted by the Soviets in retaliation for the American boycott in Moscow, Mary Lou had performed well in previous competitions against the world's best. No one will ever know whether she would have won the medals she did and become the American idol she became. American Cup Championships: Gold-AA, (1983-'85). Chunichi Cup Championships: Gold-AA, (1983). U.S. Gymnastics Federation American Classic Championships: Gold-AA, (1983-'84). U. S. National Championships & Olympic Trials: Gold-AA, (1984). Honors: Sports Illustrated "Sportswoman of the Year," (1984); Associated Press Female Amateur Athlete of the Year, (1984); Women's Sports Foundation Athlete of the year, (1984); American Academy of Achievement Award; (1984); First woman to be featured on the Wheaties box, (1984); The youngest inductee into the USOC Olympic Hall of Fame, (1985); World Almanac "25 Most Influential Women," (1985); NCC Citizen of the Year, (1986); Top Ten "Most Admired Public Figures," (1990); The youngest inductee into the Italian-American Sports Hall of Fame, (1992); Special Advisor, President's Council on Physical Fitness, (1992); Official White House Delegate, Summer Olympics, (1992); AP National Survey "Most Popular Athlete in America," (1993); Mary Lou Retton Award created by the U.S. Olympic Committee; (1994); Fitness Magazine "25 Fittest People in the World," ((1994); Presented The Flo Hyman Award by First Lady Hillary Rodham Clinton in recognition of her spirit, dignity, and commitment to excellence., (1995); Official White House Delegate, Winter Olympics, (1998); Humanitarian hall of Fame, (2000); Producer and Host of PBS Children's TV Show, Mary Lou's Flip Flop Shop, (2002); Presented the Ellis Island Medal of Honor, (2003). Starting Gymnastics: Mary Lou Retton began studying dance and acrobatics at the age of four and continued into gymnastics training under the tutelage of coach Gary Rafalowski at age five. At age 15, she moved to Houston, Texas. Her goal was to study with Bela Karolyi who had coached Nadia Comaneci until he was removed from that position in 1977. This move had to be faith motivated since no athlete is perfect for every coach and no coach is perfect for every athlete.  Coach Karolyi also had a reputation for having an aggressive coaching style. It was, however, a dramatically successful decision. Karolyi took advantage of the leverages available to the 4 ft., 9 in., 94 lb, young gymnast, and coached her to create movements and combinations that took advantage of the strengths her size bestowed. She was " . . . commonly described by sportswriters as a 'little powerhouse' which described the dynamism and energetic style . . ." she brought to the world of gymnastics. Her will to perform is best demonstrated by the fact that she competed so successfully in the '84 Olympics after having arthroscopic surgery to remove torn cartilage from her right knee about two months before the competition. At the time of the surgery, no medical advice could be found that would even speculate that she would be able to compete in the upcoming Olympics. There were no "Maybes" in the medical world, but there was an "I will" in Mary Lou's heart. She internally prescribed her own medicine for recovery and was back in the gym about three weeks after the surgery. Gymnastics Until Retton: Before 1972 only a relative handful of Americans could name world and Olympic champions or describe the quality of gymnastics performances in what additional few international competitions existed. In 1960, an American gymnast called his mother from Rome with the daily team and event gymnastics results. His mother called the local paper, thus it may have been that the San Fernando (California) Valley News and Green Sheet was the only paper in the country to publish the daily results. By 1972, TV arrived at the Olympic gymnastics venue and Olga Korbut captured the hearts of the American audience with her pixie-like performances and continuous smile. Almost overnight, soccer and softball moms became gym transporters and watched their children learn the rudiments of dance and gymnastics skills. In 1976, Nadia Comaneci boosted American participation in gymnastics with her stunning 10.0 performances, and the big question began to emerge.  Will an American ever stand on the gymnastics podium during the playing of The Star Spangled Banner, America's national anthem?  Mary Lou Retton answered the question with a resounding "1984!" After The Games: Americans may be proud of Mary Lou and of the honors she brought to America in the form of ribbons and medals; however, her radiant smile, enthusiastic manner, and wholesome spirit has influenced literally thousands if not millions of people in America and abroad. That is probably the finest of her achievements. Her performances in the world's greatest theater, the Olympic games, served to place her internal capacity to achieve at the forefront of American athletics. To hear or read about or to know Mary Lou Retton is to gain insight into what makes America great, but she experienced a difficult transition from a relatively unknown to celebrity status.
Eventually, she was able to "mellow out", and her personality allowed her to influence, in positive ways, most of those who even knew of her. This concept of "sharing" may be considered her finest achievement, but one that can never be placed in a trophy case or framed. Mary Lou retired from competition shortly after the '84 Olympics and quickly became in great demand through the Washington Speaker's Bureau. She served as a motivational speaker, traveled the world as a "Fitness Ambassador" promoting proper nutrition and exercise, has been a commentator for NBC, and wrote a daily column for USA TODAY. In addition, she has appeared in the movies Scrooged and Naked Gun 33 1/3 et al. She has appeared on numerous television shows including Guiding Light, Knot's Landing, and Dream On. She authored Gateways to Happiness: 7 Ways to a More Peaceful, More Accomplished, More Satisfying Life in April, (2000). Family: m. Shannon Kelly, a financial analyst. Children: Shalya Rae plus three siblings. Mary Lou spends most of her free time with her family and especially her daughter. She enjoys rollerblading and skiing, activities in which she has always had an interest but could not enjoy while training in gymnastics.
Sources:  Thanks are due A. Bruce Frederick, author of Who's Who and Was Who in American Gymnastics, Jerry Wright, author of Gymnastics Who's Who, 2005 plus information provided by the Washington Speakers Bureau, IGHOF.com, edhelper.com, and webpages.marshall.edu. Introduction, commentary, and formatting by Dr. Larry Banner, web manager.