Inducted: 2007
Inducted: Team Member-World Championship Team Gold Medal Winner
Born: St. Louis, Missouri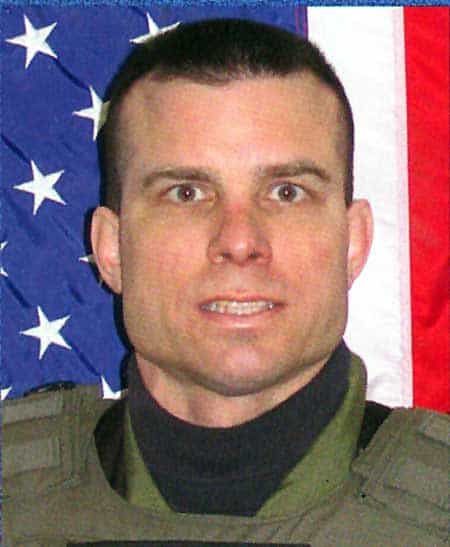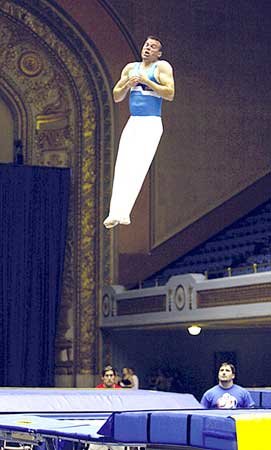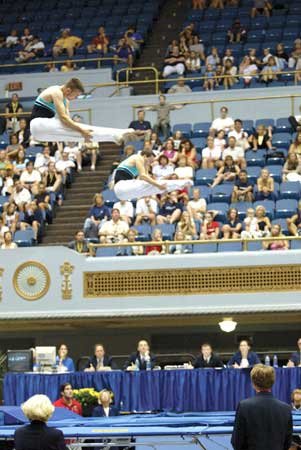 Karl Heger was inducted into America's Gymnastic Hall of Fame for his outstanding achievements as a trampolinist.  However, he is more than just a bouncing gymnast that was tops in his event and an idol to his followers. He is and continues to be a hero for all Americans by serving his country in numerous ways that help keep us safe. He is the vigilant FBI agent standing watch high in a guard tower in the middle of the night affording Americans the luxury of fearless sleep. The dedication and loyalty of Karl Heger and others like him are not fully rewarded with a Gymnastics Hall of Fame Certificate; rather they are rewarded by the appreciation of those who choose to preserve our American way of life, and we are fortunate that America has Karl and his comrades supporting us in thwarting evil in its many forms.
The 2007 program for the gymnastics Hall of Fame Induction Ceremony highlights of each of the seven Inductees stated, "Karl Heger was a member of the U.S. Trampoline Team for 22 years and won (team) gold medals in double mini-trampoline, (1988 & '99)." For this biographical sketch, Heger deserves a more detailed reporting of his competition successes. National Trampoline Championships: Heger was an 18 time National Champion including: Gold-Double Mini National Champion, (1991-1996); Gold-Trampoline, (1991-1995); Gold-Synchronized Trampoline, (1998, '2000, & '2002). World Championships: Silver-Double mini, Bozeman, USA; Bronze-Double mini, Osaka, Japan, (1984); Gold-Double mini, Birmingham, England, (1988); Gold, Sun City, South Africa, (1999); 4th-Double mini, Essen, Germany; Gold-Synchronized Trampoline, (1991). There is a high probability that Karl Heger was the first to perform a "Quad tuck back" in competition. Check it out on the video insert. When not bouncing on a trampoline, Karl found time to be a one and three meter diving champion. This information is accurate as confirmed by Heger; however, while the words relate accuracy, they do not create the full persona of Karl Heger. He is much more than words on a page or a medal winning trampoline champion. How much more? You be the judge. Military Service: Lieutenant Heger served in Operation Desert Storm, where he was awarded a Bronze Star. He was a member of the 6-3 Air Defense Artillery Battalion, 1st Armored Division, one of many U.S. Army troops who first crossed the line into unknown Iraqi opposition at the start of the war on terrorism. His Military Occupational Specialty (MOS) was as a Vulcan Cannon Platoon Leader. He eventually left the Army at the rank of Captain to go into law enforcement. It would probably not be difficult to insert elements of the Citation that comes with the Bronze Medal, but, having read many such Citations, words and phrases such as "withering fire, saving lives, sacrifice, and leadership" suffice it to write that in all probability American troops lives were saved due to Lt. Heger's courage and leadership demeaner. He is much more than words on a page. Induction Ceremony: Mr. Heger's acceptance comments at the Gymnastics Hall of Fame Ceremony, noticeably, if one was perceptive, were one of an easygoing, rather modest, generally quiet person who spoke from his heart; however, he exuded the traits of a professional that tends to do his job without much flash or complaint. This writer expects that Heger's approach to problem solving would be steady with a calm demeanor that would carry the day when and if the mud hit the fan. Mostly, my wife, Marti, and I thought that here was a man of obvious talent and courage who would never strut about it. A Time Remembered: It's fair to write that anyone who has a life at all has a moment that will be remembered forever. It's now 2007, and you have read that Karl Heger has led quite a life to say the least. With all he's seen and done, the moment he remembers most happened in Sun City, So. Africa, (1999). It was the World Double Mini-Tramp Championships, and Heger had made misses on his individual performance. However, the American Team did make the finals. In the finals, his teammates executed well, and he was the last to perform. Most competitors, regardless of sport, will tell you how hard it is to follow a poor performance with a brilliant one, but that is exactly what Karl Heger did that day in Sun City by doing the same passes that had been a problem and hitting them and all other passes "dead on". The American Team stood on the top platform to receive their Team Gold Medal, and as it was placed about his neck, he remarks today that it was the most gratifying and emotional event of his life. He says that now, today, 2007, even with all the experiences he has had after that day in Sun City. Let's Talk Hero: Karl Heger is a hero multiple. He was a hero to his peers and younger people for his talent on the trampoline; he was a hero when he "stuck" every pass in the finals of the World Championships in Sun City; he is a lifetime hero for his actions in combat, and in a few days or a week, he will be awarded, along with his FBI SWAT (Special Weapons and Tactics) team, a medal and Unit Citation for their excellence in performance of a high risk operation. He served on this operation as an Assistant Team Leader. The operation's mission was to rescue a kidnapped 18 year-old boy who was taken from Virginia to Illinois. The operation was successful when the FBI SWAT team created a diversion. The diversion worked perfectly, and Heger played a heroic part in the rescue of the young man, unharmed, and arrest of the kidnappers. Heger's participation in the FBI's amazing rescue was completed after the Induction Ceremonies, so it is reasonable to claim that from the words we heard and demeanor we witnessed at the earlier Induction Ceremonies, the impressions made there were accurate, and they will continue to be true throughout his lifetime. We all owe Karl Heger a huge "Thanks" for what he has done for America and Americans. Family: (m) Ute Oder whom he met at the World Trampoline Championships in Essen when she was a member of the German National Team. It's nice that these international competitions usually have country integrated "social rooms!" Children: Kevin (17) and KJ (13) in 2007. Both boys competed in past World Age Group Trampoline Championships, and both are currently training for the up-coming World Age Group Trampoline Championships, Quebec City, Canada. Karl gives most of the credit for their training to his wife, Ute.
Sources: Interviews and correspondence with Karl Heger who provided permission to use his photos and DVD action sequences. Also contributing was USA Gymnastics with their Press Release-5/9/2007. Jerry Wright courteously provided vetting and detailed records of Karl Heger's competition results. Introduction, commentary, and formatting by Dr. Larry Banner, Web Manager.