SAKAMOTO, Makoto
Inducted: 1986 Born: April 8, 1947, Tokyo, Japan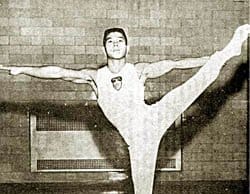 Makoto emerged in the gymnastic world with a style and steadiness that began a new era of excellence in men's gymnastics.
L.A. City High School Championships: Gold-AA, John Muir, Coach, (1963 & 1965); AAU National Championships: Gold-AA & HB, Philadelphia, Pennsylvania, (1963); Gold-AA, Kings Point, NY, (1964); "Jackpot" Gold-AA, FX, PB, R, HB, PH, & V, Cleveland, Ohio, (1965). Olympic Games: Tokyo, Japan, (1964); Munich, Germany, (1972).  World Championships: Dortmund, Germany, (1966); Ljubljana, Yugoslavia, (1970). World University Games: Bronze-AA, Budapest, Hungary, (1965); Silver-Team, Tokyo, Japan, (1967); Bronze-Team, Torino, Italy, (1970). Honors: A. Bruce Fredericks writes that Sakamoto was " . . . the only gymnast to sweep a national men's competition." Frederick's also considered Sakamoto a "Gymnastic Centurion" and defined the designation or title as " . . . those who command our attention." USC Hall of Fame, (2002); Honorary Lifetime Award, NACGC; USC-Pac Eight, (1967 & 1968), Gold-AA, FX PB, HB, PH, V, Silver-R; NCAA  Championships: Gold-PB, Silver-AA, (1967); Gold-AA, PB, HB, Coach Ron Barak, (1968). Education: B.A., M.A. Coaching:  Assistant coach at UCLA, (1976-1984). Served as primary coach for Hall of Fame gymnasts Peter Vidmar & Tim Daggett; New South Wales Gymnastics Association coach, Sydney, Australia, (1984-1987); Head Coach @ Brigham Young University Gymnastic, (1987-2000); Assistant coach for 1984 Olympic Team and for the 1981 & 1983 World Championship teams.  Personal: Currently coaching at the San Diego All-Stars, a private gymnastic club. Initiated "Handstand Pushup" on PB and may hold world record of 163 continuous completed "Pushups" at age 52.  Family: m. Masako Yoshisa, Born-March 24, 1951. Two children.
Sources: Biographical interviews, interviews with teammates, coaches, and Sakamoto's protégés, plus courtesy of editing by Abie Grossfeld, 1979 HOF Honoree, and acclaimed gymnastic historian, A. Bruce Frederick, author of Who's Who and Was Who in American Gymnastics. Introduction, commentary, and formatting by Larry Banner, Web Manager.