DUSSERRE-Farrell, Michelle
Inducted: 2006
Born: Long Beach, California-USA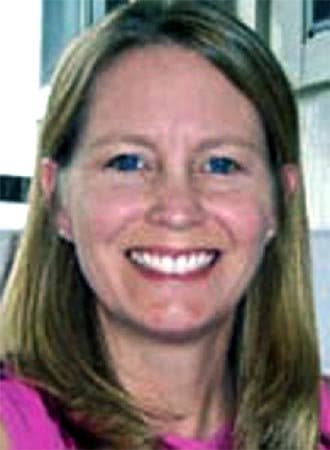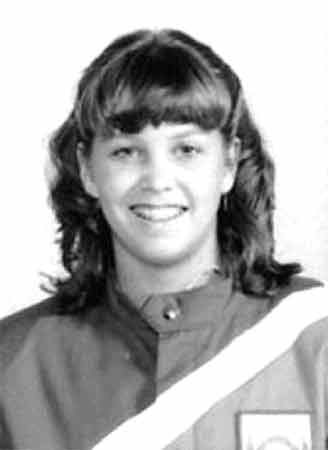 Michelle Dusserre-Farrell was blessed with the three elements of athletic success; namely, opportunity, the wherewithal (nearby gyms), and encouragement. Her father was a high school Athletic Director and provided an early push for his girls to enter the world of athletics. Michelle's sister, Shawna, was already playing soccer. Gymnastics became Michelle's passion that led her through all the steps needed to become an elite gymnast and an Olympian. She continued to contribute as a coach, athletic researcher, and contributor as a member of the USOC. She is a credit to our wonderful sport and an outstanding example of how to meet the highest of goals through sacrifice and dedication to hard work.
Starting Early: Michelle Dusserre began gymnastics at the age of five. As a California native, she was able to train at SCATS in California during the club's prime in the 1980's. During this time period, SCATS coached a number of top American gymnasts, including Kathy Johnson, Beth Kline (now Beth Rybacki, one of Vanessa Atler's former coaches), Pam Bileck, a teammate at the 1984 Olympic Games, Marie Roethlisberger (sister to John Roethlisberger), Sabrina Mar, and Doe Yamashiro. Education: B.S., Arizona State University, and M.B.S., University of Colorado, Colorado Springs. Michelle is a certified dietitian. Olympic Games: Silver-Team [T]-Los Angeles, California-USA, (1984). Michelle was the youngest member of the Women's Olympic Gymnastic Team in the Los Angeles Games, but it was a young team with Pam Bileck only about a month older. Michelle had a reputation for consistency, so she became the "tablesetter" for the team in one or more events. A "tablesetter" is a member of the team who is assigned by the coach to perform first on an event. The coach believes this team member can be relied upon to consistently "hit & stick" a routine. This accomplished, the judges are endowed with high expectations that will boost the scores of the team members who follow. Whenever Michelle was chosen as the "tablesetter", she was a great choice. It's a strategy that helped the U.S. team bring home the Silver, and Michelle did her part with her consistently outstanding performances. Competition Records: Jr. U.S. National Championships: AA-5th, (1982) International Competitions:Hungarian International Invitational, Gold-FX, AA-5th, (1983); USA vs. USSR, Silver-FX, Bronze-AA & BB, V-4th [T], UB-6th, (1983); USA vs. France, Gold-AA, (1983); USA vs. China, AA-6th [T], (1983); Domestic Competitions: Olympic Trials, Bronze-AA, (1984); USAG National Championships, AA-24th, 5th FX [T], (1986); AA-12th, Bronze-UB [T], (1987); Kips Invitational, Silver-Team [T], Gold-BB, & Bronze-FX, AA-13th, (1986); U.S. Olympic Festival, Gold-Team [T], AA-19th, (1986); American Classic, AA-13th, (1986). Setback: After her considerable success in 1984, Michelle suffered a severe elbow injury that sidelined her for the 1985 season; consequently, in 1986, Michelle failed to make the National team, however she continued in the sport through 1987 where she was able to upgrade her difficulty level significantly. Leaving the Gym: Following the 1987 Nationals, Michelle left the competitive aspect of gymnastics to begin college at Arizona State University; however, she did not entirely leave the sport of gymnastic movement. Different sources confirm that she coached alongside Tom and Lori Forster at the Colorado Aerials eventually picking up several additional coaching responsibilities at Aerials Gymnastics and the Air Force Academy at the same time. In May 1999, Michelle and her husband relocated to Southern California.  While still in high school Michelle had served as a Hollywood stunt double for actress Janet Jones in the gymnastics flick, "American Anthem" where her athlete skills and ability to adapt to new movements were well respected, (1985). Continuing to Contribute: Michelle was an athlete representative for the USOC and USAG through the '90's, and then she went to work for the USOC as a full-time paid employee, (2000-2006). She has also assisted with USAG's Talent Opportunity Program (TOPS) Training Camps for children age 12 and under.  Michelle left the USOC in 2006 and started to work on building a non-profit business called The Swing High Project (SHP), which is dedicated to building a wheelchair accessible playground in Colorado Springs. The SHP is dedicated to building a universally accessible playground in the Pikes Peak Region. It is designed to allow children with disabilities a playground that is fully accessible to their needs, thereby allowing them to play side-by-side with their peers. Family: (m) Matt Farrell, who has worked at USA Swimming since 2005. Children: Abby, born after Michelle and her husband moved into the Southern California area where they stayed for about 15 months before returning to Colorado Springs where a second daughter, Zoe, was born in 2003.
Sources: Communications with and vetting by Ms. Dusserre-Farrell who provided permission to exhibit her photos. The research data courteously provided by Jerry Wright, author of Gymnastics Who's Who, 2005 and who is expected to release a new, upgraded 2010 Edition. Also, credit some general information from the 2006 USAG Hall of Fame Induction and Awards Ceremony. Introduction, commentary, and formatting by Dr. Larry Banner, Web Manager.