SHANKEN, Courtney
Inducted: 1975
Born: St. Louis, Missouri-USA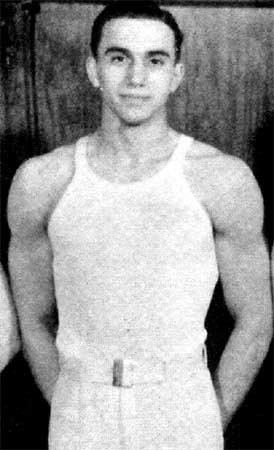 Introducing Courtney Shanken is a special treat for me, your Web Manager, Larry Banner. After formatting the data that comes from a variety of sources, I must often create an introduction that seems to be thematic of the Inductee's gymnastics and, often, personal lives. Courtney was not only an outstanding gymnast and athlete; he is a hero of our nation. He, his twin brother, Earl, and I found common ground that goes beyond our gymnastics. They, along with my late father, flew with danger as their co-pilots during WWII. Just as I am proud of my father's courage and dedication to his part in winning that war, I am proud to present the gymnastic and military life of Courtney Shanken and applicable information about his brother, Earl.
Competitor: Courtney competed for the University of Chicago just a few years after the Chicago gymnastic team won the 1938 team championship at the very first NCAA Championships. NCAA Championships: Team-5th, (1940 & '42); Gold-AA & RC*; Bronze-Team, HB, & V, (1941); Bronze-AA & PH, (1942). *It wasn't often that a gymnast would win the AA and the RC, but Courtney says it was done on a "fluke". The best rope climbers that year were either injured or sick. Courtney was tagged to climb to pick up some points for the team. He relates that he took quite a ribbing when he won. Big Ten Championships: Bronze-AA & HB, (1942).  Military Service: After graduating from Chicago University, Courtney enlisted in the U.S. Army Air Corps, (1942-'45). He was a B-24 navigator flying out of Italy. His plane was the only one in his squadron to not be shot down. He completed 50 missions. Earl, Courtney's twin brother, served in the same Army Air Corps squadron, the 450th Bomb Group. On one morning's mission, Earl's plane was shot down, but Earl had been assigned by their Colonel to fly that afternoon's mission as lead navigator. In Courtney's words, "He lucked out" that day. The twins survived serving their country with distinction, and both returned home with multiple medals for valor. Earl received the Distinguished Flying Cross (DFC) for leading a raid on the Ploesti oil fields. Athletics: After Shanken's discharge from the military and the cancellation of the 1940 and 1944 Olympic Games, he decided to enter the business world rather than pursue a gymnastics career even though it may have led to his selection as an Honorary 1944 Olympic Gymnastics Team member. He also suggested that not many USGHOF Inductees were gymnasts and baseball players, so Courtney may be unique in that he played right field for the U. of Chicago Big Ten baseball team. Courtney's twin brother, Earl, is an Inductee into the U. of Chicago Hall of Fame for his gymnastics skills having won the NCAA vaulting event three years running, (1940, '41, & '42). Al Bergmann, Dan Hoffer, and Bud Beyer, all of whom were inducted into the USGHOF were Courtney and Earl's coaches. The boys were lucky to have such great coaching talent to guide them to victory. Service: Shanken was a member of the U.S. Olympic Committee, (1964-'77), Chairperson of the Maccabiah Gymnastics Committee, (1965-'77), and was also President of the Midwest Gymnastics Association, (1964-'69). He coached the American Team at the North American Championship, (1967). Family: (m) Edith Weiss. Children: Nancy, Sandy, and Jeff who was a gymnast at Indiana University. Grandchildren: Dana, Kendall, Jennifer, Mathew, Kevin, and Justin. Great Grandchildren: Cassidy and Kian.
Source: Interviews with Courtney Shanken and material provided by Jerry Wright, author of Gymnastics Who's Who, 2005, who also provided Shanken photo. Introduction, commentary, and formatting by Dr. Larry Banner, Web Manager.