HILL, Kelli
Inducted: 2005
Born: Los Angeles, CA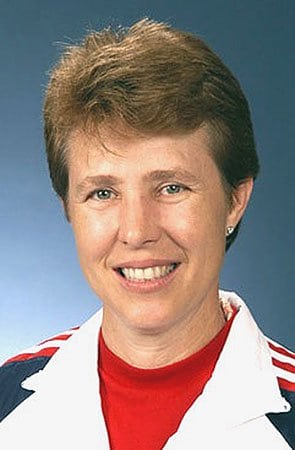 Kelli Hill has been quoted as suggesting that she " . . . was a very low-level gymnast." However, it's possible that she had some very good gymnastic teaching, and her teachers became motivators for her to become one of the most influencial coaches over the past 17 or more years. She is described as a person who "soaks" up training knowledge from anyone and everyone." She probably had excellent training in order to eventually direct championship training. She had learned the basics from Marty Comiskey and Rob Shaw at MarVaTeens where she started at age 13, and I venture to speculate that both were influential in her determination to be a great coach at all levels. Eventually, Ms. Hill purchased her own gym, Hill's Angels in Gaithersburg, MD where she continues to work.
Team Coach: Head Coach of Women's Olympic Gymnastic team: Sydney, Australia, (2000) & Athens, Greece, (2004). World Championships:  Member of coaching staff of the Women's World Championship Team: Paris France, (1992); Birmingham, Great Britain, (1993); Brisbane, Australia-Individual & Dortmund, Germany-Team, (1994); San Juan, Puerto Rico, (1996). Head Coach: Anaheim, CA USA, (2003).  Personal Coach: Kelli Hill was the personal coach for three-time Olympian, Dominique Dawes who came to Hill's gym at age six. She was also the personal coach for Elise Ray who performed at the Sydney Olympics and the Tianjin World Championships. In addition, Hill was the personal coach for Courtney Kupets who performed in the Athens Olympics as well as the Debrecen, Hungary and Anaheim, CA USA World Championships. Honors: Named USAG Women's Coach of the Year, (1991 & '93); Named Coach of the Year by the U.S. Elite Coaches Association, (1991, '93, '96, '99, '00, & 03). Contributions: Ms. Hill has served on the International Elite Committee, (1992-Pre.); USAG Board of Directors; Junior Olympic Program Committee; the Region 7 Board and the Maryland State Board.
References: Ms. Hill not available for commentary. Primary references: USA Gymnastics Media Guide, 2003-2004 & 2005 Hall of Fame Induction and Awards Ceremony Program. Ms. Hills's comments courtesy of Jerry Wright, author of Who's Who in Gymnastics, 2005, "Athens Olympics", and article by Candus Thomson published in the Baltimore Sun, July 20, 2004. Introduction, commentary, and formatting by Dr. Larry Banner, Web Manager.