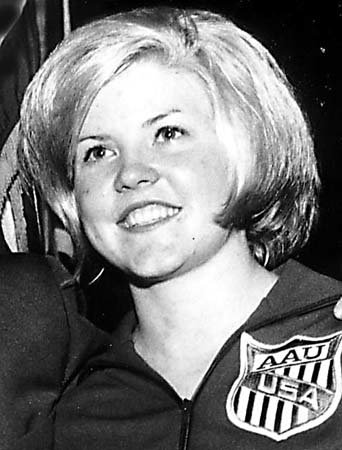 Every gymnast who wishes to progress must have a divergent, creative mind when it comes to developing performance routines. Some have even run old films backwards to see if any stunt or combination of stunts might be reversed. In our reveries, we sometimes laugh at the routines we mentally compose since we understand that we could never accomplish them.  And then along comes Judy Wills-Cline who amazes everyone with her ability to take our fantasy about doing strange and unusual vaults and standing doubles on the floor and make them real. As this writer, a decent men's AA performer in a former era, reads her resume and imagines what courage, strength, and overall skill Judy had to have, I feel a great pride just to think that I had a bit of success in the sport of gymnastics. Judy Wills-Cline appears to stand-alone in the worlds of tumbling and trampoline. I have to believe that even Dickie Browning and Dan Millman, great twisters, bounders, and spinners, would be impressed and delighted.
Judy Wills-Cline is a ten-time World Champion in trampoline, synchronized trampoline, and tumbling. She was the first World Champion in each of these events. She is the only athlete in history to win the World Championships in both trampoline and tumbling. NCAA Championships: Judy won 14 titles competing for Southern Illinois University.  AAU National Championships: Gold-TU, (1963-1964 & 1966-1968); Gold-TR, (1963-1964 & 1966-1968). Coaching: Judy Wills coached several National Champions and seven World age group Champions. She was Head Coach for the U.S. Trampoline and Tumbling teams at several World championships and World Cup Competitions. Ms. Wills assumed the position of National Coaching Coordinator for the Trampoline and Tumbling  Program, (1998-2000), and she has been on the National Coaching Staff for the TOP's Program and the Elite Program.  She coached 22 athletes to NCAA gymnastic scholarships and coached many gymnasts to elite status and onto the U.S. National gymnastic Team. She was instrumental in helping to develop the first elite gymnast from Las Vegas, NV and has been coaching in Las Vegas for 27 years as of this writing. Honors/Records: Listed in the Guinness Book of World Records for holding the most World titles and holds the record for the most individual titles in trampoline (5), the record for bounding whips (26), bounding fulls (16), and bounding double-fulls (8), all accomplished on a firm floor; i.e., the floor had no springs or other elements to aide height acquisition. Judy is known for her standing double-fulls and triple-fulls in both directions. She won a total of 38 National Titles in the events of trampoline, tumbling, vault, and floor exercise. Family: m. Jerry Cline. One child, Michael, who was an excellent gymnast at the U.S. Air Force Academy. He was a four-time USGF All American and a conference scholar-athlete four years in a row. Grandchildren: Three
Source: Jerry Wright, author of Gymnastics Who's Who, 2005, who also provided a photograph and for competition the AAU results. Thanks are also due Abie Grossfeld, 1979 HOF Honoree, and A. Bruce Frederick author of Gymnastics Who's Who in America for their personal assistance and editing services. Introduction, commentary, and formatting by Larry Banner, Web Manager.