Inducted: 2010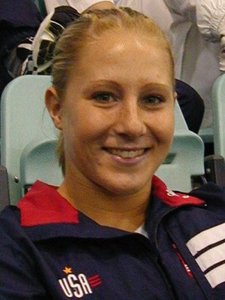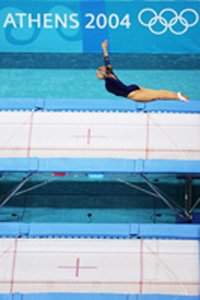 Whenever she felt her focus waning, Jennifer Parilla played her favorite mind game. She imagined she was at the Olympics with everything on the line. She would hear a voice inside her say, "If you do this sequence well, you'll win the Olympic gold medal." Explains Parilla: "There are two kinds of athletes — those who'll step it up and do it, and those who won't.  So I'll step it up and gut it out. And then I'll scream to myself, 'Yeah! Gold medal!' "
Being First: Parilla is the first U.S. athlete to qualify for and compete in trampoline at the Olympics. In Sydney in 2000, trampoline's Olympic debut, Parilla finished ninth.  She finished 16th at the world championships in 2003 and was a member of the national team for ten years. Great Support: Throughout her trailblazing career, Parilla's relentless pursuit of perfection has been a do-it-yourself family affair.  It begins and ends with her parents, Paul and Jan, who provided her with a strong, solid support system in the obscure, up-and-down sport. They enrolled her in gymnastics at age 5 because she was constantly racing through the house, jumping onto a mini-exercise trampoline, then flipping onto the sofa or the bed. For her sixth birthday, they gave her a private trampoline lesson. The Parillas have watched their daughter compete in Australia, New Zealand, South Africa, Japan, France, Germany, Portugal, Finland and so many other countries that Paul, an attorney, has lost track. Often, Paul, her father, had to buy five overseas tickets to meets — for himself, Jan, Jennifer, Jennifer's coach and a judge. (International rules state that there must be a judge from the country of each participant in the meet.) "How many parents get to travel the world with their 23-year-old daughter?" Paul asks. "We were happy to be able to extend our time with her." Competition Career: At 13, Parilla won the 1994 world championships team double mini event. At 15, she placed seventh in the 1996 worlds, her first competing as an individual. It had been 23 years since anybody from the USA, male or female, had placed in the top 10.  "And I was only training twice a week," Parilla says. "So I decided to step up my training to see how good I could get." When she was 17, she stepped it up again, after learning that trampoline was going to be in the Sydney Olympics. After a disappointing 4th at the Sydney Olympics, Parilla did everything in her power to get back to the Olympics. Looking for the Right Coach: In 2003 she moved to Pocatello, Idaho, to train with Russian trampoline coach Oleg Fedozov.   She flew in Nikolai Zhuravlev, another Russian trampoline guru who coaches in Australia. Then she went to Sydney to work with him some more.  Later she trained in Bad Kreuznach, Germany, with former world champion Anna Dogonadze. After the preliminaries at nationals in Nashville, Parilla left a message on her parents' hotel phone. "Thank you so much for being here," she told them. "None of this would be possible without you." International Competitions: Jennifer competed in the 2000 and 2004 Olympic Games.  She has five World Age Group medals, finishing first on trampoline and second on double mini-trampoline in 1994. At the World Championships, she was a member of bronze-medal trampoline team in 2005 and the double-mini squads that won the team title in 1994 and the bronze medal in 1998. She won the individual double-mini silver medal at the 1998 Worlds, and she finished in the top seven at eight trampoline World Cup events, including a second place finish in 1996. At the Olympic Selection event for the 2000 Olympic Games, she was ninth, and at the 2000 Olympic Test Event, she finished 6th. Additional Major Competions: 2003 World Cup, Prague, CZE; 4th-Trampoline,  World Cup, Ostend, BEL; 18th-Trampoline,   Canada Cup, Oakville, O.N., CAN; 8th-Trampoline;  2002 World Cup, Mykolayiv, UKR; 11th – Trampoline;  2001 World Championships, Odense, DEN; 19th – Trampoline;  2000 World Cup, Sydney, AUS; 6th – Trampoline (4th vs. Olympic Field),  Olympic Test Event, Sydney, AUS; 6th – Trampoline (4th vs. Olympic Field);  1999 Olympic Selection; 9th – Trampoline,  World Championships, Sun City, RSA; 7th – Synchro, 17th – Trampoline,  French Nationals, Toulouse, FRA; 1st – Synchro;  1997 Trampoline World cup final, Frankfurt, GER; 5th – Trampoline,  Indo-Pacific Championships, Durban, RSA; 3rd – Double mini,  Trampoline World Cup Final, Sydney, AUS; 4th – Trampoline;  1996 Trampoline World Cup, Frankfurt, GER; 2nd Trampoline;  1995 Trampoline World Cup, Vancouver, CAN; 7th – Trampoline;  1994 World Championships, Porto, POR; 1st – Team Double Mini,  World Age Group Games, Vila De Conde, POR; 1st – Trampoline 2nd – Double Mini. From 1993-2004, she won five U.S. individual and five U.S. synchronized trampoline titles, along with two double mini-trampoline national crowns.  2004 U.S. Senior National Champion, U.S. Olympic Team Trials, San Jose, Calif.; 1st- Trampoline;  2003 Winter Classic, Tampa, Fla.; 2nd-Trampoline;  2002 U.S. Elite Challenge, Indianapolis, Ind.; 1st – Trampoline  Winter Classic, Indianapolis, Ind.; 4th – Trampoline;  2001 National Championships, San Antonio, Texas; 11th – Trampoline;  1999 U.S. World Team Trials, Sacramento, Calif.; 1st – Trampoline, 1st – Synchro -2nd Double Mini, U.S. World Team Trials, Knoxville, Tenn.; 1st – trampoline, 1st – Double Mini, 1st – Synchro. Family: Jennifer is one of two children to Paul and Jan Parilla; She has an older brother named Steve.
Sources:  Data taken from the public sources (Wikipedia). Photos taken from public sources (Google)
.  Research compiled by 2008-2010 Web Manager Jerry Wright, author of Gymnastics Who's Who-2010.  Editing by Dr. Larry Banner, 1993 GHOF Inductee & 1894-2007 Web Manager, Ph. D & Ed. D.