KRIMMEL, Paul 
Inducted: 1994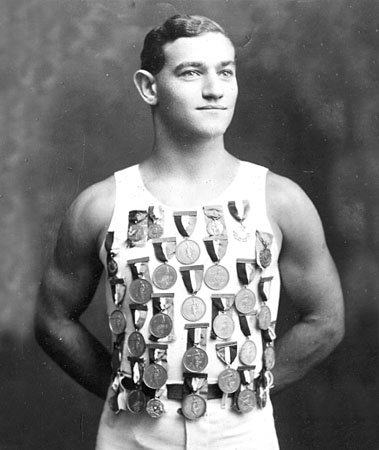 The records for Paul Krimmel's penchant for winning national gold medals were probably lost through the years, but when his national championships came to light, it was obvious that he was a candidate for the U.S. Gymnastic Hall of Fame. It just took a while – 80 years or so. Nevertheless, his seven national championships between 1911 and 1913 are impressive regardless of the time it took for him to be recognized. His performances probably influenced many gymnasts of the day, and within a short period of time, they became better athletes due to Krimmel's influence.
AAU National Championships: Gold-AA, (1911 & '12); Gold-V, (1912-'13); Gold-PB, (1913); Gold-HB, (1910 & '12). New York Metropolitan AAU Championships: Gold-AA, (1912 & '13), Gold-HB, (1910-1913), Gold-V, (1912 & '13), Gold-PB, (1912-'13). Krimmel competed for the New York Turnverein (NYTV). The NYTV won the AAU Championship team gold four times,      (1921, '23, '24, & '27). Professional: Krimmel went on to become a graduate of the Normal School and eventually became the Superintendent of Physical Education for the Syracuse, NY school system. He was a strong supporter of the Normal School and served in numerous capacities to strengthen and maintain the integrity of the school. He served as the Chairperson of the Normal College Support Group representing Syracuse. He was elected President of the Normal College Maintenance Fund campaign after Turner Streit declined re-election, (1937). Krimmel was a featured speaker at many fund-raising events, circa 1930's through the early 1940's. His strong feeling for the continuation of academic excellence is expressed in a letter he wrote to the Turner Topics "Mailbag for Turner Convention". The convention participants had passed a resolution that insured continuance, identity, and perpetuation of the Normal College. Krimmel's letter strongly approved of the action of the convention. Paul Krimmel served as President of the Board of Directors that approved the establishment of a committee to aid in the continuance of social and health programs for the Normal College, (1941).
Sources: Photo courtesy of Hal Leader. Photo was dated 1916 and was signed "To my friend Richard Heinrich from yours sincerely", Paul Krimmel; AAU competition records, and data forwarded by Jerry Wright, author of Gymnastics Who's Who, 2005. Introduction, commentary, and formatting by Dr. Larry Banner, Web Manager.