DAGGETT, Tim
U.S. Olympic Team Member Induction: 1984 Individual Induction: 1998
Inducted: U.S. Olympic Hall of Fame – 2005
Born: May 22, 1962, West Springfield, MA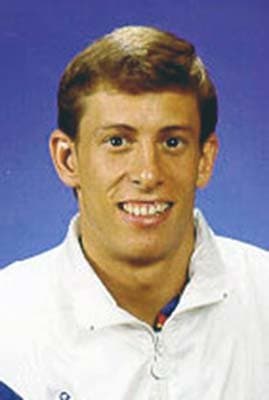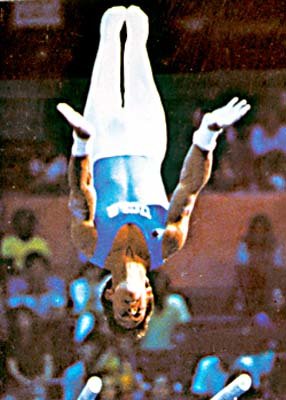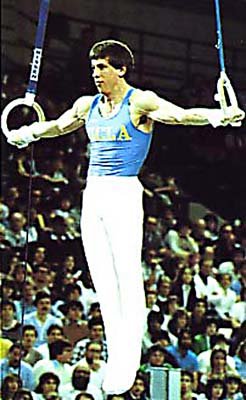 It seems a truism that any person who follows one or more sports would easily be able to relate a single athletic moment in time in the sport that will be remembered by that individual for a lifetime.  For example, if a person follows gymnastics, Kerri Strug's great 2nd vault landing on one leg after injuring a leg on her first vault will be remembered by thousands as an athletic moment in time.  On July 31, 1984 at the 1984 Olympic Games held in Los Angeles Tim Daggett supplied the world with a very special athletic moment in time as he finished his artistically flawless HB routine with a laid out double-back somersault with a full twist and landed as steady as a dart in a corkboard. It was a perfect 10-point routine and gave the U.S. its first team gold in the modern history of gymnastics. The arena exploded with excitement, and all across the nation people leaped from their chairs to join in the celebration.  Peter Vidmar followed Tim with an outstanding exercise putting the icing on the cake. Still, Daggett felt he had not yet achieved his personal best, and he continued to train and progress finally battling face-to-face with the grey reaper-tragedy.
Olympic Games: Gold-Team, Bronze-PH, Los Angeles, CA, (1984).  World Championship Teams: Team member, Moscow, USSR, (1981); Team member, Budapest, Hungary, (1983); Team member, Montreal, Canada, (1985); Team member, Rotterdam, Netherlands, (1987). NCAA Championships: Gold-PH, SR, & PB, (1984). Pac Ten Conference Championships: Gold-SR, (1982) & Gold-HB, (1983). American Cup  Championships: Gold-AA, (1985); USA Gymnastics Championships, Gold-PH, PB, & HB, (1984); Gold-PB, (1985); Gold-AA & PB, (1986); Gold-PH, (1987). Tim won a total of 10 United States gold medals. Getting Started: Tim Daggett began gymnastics (tumbling) at age 10 in the Parks and Recreation Program in West Springfield, MA. His first mentor was Mr. Bill Jones who coached at the local high school and invited Tim to train with his team where he introduced Tim to the AA events. Later, Tim had several choices for college and chose UCLA on a "gut" feeling. Head coach Art Shurlock was working with Mitch Gaylord and Assistant Coach, Makoto Sakemoto, with Peter Vidmar, but Tim credits both coaches with helping him even though he was a relatively unknown at the time. Mostly, he worked with other team members. He says he always had bad ankles, having surgery on one before attending UCLA and dislocating one in an NCAA meet. Tim progressed well in college with the support " . . . of his father, mother, brothers, and sisters." When Tim grabbed a spot on the 1984 Olympic Team, he said, "It was the greatest day of my life!"  Little did he expect an even better day to follow in the Olympic Games. Conquering Adversity: Early surgery on both ankles had onlookers doubting Tim's decision to continue high level gymnastics training with its inherent dangers, but he followed his heart and continued, becoming the AA Champion in the 1985 World Cup competition. While practicing for the 1987 American Cup, Tim fell 15 feet from the high bar landing on his head. He incurred a life-threatening ruptured disc in his neck and sustained a tremendous amount of nerve damage on his left side. Undaunted, Tim began an intense regimen of rehab and persevered. Unbelievably, Daggett was ready for the 1987 World Championships in Rotterdam, Netherlands. After the first day of competition, Tim was in medal contention on two events. On the second day, Tim was warming up for the first event, the vault. He hit the board flying higher and farther than he ever had before; however, he became a bit crooked in the air and landed awkwardly snapping both fibula and tibia. An artery was severed and he lost 5.5 pints of blood before a compression splint could stop the bleeding. Five major surgeries later, it appeared that Tim's competitive career was over, but with almost careless abandon, Tim began to fight back.  Months later, he returned to world-class competition, but was unable to make the 1988 Olympic Team. Abie Grossfeld watched as Tim almost limped to the vault and said it was a combination of the most heroic and saddest things he had ever seen. Competition Over: Since retirement, Tim Daggett has established a multi-million dollar training facility for gymnastics in Agawam, Massachusetts.  At Daggatt's Gold Medal Gymnastics, over 1300 children of all ages flood to the gym each week to enhance their lives and grow through the sport of gymnastics.  In addition, Tim has been the expert "color commentator" for NBC during all major gymnastics events.  His credits include the 1992, 1996, and 2000 Olympic Games. Shortly after this writing, Tim will be off to Torino, Italy for the 2006 Winter Olympics as NBC's sideline reporter for ski jumping and Nordic combined. At the same time, Tim is one of the most "in demand" speakers in the country.  His story of inner strength, motivation, and learning to overcome insurmountable obstacles shows audiences that with commitment to a goal, and belief in oneself, anything is possible, and when he tells his story, one has to believe it. Family: m. Deanne Lazer, formerly a collegiate level gymnast at Eastern Michigan U. and now an M.D. practicing anesthesiology.  Children: Peter & Carlie Daggett.
Sources: Appreciation is extended to A. Bruce Frederick, author of Who's Who in American Gymnastics, for results and word definitions, Jerry Wright, author of Gymnastics Who's Who, 2005, Bruce Davis for his comments, research information, and suggestions, and Abie Grossfeld for his special insights. Daggett's quotes from "Darkhorse Daggett Does It" by Bruce Davis that appeared in International Gymnast, Nov. 1981, p. 16. Correspondence with Tim helped with the final details. PB Photo by Rafael Beer with permission, International Gymnast, Nov. 1981, p.36.