Phelps-McClure, Jaycie
Team Induction: 1998 Individual Induction: 2003 Born: September 26, 1979.  Indianapolis, Indiana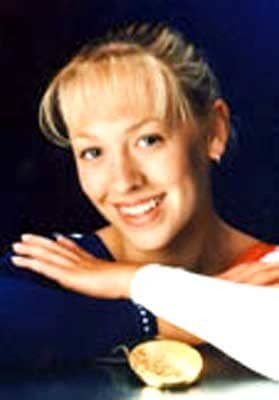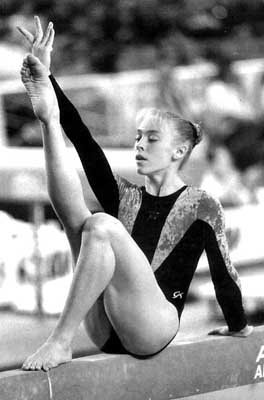 Jaycie Phelps won many medals, but her story really consists of courage and determination. Gymnastics is full of bumps and bruises from time to time, but there is an injury severity factor that can happen and be overwhelming if not catastrophic. When she was forced by injury to withdraw from the 2000 Olympic Trials, her words reflected the inner strength she had shown for years. Her words were distributed by a press release from USA Gymnastics on July 29, 2000.  Jaycie Phelps shared a message from her heart. She said she was "disappointed". She said she " . . . had no regrets about training hard to achieve this (Olympic Team) goal." She went on to say, "There are many instances in life where we fight and struggle, but fall short of reaching our goals. The value is truly in the journey, not in the destination." These words need to be heeded by those who would strive to become the elite of the gymnastic world. While the probability of serious hurt is relatively low, there are thwarting forces to all lofty goals, and sometimes only the internal strength of an individual will carry him or her onward, but without regrets if the goal is stymied by circumstances beyond control. The healthy mind is as important as a healthy body. Jaycie is a very healthy individual. Take it from a pro!
General: Jaycie Phelps started gymnastic training at age four, receiving her initial training at the Cincinnati Gymnastics Academy coached by Mary Lee Tracy. She showed promise, so at age 11, Jaycie and her family moved to Arizona where she was accepted into an elite gym for extensive advanced training. After about two years, Jaycie took a break from the gym finally coming back to training in Cincinnati accompanied by her mother. Her father and brother went back home to Indiana. As Bart Conner said in the TV documentary The Magnificent Seven, there were literally millions of young ladies training to be an Olympic gymnast, but only seven make the team. Jaycie probably thought about the sacrifices her family had made for her, so when she returned to the gym, in addition to training with Amanda Borden, who also became a member of the "Magnificent Seven", her spirit was fever high, and she trained voraciously even working through the pain of a knee injury that eventually required three surgeries. In her first competition after the long layoff, she injured her back and was unable to train for a significant amount of time. However, she managed to maintain her fierce spirit and made the 1996 team. Reflecting on the glory days of the Magnificent Seven, she suggests that " . . . the Olympic competition of 1996 seems long ago one day and just a while ago on the next day." And this writer suspects that such is the same for many who competed in the international arena. From time to time, our minds slip back to the bright lights, the enthusiastic crowds, and the nervous tension that strikes one's brain when you raise you hand and approach the apparatus. And just as suddenly, one is in the present, and the lights and crowds are just memories. Jaycie had a most important role to play in the dream of team gold. She was the first or second competitor on some events. Being first to perform requires performing well to post a high starting score on which the remaining team members will build. It may be compared to a lead off hitter in baseball whose job is to get on base and let teammates bring the run home. She accomplished her assigned roles well as did those who followed or preceded her on the events. After the team's gold medal performance in Atlantic City, Jaycie participated in tours and exhibitions. Olympic Games: Gold-Team, Atlanta, Georgia, (1996). This is the team that became known as "The Magnificent Seven". Their success has been attributed in great part to the way the ladies meshed as a team rather than a group of individuals. They showed the world, in effect, that while gymnastics has an individual element, it is the team that wins. World Championships: Bronze-Team, Sabae, Japan, (1995). Team World Championships: Silver-Team, Dortmund, Germany, (1994). McDonald's American Cup: UB-3rd (T), Seattle, Washington, (1995). U.S.  Women's Olympic Team Trials: Bronze-AA, Boston, MA, (1996). Coca Cola National Championships: Silver-AA, Knoxville, Tennessee, (1996); Bronze-AA, New Orleans, Louisiana, (1995). American Classic/World Championship Trials: Gold-AA, Tulsa, OK, (1996). World Team Trials: Bronze-AA based on National Championship's score only due to injury, Austin, TX, (1995). U.S. Classic: Gold-AA, UB, BB, & RX; Silver-V, Birmingham, AL, (1995); Bronze-AA, Palm Springs, CA, (1994). U.S. Olympic Festival: Bronze-AA, St. Louis, MO, (1994). Honors: Appeared on the Wheaties box with her 1998 Olympic teammates, the "Magnificent Seven;" Jaycie was featured in the book and TV documentary, The Magnificent Seven; named "Sportswoman of the Year, (1996); was a recipient of the Sagamore of the Wabash award, the highest award bestowed on an Indiana resident; was presented with the Ohio Governor's Award; was honored by the Colerain Township that proclaimed "Jaycie Phelps Day", (August 30, 1996), and she had a street named in her honor, Jaycie Phelps Drive in Cincinnati, Ohio. Jaycie Phelps is a parallel example of the tremendous inner strength needed to survive a full career of gymnastics. She had a torn meniscus (cartilage) in her knee, a problem that started early in her gymnastic career. The problem was surgically repaired reportedly using an animal tendon to repair her knee; nevertheless, she had continuous flair-ups. In addition, she continued to contend with the time she fractured her back. Finally, after dedicating nine months in an attempt to make the 2000 Women's Olympic Gymnastic Team, her injuries just wouldn't allow her to continue. Her courage and determination were unable to compete with the ills of her strained body. In a most gracious and instructive manner, she was able to deal with the tragic experience of having to withdraw from the Olympic Trials where her skills as a gymnast and her talent as a leader were greatly missed. Family: m. Bret McClure, a member of the silver medal winning U.S. team at the World Championships, (2001). Brett was #2 behind Paul Hamm, and they were the only two to officially win their places on the team. The others were competing based on committee selection. McClure continues to compete and was a member of the 2004 Olympic Team. Bret should be a strong candidate for the U.S. Hall of Fame when he becomes eligible.
Sources: Competition data and other details courtesy of Jerry Wright, author of Gymnastics Who's Who, 2005 and courtesy of Bruce Davis, author of numerous articles and gymnastic stories. Additional information attributed to , , and www.yahooligant.com. Abie Grossfeld provided important suggestions and additional details about Jaycie's gymnastic career. Introduction, commentary, and formatting by Dr. Larry Banner, Web Manager & 1993 HOF Inductee.