KERN, Gutav "Gus"
Inducted: 1960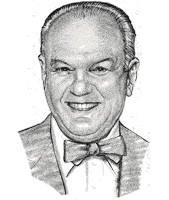 Gus Kern along with Roy Moore and John Bissinger was one of the forefathers of American gymnastics. In 1908, one hundred Americans entered the AA competition of nine gymnastic and three events called "Zwoelkampf," the feature event of the "Deutsches Turnfest" World's Tournament. Only seven made the coveted prize list, and one of the seven was Gus Kern. He was a teammate of "Ed" Hennig, 1989 USGHOF Inductee, the geriatric marvel of gymnastics. Gus was a long time member and leader of the Cleveland Turner organization and contributed to American gymnastics development in several ways. He was of the early generation from which grew the gymnastics we know today. Without Gus and other gymnastic forefathers, gymnastics might not have developed to be the sport it has become. It is with pleasure that we are able to introduce him to today's world of gymnastic aficionados.
Gus Kern attended the Normal College of the American Turnerbund and was very active in the Turner organization for years as a member of the Vorwaerts Turners in Cleveland. He was a teammate of Edward Hennig, 1989 GHOF Inductee who was principally a multi-time AAU Champion Club swinger, winning 13 NAAU titles. Judge:  Kern judged mainly local Midwest meets as well as numerous Turner competitions. He also judged AAU meets including the AAU National Championships at the Naval Academy. He was a judge at the final Olympic Trials for the 1956 Games in Helsinski, Finland. At this time, he was a member of the Cleveland Schools Board of Education. All in all, Gus Kern judged for 50 years and his judging contributions was the primary reason for his induction to the U.S GHOF.
Sources: . Introduction, commentary, and formatting by Dr. Larry Banner, Web Manager.