OSZY, Joseph
Inducted: 1960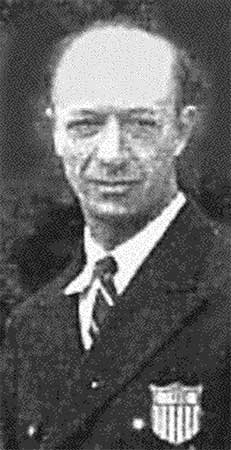 Too many athletes, coaches, judges, and general contributors have had their records lost or misplaced during the general upheaval as competing organizations, unhappy with the AAU, vied to take its place. Even this writer who volunteered to research and write about the men and women who have been inducted into the U.S. Gymnastic Hall of Fame was told that his several sample biographies were "misplaced" by employees of the current National Governing Body, USA Gymnastics. Three weeks later those biographies were reported "misplaced" never to be found again. How then can we re-create the full story of such athletes and coaches as Joseph Oszy whose prime years as a competitor occurred over 80 years ago? The answer is that we cannot give a full picture of the man and his athletics. The best we can do is research the records found within many sources, all the while knowing that we are not doing full justice to an Inductee who was obviously a great gymnast. I pray someone who knew him, a family member, a person he coached, etc. will use the "Contact Us" at the bottom of each page, and write what they experienced as a member of his family or a friend from the gym. What we must do is to understand that Joseph Oszy's accomplishments were significant because they raised the bar for national gymnastics performances in men's gyms throughout the U.S., and we are grateful.
At of this writing not much is known about the athletic and coaching life of Joseph Oszy, but records have survived through the several National Governing Body (NGB) changes during the 1960's and ending with USA Gymnastics being recognized as the NGB in 1970.  It is known that he was a 5-time National Champion, having won the National AAU Championships: Gold-PH, (1916); Gold-AA & PB, (1918); Gold-AA & PB, (1920). New York Metropolitan Senior Championships: Gold-PH, (1914, '15, & '16). It may be assumed that in this instance his name may have been spelled Oessy in the available records.   In this era the NY Metropolitan Senior meets were almost as competitive as the National Championships.  Apparently until 1920 he competed for the New York West Side YMCA and then in 1920 he was competing for the New York Athletic Club.  The NYAC was national team champions in 1920 and 1922. Coach: U.S. Men's Olympic Gymnastic Team, Berlin, Germany, (1936).
Sources: Jerry Wright did the primary research of records and courteously provided data and the Oszy photo. Introduction and formatting by Dr. Larry Banner, Web Manager.