MOORE-Rice-Gnat, Joan
Inducted: 1994
Born: August 14, 1954, Philadelphia, Pennsylvania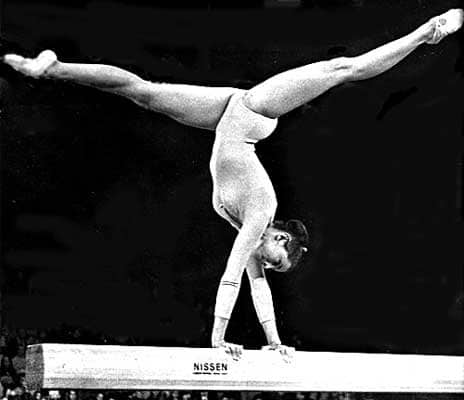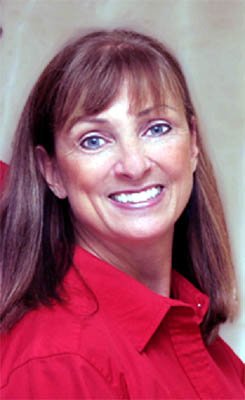 Joan Moore had an outstanding national and international competition career, and is an important part of USA's history and successes. Her four straight national AA championships speak volumes about her talent to win. To her credit, she continued to stay in the sport, helping many hopefuls to fulfill their dreams.
Olympic Games: Team member and near medalist, Munich, Germany, (1972). In these Olympics, Joan was one of the two first females using a double-full in FX. She was coached by the team of Bill Coco, 1978 GHOF Inductee, and Ginny Coco, Bill's wife. USGF National Championships: Gold-AA [T with Linda Metheny], V [T], & FX [T], (1971); Gold-AA [T with Cathy Rigby], & FX (1972); Gold-AA, FX, (1973), Gold-AA, BB & FX, (1974). With an amazing 10 national gold medals, Joan remains 2nd only to Clara Schroth-Lomady who won 39 national titles, a record that will probably never be broken. World Championships: Team member, Ljubljana, Yugoslavia, (1970); Team member, Varna, Bulgaria, (1974). Honors: Honda Inspiration Award. This award is given annually to an outstanding female college athlete who has overcome adversity to excel in her sport. In 1974, Joan was honored by being named "Gymnast of the Year". During the Olympic competition in Munich, she and Lyudmila Turischeva of the USSR were reported to have been the first to compete a layout salto with a double twist in FX. Personal: In December 1974, Joan married fellow gymnast Bob Rice. As Joan Moore-Rice, she won the U.S. titles outright and retired after the '74 World Championships. After retiring from gymnastic competition, Moore-Rice began coaching. She served for 11 years on the USAG Board of Directors. During this time she and her husband owned and operated the Ace Gymnastics Club in Longwood, Florida.  Joan's daughter, Jeana Rice, won Gold-AA in the 2004 NCAA Championships and dominated the post-season awards. Moore and Rice were divorced in 1991, and she later married Ray Gnat. Since 1997 the couple have co-owned and coached at Ace gymnastics in Longwood, FL. Moore-Gnat is a long time Brevet judge. She has been quoted as saying, that her greatest contribution to gymnastics" . . . has been as a gymnast. I believe the near medal in 1972 paved the way for the successes later achieved by American gymnasts. I think our finish helped younger athletes at that time realize that we could win medals in gymnastics. What you believe, you can achieve."  Family: Steven, Sean, & Jeana Rice & Ashleigh Gnat.
Sources: Communication with Joan and detailed information courtesy of Jerry Wright, author of Gymnastics Who's Who, 2005. USGF results courtesy  of Abie Grossfeld, 1979 HOF Inductee. Introduction, commentary, and formatting by Dr. Larry Banner, Web Manager. Photos courtesy of Jerry Wright and A. Bruce Frederick, author of Roots, 3rd Ed. For more information about Roots, see HALLreMARKS archives.