CROSBY, John, Jr.
Inducted: 1998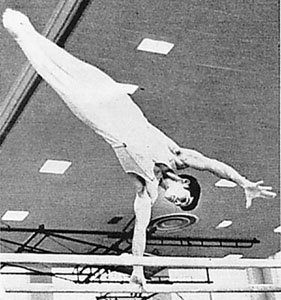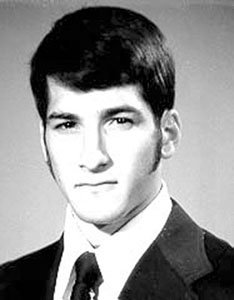 It appears reasonable to argue that John Crosby, Jr. ruled the gym during the early to middle 70's.  During his prime years, John's tumbing technique was disseminated and studied throughout the USSR and Japan.  However, the most telling of his accomplishments or honors is that he was awarded the Nissen Award engraved with the words, "The true champion seeks excellence physically, mentally, socially, and morally." Under "Champion", mark "All of the above" for John Crosby, Jr.
Olympic Games: Team member, (1972). Canadian World Invitational: Gold-FX, (1970). World Invitational Competition: Gold-FX, Riga, USSR, (1971 & 1974). World Cup Championships: Gold-FX & V, Miami, FL, USA, (1971). World University Games: Team member, (1973). World Championship Competition: Team member (A), (1974). Pan American Games: Gold-Team, SR & FX, Silver-AA, HB, PH, & PB, Bronze-V, an amazing total of eight medals, Cali, Columbia, (1971). USGF National Elite Championships: Gold-FX, (1971); Gold-FX & HB, (1973); Gold-AA, FX, & V, (1974). NCAA Championships: Division I, Gold-V, (1973); Division II, Gold-AA, FX, & PB, (1971); Gold-AA, FX, PB, & V, (1972); Gold-AA, FX, V, PB, & HB, (1973). Honors: Received the Nissen Award presented annually to the year's outstanding senior collegiate gymnast. It is the "Heisman Trophy" of gymnastics that encompasses Division I & II, (Coach, Abie Grossfeld). As of May 2000, John was serving as a Legal Analyst for the State of Arizona Department of Economic Security. General: John represented the USA on 18 international teams from 1970 to 1975. John is a former U.S. Marine Corp. aviator. He competed for Southern Connecticut State U. where he earned his bachelor's and master's degrees. He continued with his graduate education by earning a Juris doctorate from Hofstra University in 1997. His resume dated May of 2000 stated that he was working as a legal analyst for the State of Arizona Dep't. Of Economic Security.
Sources:  Information and photos courtesy of Jerry Wright author of Gymnastics Who's Who, 2005, , & Crosby's personal information and comment questionnaire. Introduction, commentary, and formatting by Larry Banner, Web Manager.