MILES, John "Jack"
Inducted: 1993 Born: December 24, 1928, Philadelphia, PA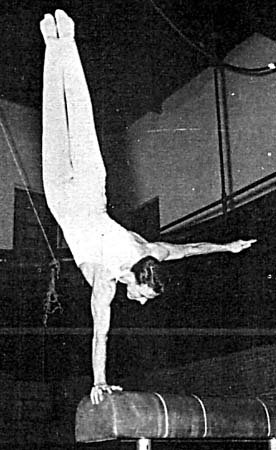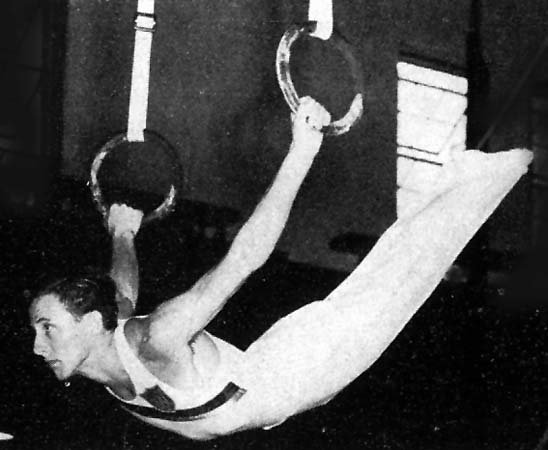 In the tradition of many gymnasts, John "Jack" Miles possessed other sports skills. He was deemed "The most athletic senior in high school", and participated in track, soccer, and diving. He eventually narrowed his efforts to gymnastics and became a truly creative gymnast in every sense. He was very strong but with a perfectly proportioned body, so his leverages combined for great strength and fluidity resulting in outstanding artistry. He was as gracious an opponent as he was graceful on all the events.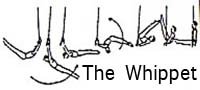 National AAU Championships: Gold-FR, (1951); Silver-V, (1952); Silver-Clubs, (1953); Bronze-V, (1954); Gold-AA [T]; V, & SR, Bronze-HB & FR, (1955); Silver-HB, (1956). Pan American Games: Gold-Team, Silver-HB & V, Bronze-SR & AA, Mexico City, Mexico, (1955). SIGL Conference: Gold-AA, FX, HB, & FR, (1954); Georgia AAU Championships: Gold-AA, (1951); Silver-FR, Bronze-HB & AA, (1952); Gold-AA, (1954); Gold-AA, FX, HB, & FR, (1954); Florida Association AAU Championships: Gold-FR, Silver-AA, Clubs, & V, (1952); Gold-V & SR, Silver-FX, & Bronze-HB, (1953); Gold-PH, V, & FR, (1954); Gold-V & FR, (1955). Georgia AAU Invitational: Gold-AA, HB, SR, V, & FR, (1954).  Personal: Jack Miles began competitive gymnastics at the famous Germantown High School of Philadelphia coached by Dr. Leopold Zwarg, a charter member of the USAG Gymnastics Hall of Fame (1959); however, like most elite gymnasts of his day, he spent evenings and summers training at the PA Turners and the Germantown YMCA where former and soon to be Olympians worked out.  Recruited by Dr. Hartley Price, a HOF Honoree in the original class of 1959, he was an integral part of Florida State University's competitive team that won five NCAA and AAU championships in the 1950's.  He was a participant in the Florida State Gymkana, and selected to be one of the 9 members of the 1956 "Gymnastic Squad". Contributions: Jack founded and was President of the Florida Gymnastics Association, and, through a series of interesting events became editor of the Florida Gymnastics Newsletter. For a time, he was the Director of the Miles Gymnastics Club in Broward County, Florida, and later represented the AMF American Athletic Equipment Co. Jack is credited by some sources as having originated the move, known in the U.S. as the "Whippet" (See Graphic) on the SR. The move is officially known by the FIG as the "Honma". Life After Gymnastics: After graduation from FSU, Jack used his skills as an illustrator, statistician, and promoter. Eventually, he moved into the entertainment business doing Broadway shows, stunt work, and stand up comic in NYC & Florida Clubs. For a while, he owned and operated a gymnastic school and wrote short stories that were published in Argosy, Boys Life and other widely distributed publications. Throughout the years, he gave motivational talks in the worlds of government, business, and education. It appears that he was as versatile in life as he was in the sports world.  Family: Children: David, Michael, & Chad Miles plus Sandy Hennessy. Grandchildren: Jessica, Michelle, Veronica Lee, & Sarah Bell Miles plus Max & Julia Hennessy.
Sources: Olympic Committee Quadrennial, 1956, "Gymnastics" by Jerry Hardy, p. 133-138. Interviews with Jack Miles and the vetting team of Abie Grossfeld, Bruce Davis, and Jerry Wright, author of Gymnastics Who's Who, 2005. For more about Florida State gymnastics and the Gymkana, click on . Introduction, commentary, and formatting by Larry Banner, Ed.D. Web Manager.