LOKEN, Newt (1919-2011)
Inducted: 1971 Born: Breckenridge, MN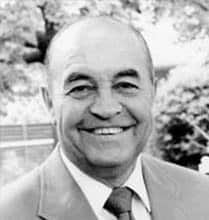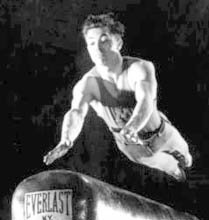 Newt Loken has been described as the "Gentleman of gymnastics" by gymnastics historian Lyle Welser and was deemed "Mr. All-American" for his gymnastics winning ways, his outstanding coaching record, and his persevering service to the gymnastics community.
Gymnastic Achievements: West HS, Minneapolis, MN, State Championships, Gold-AA, (1938); Big Ten Championships (University of Michigan Team Captain, (Dr. Ralph Piper, Coach), Gold-AA, (1941-'42); Flying Rings, (1942); Parallel Bars, (1941); NCAA Championships, Gold-AA, HB, & Tumbling, (1942); National AAU Championships: Gold-Vault, Silver-AA, Bronze-Tumbling, (1943). Cheerleader: Captain, U. of Minnesota Team & All American Cheerleading Team; Coaching: Loken served thirty-six seasons as head gymnastic coach at U. of Michigan with a record of 250-72-1, a .776 Winning Percentage (Collegiate Gymnastic Legends by Joseph C. Schabacker), 12 Big Ten Championships, 2 NCAA Gymnastic Team titles, 71 individual Big Ten titles, 21 individual NCAA titles. Education: B.S. 1942, M.A. 1946, Ed.D. 1955. Honors: Alpha Sigma Pi (Honorary Educational Fraternity), Sigma delta Psi (Honorary Athletic Fraternity), U. of Michigan Hall of Honor, Michigan Amateur Sports Hall of Fame, The United Savings-Helms Hall of Fame, Master of Sports Award-USGF, National Coach of the Year, (1963 & 1970); Spirit of Michigan Award-Michigan Alumni Association; Honorary Member of U. of Michigan Women's Athletics Association; U. of Minnesota Sports Hall of Fame. Personal: Newt served in the U.S. Navy during WW II as an officer insuring the physical fitness of Naval Aviators during their pre-flight schooling, Iowa City, IO. He co-authored the Navy's book Gymnastics and Tumbling with two outstanding gymnasts, Joe Gaillombardo and Chuck Keeney. He was assigned sea duty on the USS Prince William, an Aircraft Carrier. Scholarships were established to honor Dr. Loken's service to gymnastics in general as well as the U. of Michigan. Family: Dorothy Haight, Born-Missouri Valley, IA. Four children. Four grandchildren.
Sources: Public domain records with photos courtesy of Jerry Wright. Formatting by Dr. Larry Banner.