HENNESSY, Jeff
Inducted: 1992 Born: October 27, 1929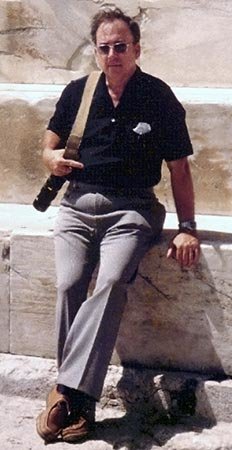 Most parents take walks and go on picnics with their children. Jeff Hennessy did these things with his children, also, but, in addition, he went bouncing with them on a steady basis. He produced and coached more World and National trampoline, tumbling, and mini-tramp champions than anyone in America. The champions included his daughter, Leigh.
Jeff received his Bachelor's and Master's Degrees from Northwestern State University in Louisiana and matriculated to the U. Of Louisiana at Lafayette where he taught, instructed, and coached the Swimming and Gymnastics teams for 27 years. He was nine-time USA Trampoline Team Coach in World Championships and took USA teams to South Africa, Russia, Germany, and Holland.  He also coached AAU teams, intercollegiate athletes, and even Miss America, Judi Ford.  Jeff has served as Director of World Trampoline Championships, International Judges and Coaches courses, AAU and Federation Championships, six National Jr. Olympic Championships, and the community service trampoline program for children.  He has officiated from London to Japan.  Honors:  A Trampoline/Tumbling Scholarship is awarded in his name by U.S.A. Gymnastics, the national gymnastics governing body (NGB); Accepted as an honorary member of the Federation International Gymnastic (FIG), (1999); Honored to be a recipient of the Safety Award from the American Trampoline and Tumbling Association, (1992); Inducted into the International Gymnastic Hall of Fame (IGHOF) formerly the Helms Hall of Fame, (1992); Received international Trampoline & Tumbling Federation's Lifetime Membership Award, Osaka, Japan, (1984);  American Trampoline and Tumbling Association Outstanding Coach of the Year, (U. of Southwestern Louisiana, (1982); Distinguished Professor, U. of Southwestern Louisiana, Lafayette, LA., (1992); Master of Trampoline, American Trampoline and Tumbling Association, (1978); Who's Who in the Southwest, (1977); Gift of Honor, presented by the International Trampoline Federation, (1976); Elected Chairman of the International Trampoline Federation Technical Committee, (1976); Inducted into the U.S. Trampoline Association's Hall of Fame, (1976); Featured in "Fliffises and Gazip-Gazaps", Sports Illustrated, 8th Day, (1970); Received the C.H. McCloy Research Award for Gymnastics, (1966); Member of U.S. Gymnastics Olympic Committee, (1965-'69); First Amateur Athletic Union (AAU) Trampoline Chairman, (1965). General: Appeared in the Guinness Book of World Records and reportedly has been featured in more magazines, publications and newspapers than Donald Trump.  Twice, he was elected Outstanding AAU Coach of the year and was honored by the German Gymnastic Association for his extraordinary talent and contributions. Personal: Jeff served as the United States Sports delegate for the AAU to Winston Churchill's funeral.  He was an advisor and consultant to USA Gymnastics, the United States Diving organization, the International Trampoline Federation, ABC, CBS, the United States Department of Justice, and Law Firms throughout the country.  Jeff Hennessy has authored more books and journals about trampoline and springboard diving than John Grisham has courtroom scenes.  His daughter, Leigh, won two World Championships in Double Mini-Tramp and may be the leading U. S. title-holder for women in the twisting, turning, and bouncing sport of trampoline.
Sources: World Acrobatic Society "Legends of Honor" Newsletter, personal resume, and interviews with his daughter, Leigh. Introduction, commentary, and formatting by Larry Banner, Web Manager.