ROETHLISBERGER, John
Inducted: 2005 Born: June 21, 1970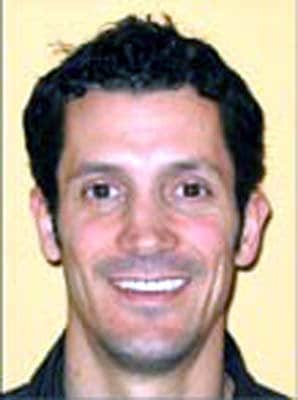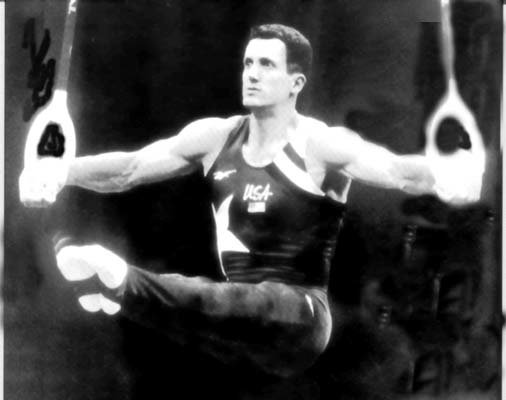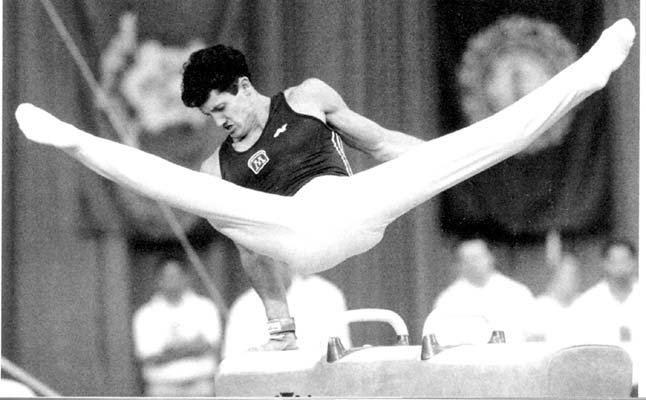 John Roethlisberger' father, Fred, a 1968 Olympian, coached his son to the apogee of the Roethlisberger dynasty throughout the '90's and into the 21st Century. His sister, Marie, was the alternate for the women's Olympic Team in 1984. John's persona included a personality that was highly respected by his peers, and he was never one to shirk helping a friend learn and improve.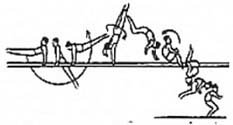 Olympic Games: Team member-Barcelona, Spain, (1992); Team member & finished 7th in AA, the best U.S. AA performance since 1932 in a non-boycotted Olympics, Atlanta, GA, USA, (1996); Team member, Sydney, Australia, (2000).   World Championships:  Team member [A], Indianapolis, MN, USA, (1991); Dortmund, Germany, (1994 Team), & (1994 Individual); Sabae, Japan, (1995); Lausanne, Switzerland, (1997); Tianjin People's Republic of China, (1999). Other International Competitions: Gold-AA, McDonalds American Cup, (1995 & 1996), the first male to win back-to-back McDonalds Cup titles since 1983.  USAG National Open Championships:  Four-time National AA Champion: (1991, '92, '93, & '95). USA National Championships: Gold-AA, (1990); Gold-AA, (1992); Gold-AA & SR, (1993); Gold-AA, PB, & HB, (1995); Gold-HB, Silver-AA, Bronze-PH, (1996); Gold-PH, Silver-AA & HB, Bronze-SR, (1997); Gold-PH, (1998); Gold-PH, Silver-AA & SR, (1999); Gold-SR [T] & PH, Bronze-V, (2000). NCAA Championships: Competing for the University of Minnesota with his father as his coach, John was a three-time NCAA AA winner and a four-time Big Ten AA champ. Silver-AA, (1990); Gold-AA & PB [T], (1991); Gold-AA; Silver-PB & FX [T], (1992); Gold-AA & PH; Bronze-HB, (1993); Judge: John is currently one of the top rated brevet judges men's artistic gymnastics judges in the U.S., and, at the time of his induction, was serving on the Executive Committee of the USA Gymnastics Board of Directors as an Athlete director and sits on the Athletes' Commission for the FIG. Honors:  Awarded the Nissen-Emery Award that is considered the "Heisman Trophy" of gymnastics. The award is inscribed with the motto, "The true champion seeks excellence physically, mentally, socially, and morally", (1993); Designated a "Gymnastic Centurion" defined as one who commands our attention by A. Bruce Frederick, noted author of Roots, 3rd Ed.; Achieved "Academic All-American" status, (1992 & 1993); Selected as the "Outstanding Senior Collegiate Gymnast." Selected "Athlete of the Year," (1990, 1992, 1993, and 1995 and co-winner in 1996), as determined by a vote of his national teammates.  He also received the "Sportsperson of the Year" award, (1995, 1998 & 2000).  He was an Academic All American (1992 & '93) and won the NCAA "Top Six Award" awarded each year to the top six student-athletes in the U.S. from all sports. John also has the distinction of having the FIG name a skill after him called the "Roethlisberger," on the PB's (see illustration of John's barani-in fliffis dismount from the apparatus). Family: John is part of a family of Olympians-sister Marie was an alternate on the 1984 Women's Olympic Team and his father, Fred, was on the 1968 U.S. Men's Olympic Team.
Sources: Photos and text materials courtesy of Jerry Wright, author of Who's Who in Gymnastics, 2005, USA Gymnastics Hall of Fame Induction & Awards Ceremony Program. Editing and additional information provided by Bruce Davis, author of numerous gymnastics writings, Abie Grossfeld, 1979 HOF Honoree, and A. Bruce Frederick, author of Roots 3rd Ed. (See archived "HALLreMARKS for additional Roots information). Introduction, commentary, and formatting by Dr. Larry Banner, Web Manager.