HARTUNG, Jim
Olympic Gold Medal Team Induction: 1984 Individual Induction: 1997 Born: June 7, 1960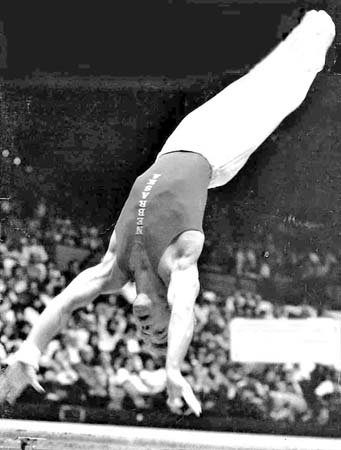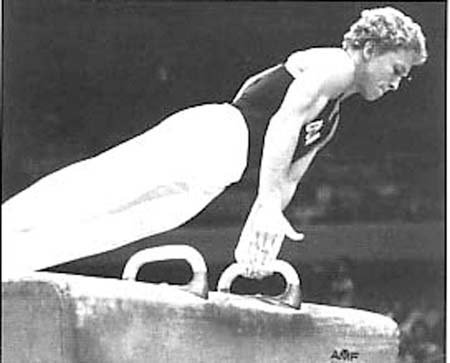 Jim Hartung is quite possibly the most consistent male gymnast in the history of collegiate competition, having averaged something like 9.4 for all six events during all of his four years at the University of Nebraska. In the NCAA National Championship meets alone, over a period of four years, he averaged over 9.6 per event (compulsory and optional) for the All Around. Jim was also an eight time U.S. National Team Member. He was a 22-time All American and captured 11 conference individual event titles and went on to win seven NCAA gold medals, and 14 USAG National Championship gold medals. Most telling of all is that he competed as a member of the American Gold Medal team with a very swollen and sore finger that he couldn't adequately bend, and he never mentioned a word to others although his coach and a few teammates knew about it. His competitive qualities and true character surfaced in the competition. No one was tougher than Jim, and no one encouraged his teammates more than Jim. He was an inspiration to them all.
Getting Started: Jim Hartung began his gymnastics career at the Omaha Sokol gymnastics club in Nebraska . There, he was coached by Phil Cahoy, Sr. whom he credits as his most influential coach. Jim trained at this club for twelve years and under Cahoy's leadership Jim led the Omaha Sokol team to three state titles. He recorded 18 gold medals in competition during this time. Olympic Games: Team member, (1980). Ironically, considered the problems in the Middle East and Afghanistan today, the U.S. boycotted the Olympic Games in Moscow due to Soviet aggression in Afghanistan. The U.S. did not compete. Gold-Team, (1984). Jim helped make U.S. gymnastic history as a member of the 1984 U.S. Gold Medal winning Olympic Team. He finished 9th in the AA and placing 6th on the Vault. Although Linda Metheny was the first to compete in the finals in Tokyo, (1968), and Peter Kormann won a Bronze medal, Montreal, Canada, (1976), Jim along with Vidmar, Daggett, Gaylord, and Conner, made the finals in 1984 that made him among the few outstanding American gymnasts to compete in an Olympic gymnastic event finals. World Championships: Team member, Fort Worth, Texas, USA, (1979), Moscow, USSR, (1981), & Budapest, Hungary, (1983) NCAA Championships: Gold-Team, (1979, '80, '81, & '82); Gold-AA, (1980 & '81); Gold-PB, (1981 & '82); Gold-R, (1980, '81, & '82).  USAG Open National Championships: Gold-AA, (1981); Gold-SR, (1980, '81, '82 [T], & '84); Gold-HB, (1980); Gold-V, (1978 & '82[T]); Gold-FX, (1981 & '82); Gold-PH, (1978, '80, '81, & '82). His 14 USAG gold medals rank Jim among a select group of gymnasts such as standouts like Blaine Wilson, Alfred Jochim, George Wheeler, Frank Cumiskey, and Makoto Sakemoto with 14 or more national wins albeit under the auspices of the AAU, the USGF or USAG. He competed for the University of Nebraska and was coached by Francis Allen and Jim Howard, GHOF Coaching Team Honorees, (1999). Judge: Jim Hartung is presently one of the most widely respected men's brevet level judges in the United States, and in 2005 he was named assistant coach for the U. of Nebraska. He remains unavailable for comment regarding his present duties or family.
Sources: Introduction by Jerry Wright, author of Gymnastics Who's Who, 2005 and Abie Grossfeld, 1979 GHOF Honoree. Primary information provided courtesy of Jerry Wright, the USA Gymnastics Media Guide, 2003-2004, and important editing performed courtesy of Abie Grossfeld. Formatting by Dr. Larry Banner, Web Manager.