GAULT, Jim
Inducted: 1992
Born:  Los Angeles, CA 1936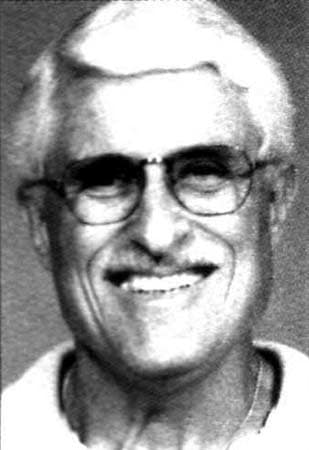 Jim Gault is another outstanding gymnastic coach who had a style of coaching that gave his athletes confidence in their ability to learn, perform, and win.  It is probable that he learned to coach gymnastics well since he had to learn much about the competitive nature of our sport through his experiences as a physical education teacher and a class or two at San Jose University. Almost mysteriously, he set out to learn how to coach in the gym. Amazingly, he began at an intermediate level and progressed to the elite level. It has been said that he is a man of great charisma and vision. Whatever he did to learn to coach at whatever level, his records and achievements stand as an inspiration to all who otherwise might hesitate when they think of coaching in the complicated world of elite level gymnastics competition.
Coaching: Jim Gault served 18 seasons between 1980 and 1998 as Head Women's Gymnastic Coach at the University of Arizona compiling a record of 344-153-1. He coached his teams to the NCAA Championships eight times and Arizona University finished as high as 5th during his reign. His coaching prowess led him to serve as the U.S. National Coach with teams that participated in England, New Zealand, South Africa, Japan, the Soviet Union, Hungary, Germany, Yugoslavia, and Israel. Getting Started: When Jim received his B.S. Degree in physical education in 1958, he had no first-hand experience with gymnastics other than what he learned in basic gymnastic classes at the university. He had, however, become enamored with the sport and set out to learn as much as possible as quickly as possible. He attended a summer camp run by the legendary gymnastics coach, George Szypula, at Michigan State University. During his summer at camp, he states that, "That summer I fell in love with the sport of gymnastics." Soon, he was coaching in high school and later started his own club, Diablo Gymnastics, which he ran for 14 years in San Ramon, CA, (1966-1980). He says, "A strength I had was that I was never afraid to ask questions when I needed answers." During this time he coached Diane Dunbar who competed in the 1974 World Championships in Varna, Bulgaria and the 1975 Pan American Games. At the University of Arizona he began working in the evenings, after university practice, with a talented six year old lady named Kerri Strug who was inducted into the U.S. Gymnastics Hall of Fame in 2002 and known by the entire world as the gymnast who helped Team USA win the 1996 Team Olympic Gold, one leg up. Remembering: When asked about his most memorable experiences, Coach Gault stated, "There are many, but The World Championships in Varna, Bulgaria in 1974 come immediately to mind. Madam Nagy was the FIG Women's Technical Committee Chairperson at the meet, and her job was to oversee the competition. When a Hungarian girl competed and the score was flashed, Madam Nagy would walk from her seat and simply tell the judges to raise their scores. It was the first time I had encountered blatant bias in scoring."  Jackie Fie, 1979 HOF Inductee and FIG Superior Judge, confirmed these inconsistencies in the1974 World Championships by completing an analysis on the different finishing scores from the top scoring countries in 1974 with their 1972 scores. Another memorable event happened while he was working with a youngster named Merilyn Chapman at the Coca-Cola Invitational in Brighton, England. He related that he thought " . . . Merilyn may have been the first to beat a Soviet woman in the AA in an international meet," (1976). Jim's third and most outstanding and emotional event happened at the Moscow News Invitational in the '70's. "Rhonda Schwandt won vaulting and it was a great moment listening to our National Anthem played in such a important international setting.  Gault related that in 1973, Joan Rice and Kathy Dunbar were to represent the USA at the Chunichi Cup in Nagoya, Japan, but for probable funding reasons, the USGF planned to send only a judge and not a coach. The girls were in their teens, and the thought of them not having a coach/supervisor was unacceptable. Jim's Diablo Gymnastics Parents' Club raised and donated the money required for the girls to have Bill travel as their coach and chaperone at the competition and to stand in loco parentis [in place of a parent(s)]. Coach Gault also recalled that in what may have been the late '70's, it might have been the first time the communist Chinese were allowed to compete/exhibit in the U.S. The competition was in Philadelphia and the American team won easily. During the exhibitions that preceded and followed the competition, Jim traveled with the Chinese girls as they toured the Chinese Embassy, the Statue of Liberty and other places of interest. Throughout the tours, the Chinese coaches were constantly asking questions about training, coaching, etc. and taking the information home for use in their training program. Jim's last recollection of an unusual experience was at the world championships in Strausbourg, France, (1978). Jim , who had trained two Tiawanese gymnasts, was asked to argue the merits of allowing Taiwan to continue their membership in the FIG before a FIG Committee. The Chinese had successfully convinced France to disallow Taiwanese citizens 17 years or less entry into France. Jim was unsuccessful in his attempt, so the Taiwanese women gymnasts were not allowed in the country for the championships. Nevertheless, the Taiwanese honored him with a reception toward the end of the tour. Honors/Contributions: Voted Pac Ten Women's Gymnastic Coach of the Year five times; Coached two individual event NCAA National champions, over 30 All Americans, two members of the World University Games teams, nine Pac Ten individual event champions, one Pac Ten Gymnast of the Year, and one AAI American Award winner, (2000). Jim was also one of five founding members and directors of the United States Elite Coaching Association. Bill Ryden, Arizona's current women's coach also writes, "Jim Gault is one of the most respected gymnastics coaches this country has known and I am proud to call him teammate, colleague, and friend.  His dedication and determination helped him produce some of this country's finest gymnasts, help unify the coaching community, and raise the standard of education throughout.  He has done it all and seen it all and that is what makes him special.  He certainly had a huge affect on my life since it was he alone that convinced me to change careers and join him in coaching.  I felt that whatever success I had already had, whatever I already knew, he could make it more and make it better." Jim Gault is a former USA National Team Coach, started the United States Elite Coaches Association, a member of The University of Arizona Hall-of-Fame, a lifetime member of the National Association of Collegiate Gymnastics Coaches for Women, and has a scholarship awarded in his name. Ryden states, "I know that he still doesn't appreciate his own impact on the gymnastics of today.  It only seems natural that a man that has so much passion for the sport would find his retirement taking him back to his roots, instructing new, young gymnasts in the joy of the sport to which he has given so much." Bruce Davis wrote, "I trust that he (Gault) still plays the guitar and sings folk. "His gymnasts loved it". Family: m. Armonia Munoz Grillo. Children: Kelli, Jeffrey, Russel (d) and Shannon. Grandchildren: Brandon, Nicholas, Alexandra, Cameron, Gia, and Devyn .
Sources: Interviews with Coach Gault, Jim Ryden, and information provided courtesy of Jerry Wright, author of Who's Who in Gymnastics, 2005.  Introduction, commentary, and formatting by Dr. Larry Banner, Web Manager.