Inducted: 1992 Born: Montrose, Colorado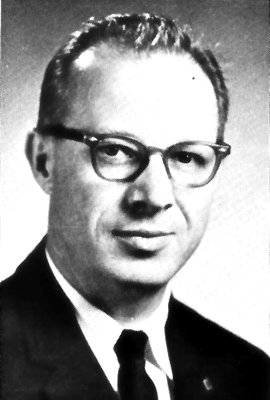 Jake Geier was first and foremost a very successful gymnastics coach.  The athletes as well as his peers respected him, and they showed their respect with special awards and accolades.
Competitor: Jake received training and competed at the University of Nebraska.  During his competition years, gymnastics was not a varsity sport; however, he was awarded a varsity letter to honor his enthusiasm, dedication, and leadership.  Coaching: Jake Geier was Head Coach at the University of Nebraska from 1950-1969 and compiled a record of 127-55 that included 20 championships.  His team was undefeated in 1960 and won the Big Eight Team Championship in 1964, the first year men's gymnastics was recognized by the conference. He was the primary coach for future Husker coaches, Francis Allen and Jim Howard. Honors/Awards: Member of the NCAA Rules Committee; Member of the U.S. Olympic Committee; A supporter and co-founder of the U. S. Gymnastic Federation (USGF); President of the National Association of Collegiate Gymnastic Coaches (NACGC) for two terms; Recipient of the special Service Award and Honorary Lifetime Membership of the NACGC. Personal: Jake finished his military service as a major with over four year in Europe. His main hobby was fishing and helping his wife live in a house raising four daughters with just one bathroom. One solution to this dilemma was for Jake to take a short walk to the nearby fire station and use their facilities when all the girls needed the bathroom at once.  Each girl had a female goldfish living in a single bowl.  Jake bought a male goldfish, placed it in the bowl with the four female fish; obviously, this was an experiment in social living.  Unfortunately, the next morning, the family found the male had jumped out of the bowl and perished. Family lore has it he was looking for a fire station. Family: m. Mary Beth Hall (64 Years), Four daughters. Four granddaughters.
Source: Courtesy of Jerry Wright, author of Gymnastics Who's Who, 2005 and the gracious contribution of his widow, Mary Geier.